Heavy workload for airline pilots can cause smoking
By ZHAO LEI | China Daily | Updated: 2018-07-21 08:39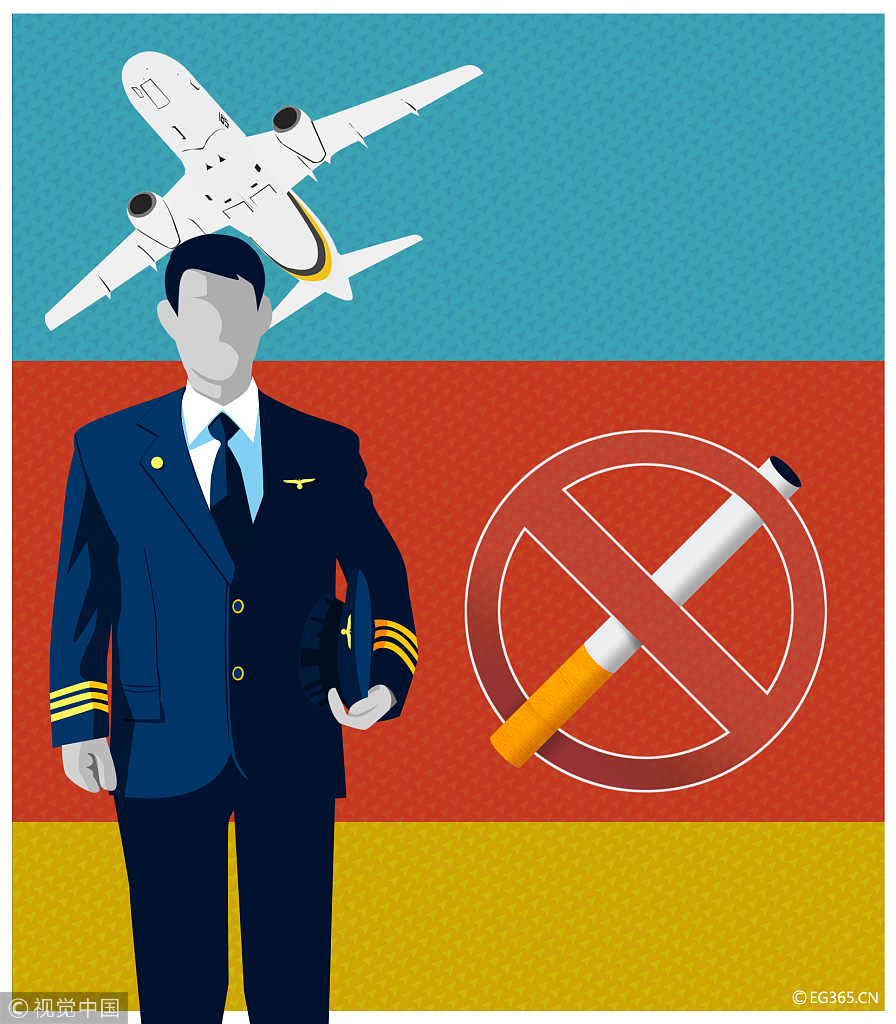 Chinese airlines should reduce the workload of their pilots to remove the biggest reason aviators smoke in their cockpit, industry insiders said.
Shi Jian, senior editor at Aviation World Monthly magazine, said that as far as he knows, most Chinese pilots who have lit up inside the cockpit did so because they were exhausted and wished to have a cigarette for refreshment.
"There are too many airline pilots who are being overworked by their employers. It's not uncommon for some of them to fly in consecutive shifts with little rest," Shi said. "Smoking is not good and unhealthy, but airline management should consider how much an excessive workload and lengthy flights contribute to smoking in the cockpit, and how to resolve this problem."
His remarks were echoed by a senior airline pilot who wished to be identified as Feng.
Feng said he has flown commercial flights for more than 20 years since retiring from the Chinese Air Force in the mid-1990s and has been a smoker for about 30 years.
"I have never smoked aboard my plane, but I know that some of my colleagues have done so, very occasionally," he said, refusing to disclose which airline he works for.
"I am not justifying smoking in the cockpit, but it is true that those who lit up in the cockpit did so mainly because they were tired by a lengthy flight and hoped that a cigarette would help," he said, adding that a lot of aviators at his company often work overtime due to tight schedules designated by the airline.
Feng explained that in addition to flight time, pilots often have to wait a long time in the cockpit before their flight receives takeoff approval due to frequent delays at domestic airports.
"There has been a huge lack of airline pilots in China for years, so the management in every carrier tends to use their pilots right up to the annual flight-hour limit set by the Civil Aviation Administration of China," the senior pilot said.
Shi said that though he understands pilots' complaints, he still believes that smoking should be banned inside the cockpit.
"There are some devices inside there that have electronic components that are sensitive to dense smoke or other consequences of smoking, especially the buildup generated by smoke over a long period of time that accumulates and covers those devices," the editor explained, saying that these problems are likely to endanger flight safety.
Earlier this month, an Air China flight suddenly lost altitude en route from Hong Kong to Dalian, Liaoning province, after a co-pilot mistakenly switched off the air conditioning to conceal his smoking an e-cigarette, said the Civil Aviation Administration. The entire flight crew was later fired by Air China.
Earlier reports and passengers' complaints also point to several cases in which pilots were found smoking inside the cockpit during a flight.
Chinese airlines vary when it comes to regulating smoking, and some of them allow pilots to smoke in specific conditions. However, the Civil Aviation Administration published a notice in May that includes a ban on aircrews smoking during flights operated by domestic carriers.
The administration has also revised its regulations on airlines' operations, repeating that the smoking ban applies to all people aboard a flight.
The revised regulations request that pilots should fly less than 900 hours each year, as opposed to the previous 1,000-hour limit, to ensure sufficient rest.
The administration said that West Air, a Chongqing-based airline, has met the new requirements, while other carriers must meet them before the rules take effect on Jan 1, 2020.