Photographer captures China in his lens
By Yang Cheng in Tianjin | China Daily | Updated: 2018-07-21 10:05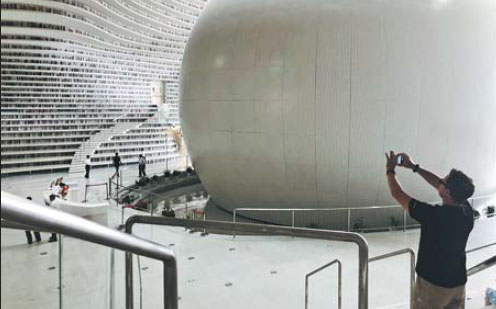 Trey Ratcliff, a travel photographer from the United States, took part in a photo tour of four Chinese cities recently, as part of his "80 Stays Around the World" tour.
During his trip, Ratcliff spent time in Beijing, Tianjin, Chengdu and Shanghai, where he was joined by some of China's most influential photographers and figures from the industry. Each city he passed through he documented through his lens, posting pictures on social media telling the story of his journey.
Along the way, Ratcliff rested his head each night in the local Ritz-Carlton hotel, whose parent company sponsored the photographer.
"The Ritz-Carlton is dedicated to helping our guests create stories around their own meaningful journeys and empowering them to share these experiences with others," said Lisa Holladay, global brand leader of The Ritz-Carlton Hotel Co. "Trey Ratcliff is an artist who embodies these ideals and inspires global discovery."
Ratcliff's photo tour has taken him across Europe, the United States, the Caribbean, Japan, the Middle East and Southeast Asia, capturing the attention of his global fan base and inspiring travelers across the world.
For those following the photographer's journey online, Ritz-Carlton and Ratcliff have been hosting Facebook Live broadcasts from each destination along with behind-the-scenes moments and clips with well-known local and international personalities.
The segments showed Ratcliff accepting live questions from the audience to discuss his art, creativity and inspiration.
Ratcliff's China stay photos will be shown in the next few weeks after he returns to his studio in the US to make final selections.
During a workshop with local photographers while in China, he gave photography fans some tips, including those who prefer to use their mobile phones.
"Stories, conversation and creation are what I inspire photographers to do, because I used to be the kind of person not to share stories with others but my mom changed my mind after she saw my photos," he said.
Dedication is also a key to success for photographers. Ratcliff said he spent 80 hours adjusting photos he took at a palace in Paris, and in the end his combined efforts on 250 photos formed the final image.
Whilst in Tianjin, Ratcliff stayed in the 277-room Ritz-Carlton, located by the Haihe River and surrounded by 19th and 20th century European architecture from the nations that sought trade with China at that time.