Naan creating new breadwinners
By Mao Weihua in Urumqi and Li Hongyang in Beijing | China Daily | Updated: 2018-07-25 07:52
Compact flatbread a popular choice for hungry herders when on the go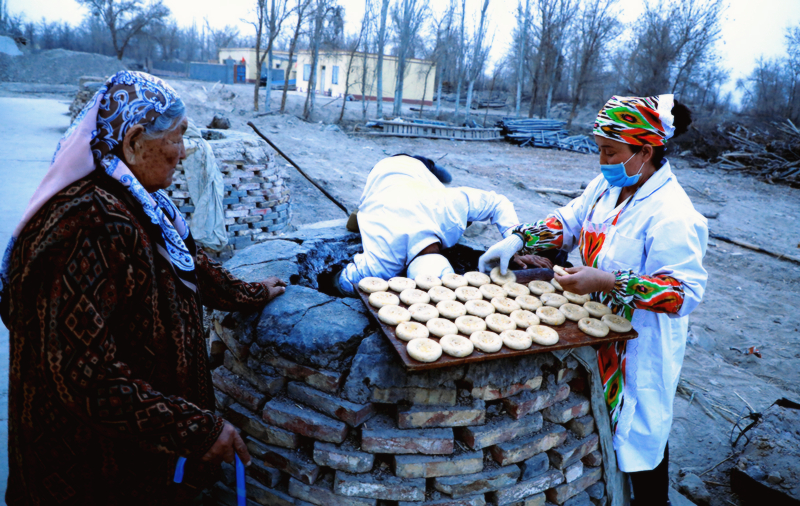 In the local language, proverbs related to naan bread abound, including "A day without naan turns your legs to jelly" and "Think more before speaking, chew more before swallowing naan".
Naan, a flat, leavened bread, is enjoyed by many in the Xinjiang Uygur autonomous region on a regular basis. The bread has a long history and has become deeply ingrained in local culture. The wheat-based bread is typically baked in cylindrical clay ovens made of alkali soil, and the finished products have long shelf lives, making them convenient pocket companions on long journeys.
These days, naan is also helping people lift themselves out of poverty in less-developed areas in Yuli county, Bayingolin Mongol autonomous prefecture, Xinjiang.
The residents around Lop Nur, a dried-up lake bed in Yuli, have unique techniques for baking the bread, which have been passed down through the generations.
However, the tradition has been under threat as fewer people are willing to try to be breadwinners by making the bread, which is laborious work and can be taxing on the lungs given long exposure to smoke and flour.
"But demand for the bread still exists and that gives impoverished rural families an opportunity. So they were organized into a cooperative to bake naan and earn more money," said Abdulla Omarjan, executive head of the county's online business association.
In November, the local government began plans to integrate farmers' land and help them rent it out to local enterprises, which will use modern methods to boost productivity.
"For 1 hectare, the owner can get a rent of 10,500 yuan ($1,570) per year," Omarjan said.