Heavy rains hammer Beijing, Tianjin
By Xin Wen | China Daily | Updated: 2018-07-25 07:51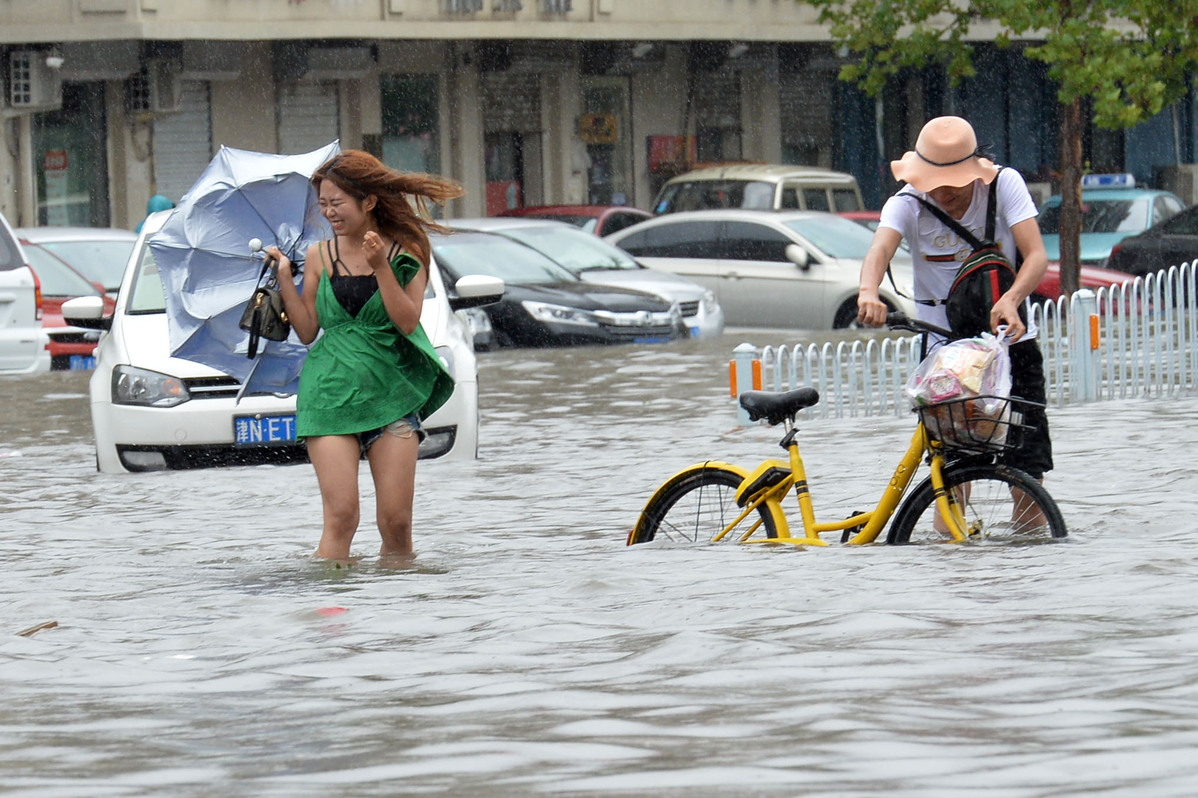 Torrential rain hit parts of Beijing on Tuesday morning under the influence of Typhoon Ampil after it moved into Hebei province early on Tuesday.
Ampil swept across much of North China, including eastern Beijing, parts of Hebei province and Tianjin, accompanied by heavy rains, strong winds and thunder, according to the National Meteorological Center.
At 8 am, the eye of Ampil was in Tianjin's Dagang district. The storm moved northeastward at a speed of 20 kilometers per hour, and was expected to reach the southeastern Inner Mongolia autonomous region around Tuesday evening.
Ampil, which had weakened to a tropical storm, brought road collapses in suburban Beijing and parts of Tianjin. It also caused street flooding in some urban areas and the disruption of air service.
The average precipitation in the capital from the rainstorms starting on Monday reached 41.3 millimeters, with some parts of Tongzhou district reaching 147.2 mm, according to the Beijing Meteorological Service.
Beijing Capital International Airport said about 98 flights had been canceled as of 5 pm on Tuesday.
The capital issued a yellow alert, the second-lowest in a four-tier warning system, for rainfall on Tuesday morning. It also upgraded its warning for geological hazards to orange, the second-highest.
At about the same time, Tianjin and Hebei issued a yellow alert for rain, along with a blue alert for the typhoon, the first time either of the two places had issued a typhoon warning since the weather warning regulation took effect in 2007.
The rainstorms are expected to last until Wednesday, and authorities in Beijing, Tianjin and Hebei province are working around the clock to make repairs.
A total of 183 scenic spots in Beijing were shut down through Tuesday because of the heavy rainfall and will not reopen to the public until risks are eliminated. Sites that have been shut down include the popular Mutianyu Great Wall and the Tanzhe Temple.
According to Beijing's flood control authority on Monday morning, 27,691 people had been relocated from flooded areas, mostly from the Fangshan and Miyun districts.
Beijing Drainage Group sent 2,700 people to join the rescue work on Tuesday morning, and also to check 85 pumping stations and backup power supplies.
City authorities in Cangzhou, Hebei province, assigned people to be on duty 24 hours a day to deal with emergencies.
Tianjin's transportation department imposed traffic controls on some roads during the morning rush hour to ease traffic congestion due to flooding.
xinwen@chinadaily.com.cn