Government efforts help control impact of flooding
By HOU LIQIANG | chinadaily.com.cn | Updated: 2018-07-27 17:13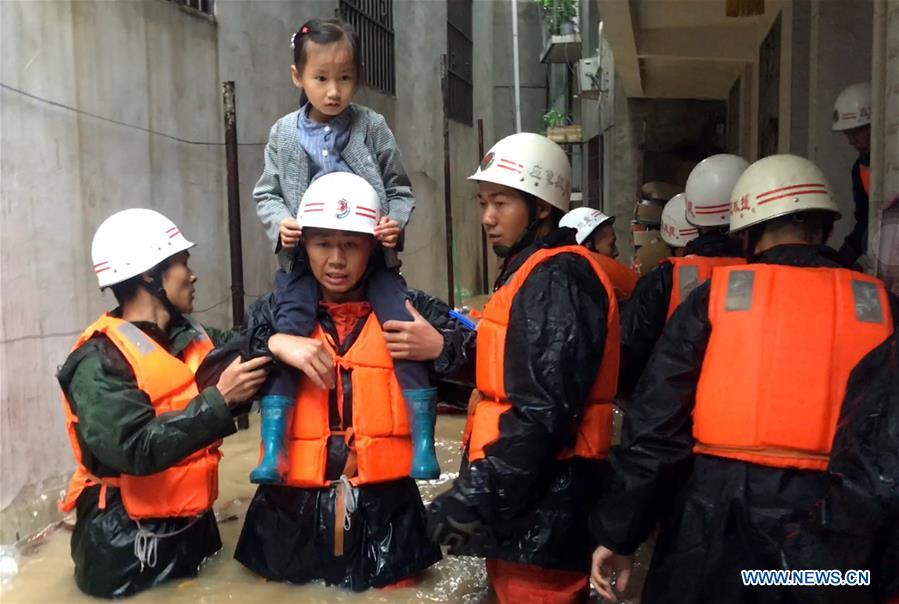 The death toll and economic losses from flooding in China have been reduced this year thanks to flood control measures taken by the authorities, a spokesman for the Office of the State Flood Control and Drought Relief Headquarters said.
Spokesman Zhang Zutuan told a news conference in Beijing on Friday that the death toll from flooding so far this year is 85 percent less than the annual average for the same period dating back to 2000 and direct economic losses are 10 percent below average. Floods have left 86 people dead and 13 missing since the country entered the rainy season this year.
Sichuan and Gansu provinces have been the most severely affected, with losses in the two provinces accounting for almost 60 percent of the total. The headquarters and the Ministry of Water Resources have coordinated about 1.7 billion yuan ($250 million) in flood and drought relief funding from the Ministry of Finance and 64 teams have been dispatched to facilitate relief work.
Reservoirs along the Yangtze River have played a big role in flood control, Zhang said. Before the flood season, 56 billion cubic meters of water was discharged from 40 reservoirs on the middle and upper reaches of the river so they could help store floodwaters and reduce risks, he said.
Zhang said China has more than 98,000 reservoirs, but many of them have not experienced major floods since they were constructed. The flood control situation of small reservoirs is especially worrisome, he said.
The headquarters and the ministry have secretly dispatched 136 teams to inspect reservoirs across the country to root out safety hazards as the rainy season continues. E Jingping, deputy head of the headquarters and the minister of water resources, led two of the secret inspections, Zhang said.
Casualties caused by mountain torrents have decreased a lot thanks to the country's monitoring and warning system, he said. The headquarters has inspected the system six times this year and county-level flood control authorities have issued about 18,000 warnings and helped evacuate 480,000 people facing mountain torrent hazards.
Zhang said the flood control situation in the country remains grim. Although the government has invested a lot in the construction of flood control infrastructure in major rivers, further investment is needed to enhance the flood control infrastructure in medium-sized and small rivers, he said.