Li calls for safeguarding national, ethnic unity
By HU YONGQI | China Daily | Updated: 2018-07-28 07:12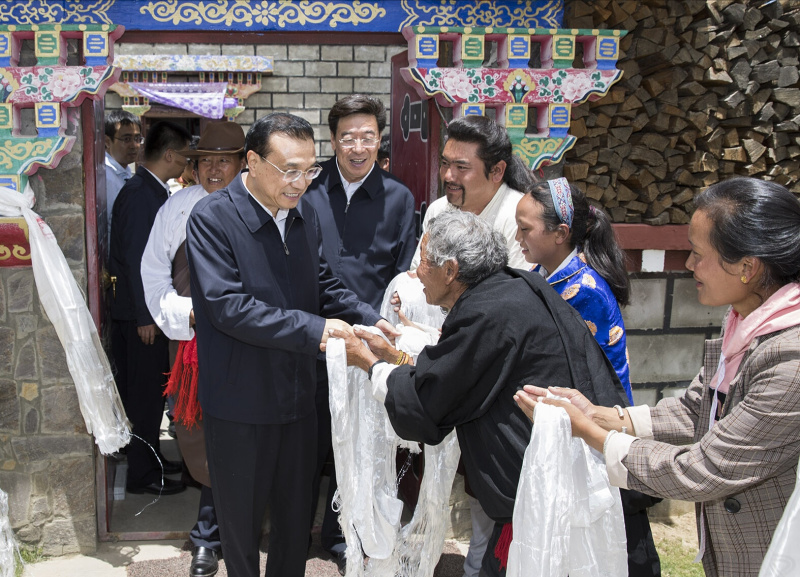 Infrastructure projects to help ease economic disparity, premier says
Premier Li Keqiang has called for patriots from religious circles in the Tibet autonomous region to help safeguard national unification, ethnic unity and social harmony.
Li made the remarks while visiting the Jokhang Temple in downtown Lhasa, the autonomous region's capital, on Thursday. The temple, built in 653, has observed the history of peace marriages between the Hans and Tibetans, the premier said.
In a three-day tour to Tibet that concluded on Friday, the premier visited the cities of Nyingchi, Lhokha and Lhasa.
In Lhokha, Li visited a construction site on a section of the Sichuan-Tibet Railway from Lhasa to Nyingchi.
The premier went into a tunnel that was 3,500 meters above sea level and told workers there to take good care of their health when working at such a high altitude.
The section is a vital part of the Sichuan-Tibet Railway, which is another lifeline for the plateau that will connect it with other provincial regions when completed, Li said.
The railway will shorten the travel time between Tibet and inland regions, and is vital to the development and ecological protection in the autonomous region, the premier said. He called on the workers to make the railway a high-quality route that can stand the test of history.
The Sichuan-Tibet Railway is a key project for the 13th Five-Year Plan period (2016-20) and has an overall investment of 270 billion yuan ($39.7 billion). With effective investments, the project will create enormous economic and social benefits, Li said. The central and western parts of China lag behind the east in infrastructure and efforts should be accelerated to diminish disparity between them by expanding effective investments, the premier said.
Li started his Tibetan tour on Wednesday from Nyingchi. Upon arrival, he went to a village that had been relocated from a poverty-stricken area. He stepped into the house of a villager named Kungsang and enquired about his income, his children's education and local healthcare services. Hearing Kungsang's family can make 150,000 yuan each year, Li said he is glad to know relocation has helped lift villagers out of poverty in the high-altitude region and wished villagers a happier life.
In Nyingchi, Li also visited the junction of the Nyangchu and Yarlung Tsangpo rivers. The Yarlung Tsangpo River is one of the world's highest-altitude rivers and the longest plateau river in China, Li said. As "a water tower" for China and Asia, Tibet should protect its water resources and vulnerable ecology, the premier told local officials.