Rumored trade talks boost stocks
By Zhao Huanxin in Washington | China Daily USA | Updated: 2018-08-01 22:42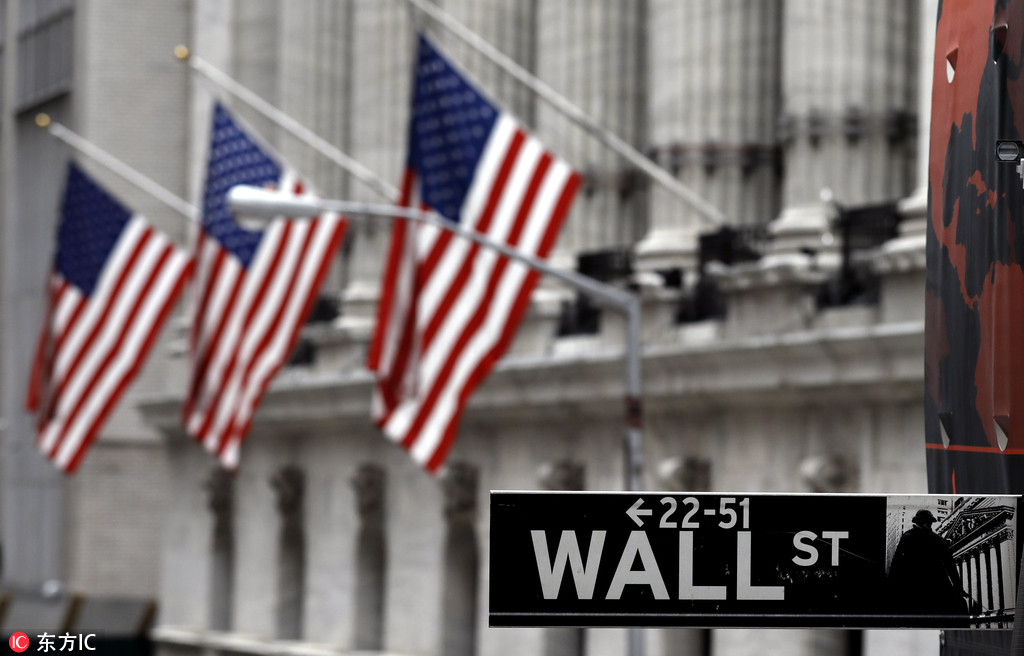 Wall Street responded positively to reports on Tuesday that China and the United States are seeking to resume long-stalled talks to defuse their brewing trade dispute, though some experts have mixed reactions to the prospects of such negotiations.
Representatives of US Treasury Secretary Steven Mnuchin and Chinese Vice-Premier Liu He are having private conversations looking for ways to reengage in negotiations aimed at averting a full-blown trade war, Bloomberg reported, citing unnamed sources.
The sources said that a specific timetable, the issues to be discussed and the format for talks aren't finalized, according to the report.
A Wall Street Journal report on Tuesday also said the talks for a possible meeting remain at a very preliminary stage. It said that despite receiving support from the European Union for its trade offensive against China, Washington hasn't made meaningful progress in easing its market-rattling trade dispute with Beijing.
Boosted by gains in industrial shares following reports of renewed trade negotiations, both the S&P 500 and the Dow Jones Industrial Average posted their biggest monthly percentage gains since January, when markets hit peak levels, Reuters reported.
By day's close on Tuesday, the Dow Jones Industrial Average had increased 108.36 points, or 0.43 percent, to 25,415.19. The S&P 500 was up 13.69 points, or 0.49 percent, to 2,816.29. The Nasdaq Composite Index rose 41.78 points, or 0.55 percent, to 7,671.79.
The Chinese embassy made no comments on the report of trade talks on Tuesday and there was no confirmation from the US Department of Commerce.
If resumed as reported, it would be the fifth round of talks since early this year between the world's top two economies, which are embroiled in a spat intensified by a fresh round of tariff threats from the US, following penalizing duties it started to impose on $34 billion worth of Chinese imports on July 6.
The reports coincided with the end of a public comment period on the proposed US tariffs of 25 percent on a further $16 billion of Chinese imports on Tuesday.
Ambassador Carla Hills, a former US Trade Representative, said the possible talks are "timely" after a hiatus of many weeks in which the two sides have not talked.
"I think that's a big mistake, we do have our differences, but you are not going to solve them without sitting down and trying to have a cordial discussion about those differences," Hills, now chair and CEO of Hills and Company International Consultants, told China Daily.
Douglas H. Paal, vice-president of the Asia Program at the Carnegie Endowment for International Peace, cautioned the likelihood of success for a fresh round of trade talks is low, given US President Donald Trump's demands.
"To have a breakthrough, you need priority targets," Paal told China Daily. "There is scant evidence the administration has organized its priorities."
Jon Taylor, professor of political science of the University of St. Thomas in Houston, said China has signaled its willingness to return to the negotiation table. The question is if the Trump administration will negotiate in good faith.
"Given its recent track record, that remains to be seen," he said.
Taylor said what makes things more difficult are the divisions among Trump's top advisors over how best to deal with China.
"These differences have created an unpredictable and incoherent trade and tariff policy toward China. Let's hope that the talks resume soon," Taylor said.
Between February and June, Beijing and Washington engaged in four rounds of high-level economic talks. As a result, the two sides produced a China-US joint statement on May 19, with a consensus reached on strengthening trade and economic cooperation and avoiding a trade war.
The US walked back the track by abandoning bilateral consensus and insisted on fighting a trade war with China, which responded by taking countermeasures.
Contact the writer at huanxinzhao@chinadailyusa.com