Tariffs popping up in earnings reports
By ZHANG RUINAN in New York | China Daily USA | Updated: 2018-08-01 22:54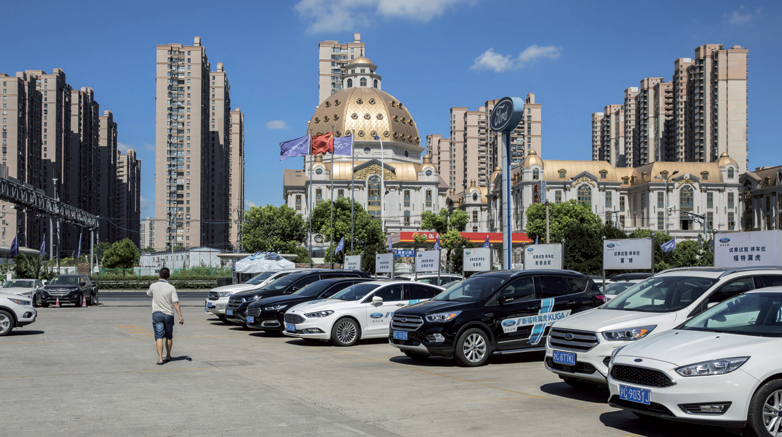 Some US companies are starting to notice the tariffs' potential toll on their costs and earnings, as are some consumers.
On Monday, Caterpillar said in its second-quarter earnings report that a 25 percent US tariff on imported steel could cost the company $100 million to $200 million in the second half of the year.
Caterpillar, based in Peoria, Illinois, however, still raised its earnings per share outlook for 2018 to $11 to $12, up from $10.25 to $11.25.
"Based on outstanding results in the first half of the year and continued strength in many of our end markets, Caterpillar is again raising our profit outlook for 2018," CEO Jim Umpleby said in a statement.
According to Reuters, larger US companies are starting to take a tariff hit, forecasting a possible impact on earnings and an increase in costs.
US automakers General Motors and Ford Motor lowered their full-year earnings forecasts due to tariffs.
General Electric estimated that new tariffs on its imports from China could raise its costs by $300 million to $400 million overall.
Tyson Foods Inc, the largest US-based meat producer, cut its full-year earnings forecast, citing the uncertainty in trade policies and increased tariffs that have hurt domestic and export prices of meat.
The US imposed 25 percent tariffs on $34 billion of Chinese products on July 6, and the review period on another $16 billion of imports will end on Wednesday. China will reciprocate with tariffs on the amount of goods.
US President Donald Trump has threatened to impose tariffs on an additional $200 billion worth of Chinese goods including fish, petroleum, chemicals, handbags and textiles.
A 10 percent tariff on all imports from China would lower Goldman Sachs' 2019 S&P 500 earnings per share estimate by 3 percent, chief US equity strategist David Kostin wrote.
If "tensions spread" and a 10 percent tariff were imposed on all US exports to China, Kostin said the S&P 2019 EPS estimate would be 15 percent lower.
"Tariffs benefit some domestic industries but pose a risk to S&P 500 earnings through reduced revenues (lower exports) and weaker margins (higher input costs)," Kostin wrote.
"When the companies' costs are going up, the first thing they do is try to make savings internally by cutting travel and leaving positions vacant," said Marshall Meyer, a professor at the Wharton School at the University of Pennsylvania.
Brinly-Hardy, a US lawn-care equipment maker based in Indiana, said it has to lay off 75 employees this summer, saying that tariffs on Chinese imports could be the "nail in our coffin".
The firm started in 1839 making horse-drawn plows and survived wars and the Great Depression.
"But eventually they have to raise prices for consumers," Meyer added.
US consumers have started to see higher prices for recreational vehicles, soda, beer and other goods.
"I cannot enumerate all the industries where tariffs will impact prices," Meyer added. "For example, all products with significant steel and aluminum content are vulnerable."
US domestic steel and aluminum prices are up 33 percent and 11 percent, respectively, since the beginning of the year.
Coca-Cola last Wednesday announced that it would raise prices on carbonated drinks. CEO James Quincey said that the action was necessary to respond to higher production costs for cans due to the aluminum tariff.
"Clearly, it's disruptive for us. It's disruptive for our customers," Quincey said on the company's earnings call last week. "But I think the conversations have been about how this is going to work for each and every customer."
According to the US Labor Department, consumer prices rose 2.9 percent in June from a year ago – the highest increase in more than six years.
The producer price index rose 3.4 percent in June from a year earlier, as energy and shipping costs climbed along with metal prices.
"The current administration has been deliberately avoiding consumer goods and focused on items used by businesses," said Philip Levy, senior fellow on the global economy at The Chicago Council on Global Affairs.
"But it still will affect some consumers, because when you raise the prices of the input of the US domestic production process, which is what they ended up doing, that is where you will have a consumer impact."
"We will see the prices of the goods that have low price elasticity of demand rising higher and faster than those with high price elasticity of demand," said John Zhang, director of the University of Pennsylvania's Wharton China Center. "In other words, for the goods from China that are unique, necessity goods and also that few manufacturers compete [with] as suppliers in China, the prices are more likely to rise.
"Right now, margins are squeezed. Still, everyone wants to be a second mover, to wait until a competitor raises prices," added Meyer. "But when the dam breaks, producers will move in unison to increase prices. I could not predict when this will happen, but it will happen."
Contact the writer at ruinanzhang@chinadailyusa.com