All aboard: A look at China's high-speed rail, 10 years on
China Daily | Updated: 2018-08-02 07:02
It's come a long way since 2008, and nation plans to make it much longer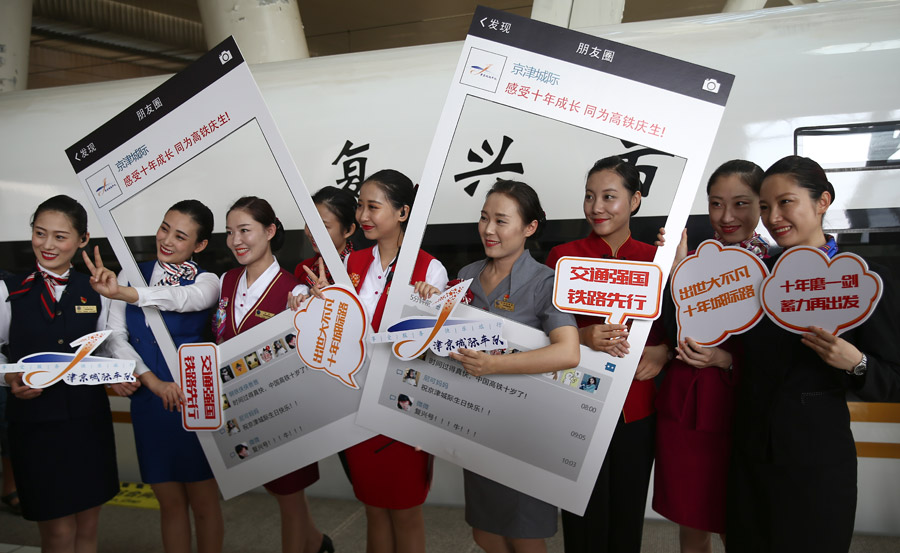 Aboard the train designated C2022, attendant supervisor Xu Ying walks down the aisles checking luggage safety and sanitary conditions.
The high-speed train, running at more than 300 kilometers per hour, takes 35 minutes from Tianjin to Beijing.
Passengers read magazines, bury themselves in their phones or simply doze off.
"Now people are used to high-speed trains, but the situation was different 10 years ago," Xu said. "Many left their seats to look here and there. Even the bathrooms became resorts."
On Aug 1, 2008, China's first high-speed railway line-from Beijing to Tianjin-began operations.
Many passengers, including foreigners who came to watch the Beijing Olympics that year, simply wanted to experience travel by high-speed train.
"They kept staring at the display showing the train's speed and watching outside to feel it," Xu said. Some passengers would ask Xu to pose for photos with them.
David Feng of Switzerland, who teaches at a Beijing university, wrote about his feelings aboard the fast train that day.
"Speeds maxed out at 348 km/h near the northern suburbs of Tianjin. It took me around just 30 minutes to change cities-something basically impossible to believe until that day."
The daily frequency of Beijing-Tianjin one-way intercity trains has increased from 94 to 217, with 250 million passengers transported in the past decade, according to the Beijing Railway Bureau.
Njeri Kamau of Kenya teaches English at a kindergarten in Tianjin. She takes the high-speed train every Friday afternoon to meet her husband, who works in Beijing.
The high-speed train has made it so much easier to maintain the long distance relationship, she said.
More on the way
The first high-speed railway in North China's Inner Mongolia autonomous region was completed on Tuesday.
The 287-km line passes Hohhot and Ulanqab, and then goes to Zhangjiakou in neighboring Hebei province.
It is expected to start operations at the end of 2019 along with the Beijing-Zhangjiakou high-speed railway.
The two lines will reduce travel time between Beijing and Hohhot from nine hours to three.
By then, all provincial-level regions on the Chinese mainland will have high-speed trains, except the Tibet autonomous region.
The length of high-speed railway lines in China hit 25,000 km as of the end of last year, accounting for two-thirds of the world's total.
More than 4,000 bullet trains run in China, carrying 4 million passengers every day, according to the China Railway Corp.
When Han Yonghui first left his home in Xiangfen, Shanxi province, to open a small restaurant in 1997, he had to walk for an hour to the nearest train station and wait in line overnight to buy a ticket before boarding a packed slow train that took him to Tianjin in 18 sweltering hours.
All that changed when high-speed trains reached Han's hometown in 2014, cutting his travel time to Beijing, where he runs a restaurant, to six hours.
"My high-school children are able to come to visit every summer vacation," Han said.
A high-speed railway connecting Beijing and Guangzhou has shortened the travel time across the 2,300-km distance to eight hours.
The new Fuxing bullet trains travel at 350 km/h, going from Beijing to Shanghai in four hours and 18 minutes.
By 2020, the length of China's high-speed rail lines is expected to reach 30,000 km, covering 80 percent of major cities.
A network of eight east-west high-speed rail lines and eight north-south lines will be built, according to a railway development plan.
High-speed rail has helped with the integrated regional development of Beijing, Tianjin and Hebei province, a national strategy initiated in 2014.
Wang Ye from Beijing takes the C2205 to work every morning. In 24 minutes, the train takes her to Tianjin's Wuqing district, where Wang works at a factory that manufactures train parts, Tieke Zongheng.
Of the 150-plus employees in the factory, more than 20 commute from Beijing every day.
"High-speed trains have made the intercity commute possible," Wang said.
Wuqing has attracted more than 8,200 projects from Beijing over the past five years, including Tieke Zongheng.
Investment in these projects has totaled 51.6 billion yuan ($7.6 billion), according to the district government.
High-speed rail economy
The Beijing, Tianjin and Hebei region has showcased the high-speed railway economy.
High-speed rail symbolizes the new structure of the Chinese economy, influencing all aspects of society.
By the end of 2017, China's high-speed trains had carried more than 7 billion passengers. Cargo delivery via high-speed trains started in 2016, with more than 500 cities used as pilot areas for express services.
China's high-speed rail has also gone global. In 2014, China completed the construction of its first overseas high-speed rail in Turkey.
In June 2015, China and Russia inked deals for 770 km of track connecting Moscow and Kazan. In October 2015, China and Indonesia signed a joint-venture on the construction of a high-speed rail between Jakarta and Bandung.
Huang Yanghua, an associate researcher at the Chinese Academy of Social Sciences, believes high-speed rail had saved time, helped integrate the regional economy, boosted the flow of talent and information, and reshaped China's economic map.
Xinhua