Beijing Zoo: Don't feed the animals! Please.
By DU JUAN | China Daily | Updated: 2018-08-02 08:12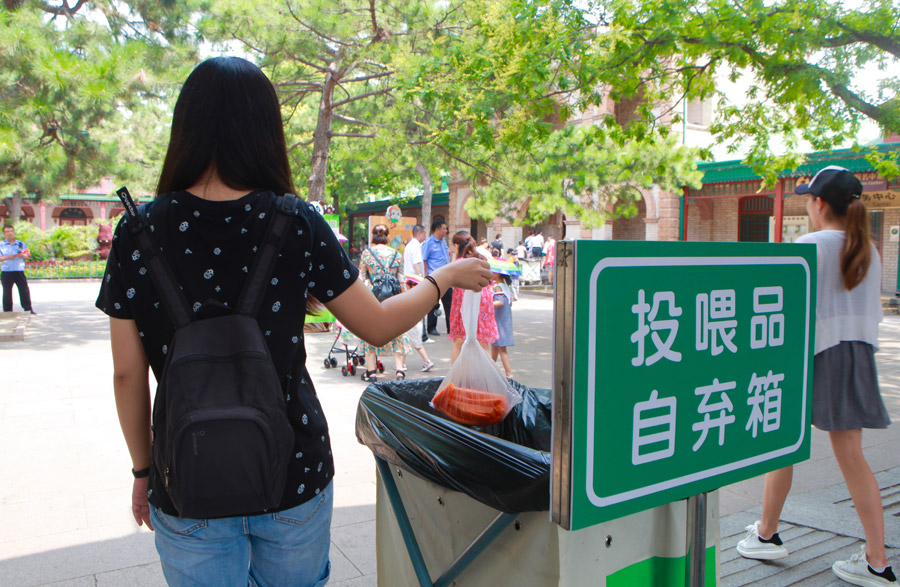 Beijing Zoo added new emphasis to its efforts to prevent people from feeding or otherwise harming captive animals: Through the month of August, it will conduct joint patrols with urban management officers to dissuade the rule-breakers.
According to a report in Beijing Daily on Wednesday, those who feed animals in forbidden areas will be fined 50 to 100 yuan ($7.50 to $15) in accordance with Beijing's park regulations.
Ju Hongbo, deputy director of the Beijing Zoo, said the joint patrol would include both observation and enforcement to educate visitors about proper behavior.
Food for animals is normally provided by zookeepers with the correct nutritional balance. Visitors who feed animals break that balance and cause indigestion or worse, according to the zoo.
In 2015, three deer at the Shanghai Zoo died after ingesting inedible material, including plastic bags, thrown into their enclosure by visitors.
Since the middle of last month, Beijing Zoo has dealt with more than 300 cases in which animals were fed in forbidden areas. It now has staff members, as well as audio guides, in key areas such as the waterfowl ponds and Monkey Hill, to dissuade people from feeding the animals.
During weekends, which are usually a busy time for the zoo, the authority will add 30 volunteers to help staff members dissuade visitors from feeding animals.
Meanwhile, the zoo has rebuilt some pavilions that help avoid the problem.
Beijing Zoo has established feeding zones in its giraffe pavilion and kids center, where zookeepers will regularly provide a certain amount of food visitors can use to feed the animals.
On July 22, a man brought food into Beijing Zoo and showed his daughter how to feed it to a deer. When other visitors tried to dissuade him, saying the behavior would harm the animals, he became angry and continued feeding, which in turn escalated the verbal dispute. Zookeepers intervened to prevent a fight.
Since July 27, urban management officers have begun patrolling the zoo and can fine people who illegally feed the animals.
"Hopefully, the new regulation will effectively stop the ones who like feeding the animals, which in fact is harming them," said Zheng Wei, 31, a young mother of a 5-year old girl. "We should teach our children correctly rather than just having fun. Many tragedies have already happened because of improper feeding."
Zhang Lu, an engineer in Beijing in his 30s and the father of a 4-year-old boy, said that when his family traveled abroad, he seldom saw people feeding animals in zoos.
"Supervision is needed to ensure a healthy environment for the animals," he said.
Xinhua contributed to this story.