Retired sailor brings traditional ships to life
By LIU XIANGRUI/FENG ZHIWEI | China Daily | Updated: 2018-08-03 07:26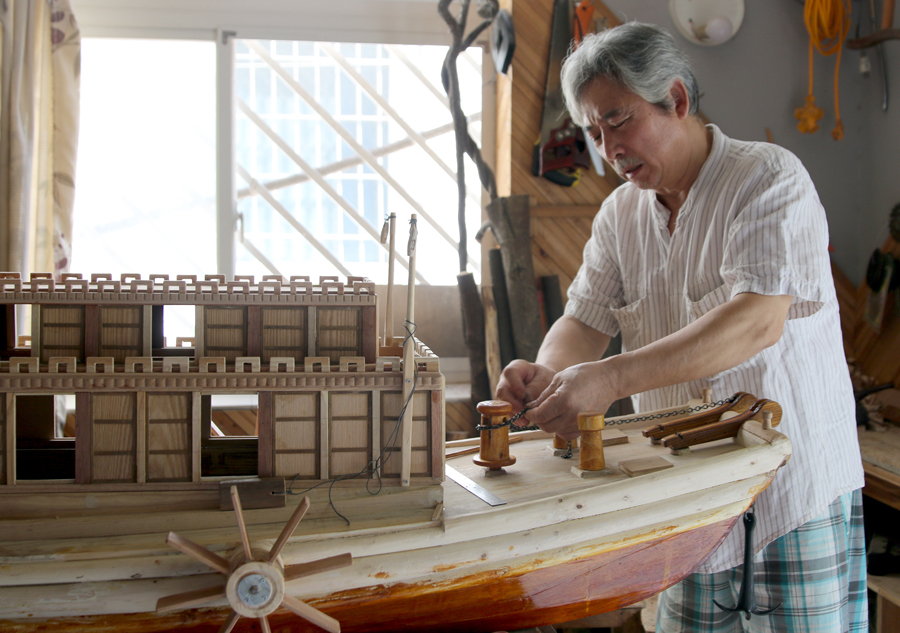 In his small workshop by the Laodao River in suburban Changsha, Hunan province, gray-haired Wang Fangde is busy working on a model of a warship nearly 900 years old.
"It will take another month to complete," said Wang, 68, pointing to a wooden miniature.
Almost every day, Wang confines himself to the small room, which is packed with various tools-and an old electric fan during hot summers-to work on his ambition of building a museum to preserve local boat culture.
Wang's began his endeavor in 2009, and has built 16 miniature models of ships that sailed along the local Xiangjiang River in the past, referring to his early memories and books.
Wang's work was noticed by the local government, and he was recognized as an inheritor of intangible cultural heritage by the city.
Wang said his entire life has been closely associated with boats, and he has deep feeling toward them. His family lived on a small wooden sailing barge, and he was born there.
Wang's father, who started making a living on a boat as a boy, once sailed the Xiangjiang River and transported goods to sell in downtown Changsha.
"I lived with him on the boat ever since I was a kid," said Wang, adding that all his brothers and sisters also grew up on the boat.
Wang became an apprentice at 15, and was sent to learn how to operate powerboats the next year.
Soon he started working on cargo vessels for Changsha Water Transportation Co and mostly traveled along the Xiangjiang.
Over the years, Wang has been impressed by the fast development of water transportation and the tremendous evolution of ships traveling the river.
However, he also cherishes the memory of watching sailboats on the river, he said.
After he retired in 2005, Wang had a strong impulse to recreate a local style of wooden barge, like the one of his childhood.
According to Wang, wooden sailboats had almost disappeared from the Xiangjiang by the end the 1980s, but such boats' details were deeply engraved in his mind.
He drew the general structure of the boat from memory, and carried out his plan. The first project took him half a year.
To learn more about the craft, Wang approached senior craftsmen for advice. As traditional craftsmen didn't have blueprints and relied only on their experience, Wang had to explore the art based on his memory and understanding of boats.
"Ever since I was a kid, my family's wooden boat had to be repaired every couple of years, so I learned quite a few things about the job," Wang said.
He used a particular type of wood for certain parts of the boats depending on the strength required for each part. Each boat was put into the water for tests after completion.
"My requirement for making a model is the same for making a real boat in the past. Nothing is casually dealt with," Wang said.
For example, he can spend an entire day on an anchor, which he has to manually polish, in addition to carefully considering its material, shape and size.
It has become a huge challenge for Wang at his age, as more than 100 parts are needed, he said, noting that he has difficulty seeing things clearly and often accidentally gets small injuries from the work.
But Wang is determined to make as many models as possible.
"If I don't do this, the craft that has been passed down for generations will probably disappear, and the kinds of ships specific to our region will disappear," Wang explained, adding that he can build about 20 different kinds of boats based solely on memory.
He said he's been contacted by some collectors who are willing to buy his models, but he has refused to sell them.
"Since the first ship model, I have gradually developed a goal, which is to build a ship culture museum in Changsha, and to recover and promote our sailboat culture," he said.