Cyclist completes his cleanup marathon on Tibetan highway
By Palden Nyima in Lhasa | China Daily | Updated: 2018-08-03 07:54
Lin Peng spent three months riding his secondhand tricycle and picking up trash on the way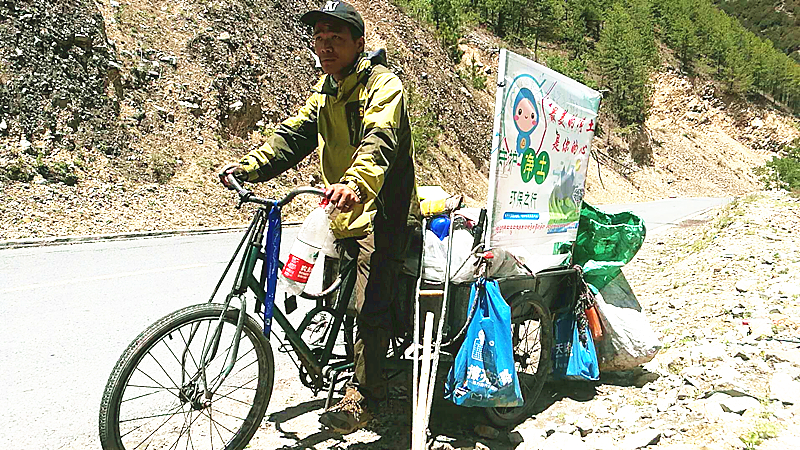 A young traveler who collected garbage alongside the Sichuan-Tibet Highway for nearly three months has attracted a lot of social media attention recently.
Lin Peng, 28, spent 90 days on the road after quitting his job with a telecommunications company in Guangzhou, Guangdong province.
After starting his journey in Ya'an, Sichuan province, on April 20, he cycled and trekked more than 20 kilometers every day, collecting rubbish on the way.
Lin arrived in Lhasa, the capital of the Tibet autonomous region, on July 21 and returned home recently.
Most of the time during his journey he was on his own, with just his tongs, a pair of gloves and a secondhand tricycle with a flat cart.
Sometimes he made friends with hikers inspired by his cleanup campaign, and they helped him collect waste for a few days before going their separate ways.
His face has become weather-beaten and tanned from his time on the road.
Lin said it was his second visit to Tibet, after a cycling trip last year, but this time he chose to make his journey a small contribution to nature.
"I'm always sad to see that so many beautiful spots are polluted, and I decided to make another trip for environmental protection," he said.
"The last time I was in Tibet, I saw a lot of waste on the roads, in the rivers and at the Base Camp of Qomolangma (known as Mount Everest in the West), and my heart was crying."
He said another reason for adventure was to repay the kindhearted people who helped him on last year's trip, when he first thought about becoming a promoter of environmental protection.
Temperatures in Tibet in May can be frigid, and the weather was fickle, making it one of the biggest challenges on his journey.
Lin frequently encountered extreme weather conditions such as blizzards and hail, and on May 4, when climbing Zheduo Mountain in Sichuan, he ran into three snowstorms.