Former world champion wrestler adjusts to office life in Lhasa
By Palden Nyima and Daqiong in Lhasa | China Daily | Updated: 2018-08-03 07:54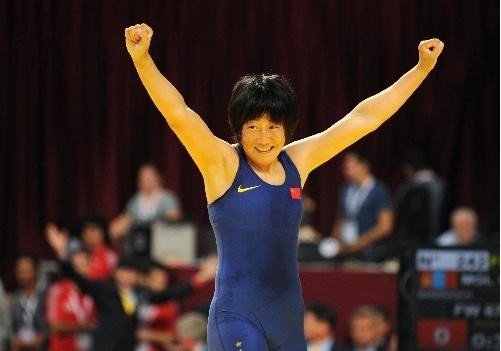 Even though she can see the Potala Palace and a sports field from her Lhasa office window, former world champion wrestler Sherab Drolma admits to doubts over the past year about whether she is cut out for office work.
The former athlete still looks tough and muscular, and is not that talkative, but she does possess a strong sense of humor and smiles broadly as she speaks.
Born into a Tibetan farmer's family in Nyingchi, a city in the east of the Tibet autonomous region, Sherab Drolma has won many championships around the world in the past decade.
"I'm not from a typical sports family, although my father does enjoy traditional Tibetan whistling archery, a sport popular in the Nyingchi area," she said. "My parents' generation were all farmers."
As a primary school student, Sherab Drolma won a long jump contest, competing against students from every primary village school in her hometown.
In 2001, when she was at middle school, her future direction was set when she was recruited by the region's sports school and enrolled in its wrestling class.
"At first, my parents did not support me becoming an athletic student because it's not easy for a girl, as more heavy training is required," the 32-year-old said. "During the four years of training in the sports school I enjoyed the first year as I felt very curious about it and we had other classes besides wrestling."
Sherab Drolma officially entered Tibet's sports team in 2005 and the national team in 2010. She studied at Beijing Sport University's Sport Coaching School between 2010 and 2014, and earned a master's in athletic training afterward.
During her 16-year sports career she won many national and international freestyle wrestling titles and visited 13 different countries to compete at championships.
Competing in the 67-or 63-kilogram weight divisions from 2011 to 2017, she won a gold medal and a bronze medal at the World Wrestling Championships, two golds at the Asian Wrestling Championships, four national championships, one silver medal at the Asian Games and a group third place in the World Cup.
She was the first Tibetan woman to win an international wrestling gold medal, but maintains a low profile, insisting she was not that strong or brave.
"I consider the Japanese wrestlers the best ones; they challenged me the most during different competitions," she said.
Sherab Drolma encountered many setbacks during her sports career, including a broken leg while preparing for the Asian Games in 2014.
She had an operation on the leg in 2016 but retired from wrestling last year due to health concerns.
Her leg is now recovering and she runs occasionally and sometimes hikes in the mountains near the Tibetan capital. Her favorite sporting activity is playing basketball.
As few Tibetan women are fond of the sport, she plays with and against men, which she said she enjoys.
"I never thought of becoming a world champion. It just came to me one day," she said with a laugh.
"My parents disliked it at first, because they thought a girl doing well in wrestling was no glory."
Apart from work and sports, Sherab Drolma said she enjoyed going to the cinema on weekends to watch movies with her friends.
"Having stepped out of my role as an athlete and being an office worker now, I have to learn to live in the office first," she said.
"I'm retired now, but I believe the region will produce more excellent and better sportswomen in the future."