Helicopter company gives impoverished students wings
Xinhua | Updated: 2018-08-03 07:54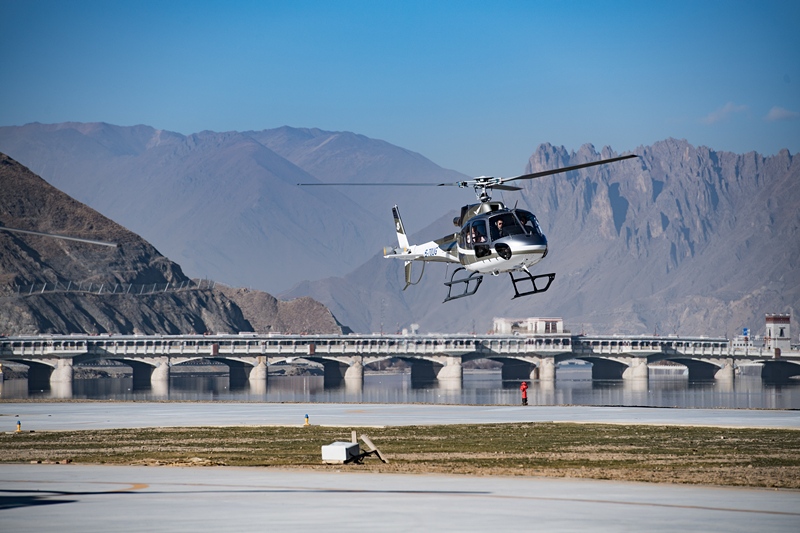 Chenre Yeshe, 21, is one of nine children from a herder's family in Damshung county in Lhasa, capital of the Tibet autonomous region. Her new job as a helicopter pilot makes her hometown proud.
"Once I flew a helicopter back to Damshung county, and my fellow villagers said I was like a fairy flying in the blue sky, and that I was the pride of Damshung," she said.
Chenre Yeshe is the first female pilot at Lhasa Snow Eagle General Aviation, a joint venture founded by the Lhasa government and Ruoer General Aviation Development Group - better known as Ruohang - which is based in Nanjing, Jiangsu province.
Snow Eagle started with four helicopters in April. The company plans to build its fleet in Tibet to 32 helicopters for tourism, emergency aid and environmental patrols, and the number is expected to reach up to 200 in the long term.
Its helicopters have made 4,000 trips over the Qinghai-Tibet Plateau, and Ruohang Chairman Lyu Yong said he expects they will make a total of 30,000 trips this year.
The company recruited 28 students in the first batch, including 16 women from vocational schools and universities. All are from poor families. The candidates were trained in Suzhou, Jiangsu, about 4,000 kilometers from Lhasa.
"So far 15 pilots and maintenance workers have finished training and started work," Lyu said. "When my company started operations in Lhasa, we told pilot recruits from impoverished families that training for them was free."
Nanjing Vice-Mayor Hu Hong, who was dispatched to work in Lhasa in 2015, advised the company to establish operations in Tibet.
"The purpose is to train local people to become pilots and seize the opportunities of booming tourism," he said. "The company also hires herders to collect meteorological information, which is a source of increased income for the herders."
Chenre Yeshe studied at a vocational school in Lhasa before being admitted to the pilot training program. "Forty of my classmates applied, and I was the only one who qualified," she said.
She began working when she was still in middle school. "I earned 50 yuan ($7.50) a day carrying stones for road construction," she said. "When I went to ask for a job, they said I was too young and weak. I begged the boss to let me try for a day without needing to pay me and I eventually got my part-time job."
Chenre Yeshe now earns 14,600 yuan a month. She only keeps 600 yuan and hands the rest to her parents.
"About 15 years ago, my elder sister had good marks in the national college entrance examination, and was admitted to university, but my mother was sick and needed money for surgery, so my sister gave up university and worked odd jobs in Lhasa," she said. "I'm glad to be of help to my family now."
Chenre Yeshe's colleague, 24-year-old Gyatso, graduated from Tibet University.
"I dreamed of becoming a pilot when I was young," he said. "When I graduated, I planned to become a computer teacher, but then this opportunity came, and I was ecstatic that I could pursue my dreams.
"Lyu did not think I could become a good pilot, so I went to him a couple of times to tell him how much I wanted to become one. He finally gave me an offer."
Another of Snow Eagle's new employees is Baima Yangzom, who grew up in an orphanage in Lhasa. She lost part of a finger when helping her grandmother with farm work when she was little.
"It is so sad I could not become a pilot, but working in ground maintenance is good enough," she said.
Snow Eagle is now recruiting a second batch of trainee pilots, in Lhoka.