United by music
By Chen Nan | China Daily | Updated: 2018-08-10 08:06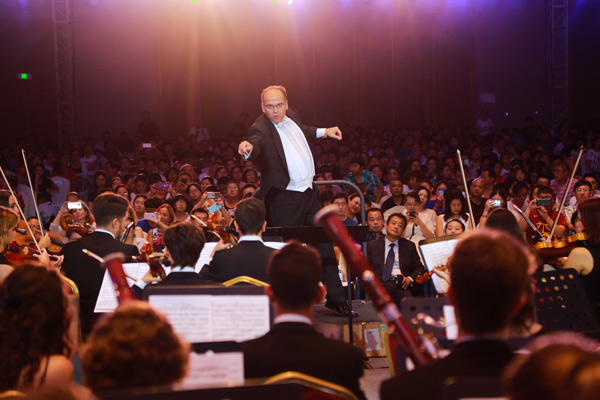 In early 2016, violinist and conductor Liu Zheng, who lives in Beijing, made a proposal to the festival committee to bring it to China every year. Having participated in several Eurochestries festivals held across Europe, Liu, who studied music at the University of Music and Performing Arts Vienna from 2000 to 2003, wanted to organize a festival in his home country with the aim of giving wider international exposure to young Chinese music students.
"I was impressed by the atmosphere at the music festival when I went there for the first time in 2000. The musicians from different countries not only performed together but also lived together, like a summer camp," recalls Liu. "I took some Chinese symphony orchestras to Eurochestries events but I wanted more young Chinese musicians to experience the festival and benefit from it."
As with the first Eurochestries Festival in China, Liu wanted to showcase young musicians playing music from their own countries this year. During the nine-day event, Liu also drew up schedules for musicians from different countries to perform together under the baton of a conductor from another country entirely.
"Music unites people. We communicate in the language of music," adds violinist Kang Lu, who performed with musicians from the Beijing Philharmonic Symphony Orchestra, which was founded by conductor Liu last year. Kang has been performing with the Beijing Symphony Orchestra since graduating from the Xinghai Conservatory of Music in Guangzhou, Guangdong province, in 2009.
"Some of the orchestras are making their debut performances in China. Some of them have never been to China before. It's a great opportunity for those musicians to explore China and for Chinese audiences, it is a chance to enjoy music they've never heard before," Kang says.
Among the orchestras making their China debut is the Bergen Philharmonic Youth Orchestra, which gave four concerts at this year's festival. They brought to the stage repertories by several European composers, including Shostakovich's Festival Overture, Jean Sibelius' Ode to Finland and Edvard Grieg's Two Elegiac Melodies.
"It's great to meet people from around the world through music, especially the young Chinese musicians," says conductor Kjell Seim, Bergen Philharmonic Youth Orchestra's main conductor, who graduated from the Norwegian Academy of Music in 1986.
Seim, 62, performed at the National Center for the Performing Arts in Beijing with the China Film Orchestra in a concert themed on Norwegian music in 2008.
Young Estonian composer and conductor Riivo Jogi adds, "When people from different cultures play music together, it offers a unique experience to the public as well as the performers. We perform music from different countries, which allows us to experience other cultures."
Contact the writer at chennan@chinadaily.com.cn