BBC orchestra to do 5 concerts in China
Xinhua | Updated: 2018-08-10 08:09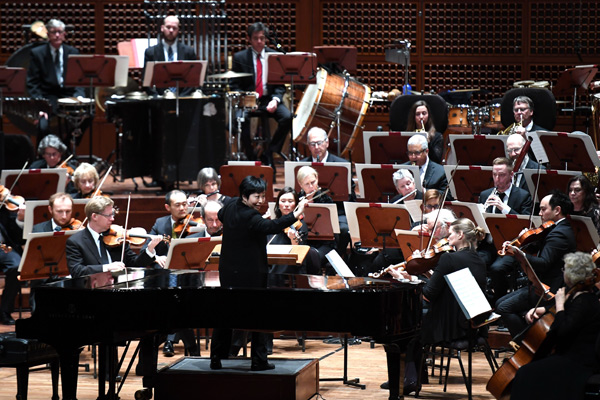 LONDON-BBC National Orchestra of Wales will tour China over Dec 15-21, performing five concerts in four cities aimed at fostering creative collaborations between China and Wales, the orchestra announced on Tuesday.
Led by Chinese principal guest conductor Zhang Xian, the orchestra begins its tour with two concerts in Beijing followed by shows in Changsha, Wuhan and Shenzhen. According to the BBC orchestra, the visit marks the first time Zhang will tour her home country with a European symphony orchestra.
"I conduct a number of the Chinese orchestras on a regular basis, but this is the first time I am touring China with a European orchestra. I am very much looking forward to introducing the musicians of the BBC orchestra to my country, and I think that the cultural cooperation with my musicians and the musicians in Shenzhen will be extremely interesting for us all," says Zhang.
The tour is the result of a visit by a Welsh cultural delegation to China in early 2017. And it is being supported by the British Council in China, the Wales Arts International and the Arts Council of Wales.
During the visit, Zhang and members of the orchestra will share their experiences with aspiring female leaders and musicians in a series of activities in the host cities.
Michael Garvey, the director of the BBC orchestra, says: "This tour offers a wonderful opportunity to build creative links with our partners in China, enhancing the close relationships that already exist between our two countries."
Nick Marchand, director, Arts China and North-East Asia, at the British Council, says: "The British Council is delighted to support the orchestra's tour with Zhang Xian, Chinese principal guest conductor and the first female to hold that role in a BBC orchestra.
"With BBC NOW having first been part of a Welsh cultural delegation visit to China in early 2017, it is fantastic to see this UK-China cultural exchange come to fruition this year.
"We know it is going to be an inspiring visit, for both musicians and (the) audience alike."