Repair crew ready to clear landslide
By Li Lei | China Daily | Updated: 2018-08-13 09:16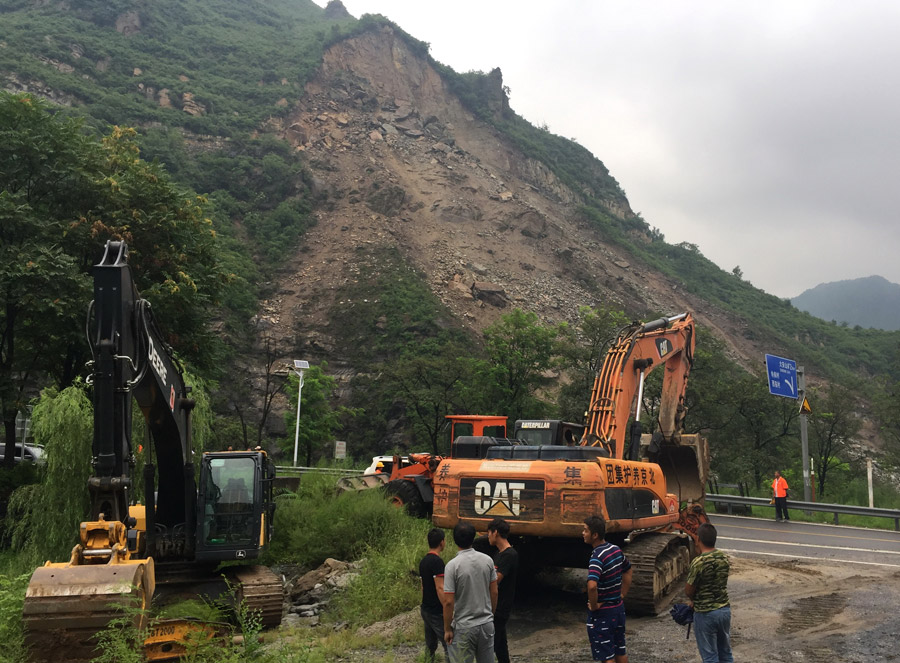 A repair crew of 55 workers and dozens of machines was on standby to repair a road in Beijing's Fangshan district that was blocked by a major landslide on Saturday morning following heavy rain, the district government said on Sunday.
Repair work will begin as soon as a plan is hammered out by a team of geologists investigating the scene, it said. Traffic is expected to resume by the end of the month.
The landslide, which brought down an estimated 5,000 cubic meters of mud and rocks at about 8:30 am on Saturday, was the biggest in Fangshan since 2012, the district government said.
There were no casualties, and no vehicles were damaged, but the landslide blocked Junhong Road in the capital's southwestern suburbs, Beijing's flood control authority said on Saturday.
Road patrol worker An Hongsan - who noticed rocks falling a few minutes before the landslide - stopped more than a dozen cars just in time, it said.
The flood control authority has warned of potential landslides in mountain areas and advised people not to visit them.
Downpours are expected in Beijing's mountainous north, east and southwest on Monday, Tuesday and Wednesday, according to the city's meteorological service.
Beijing's tourism authority said 171 scenic areas, including the popular Badaling Great Wall and the Badaling Wildlife Park, had been temporarily shut down as of 9 am on Sunday. It is not known when they will reopen to the public.
Heavy rain that hit the capital last month led to road collapses in Huairou, Miyun and Fangshan districts. It also caused flooding on some urban streets and disrupted air travel.
Xin Wen contributed to this story.