Fans have fond memories of Western pop series
By CHEN NAN | China Daily | Updated: 2018-08-15 08:53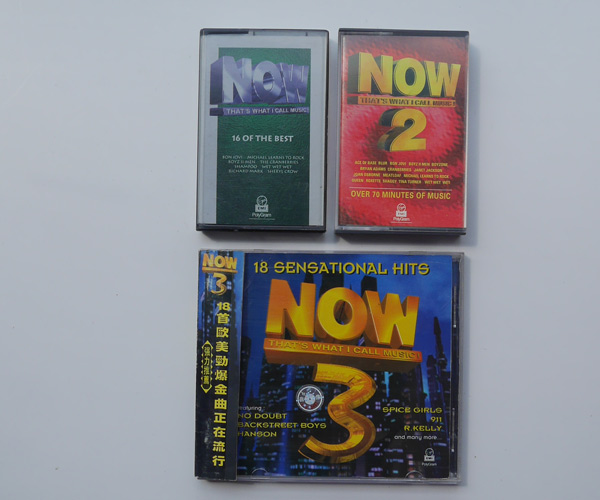 In 1995, then 12-year-old Wang Guan received a parting gift from his music teacher when he graduated from primary school. It was a cassette called Now That's What I Call Music (Asia series), which was a compilation album comprising 16 English pop songs.
It was the first time that the Beijing native had heard songs by Western pop stars, such as Jon Bon Jovi, Janet Jackson and boy bands like Boyzone and Boyz II Men.
"At that time, I had no access to pop music from the United States and Europe. I enjoyed the beat of the songs even though I couldn't understand a word," says Wang, 36.
Later, he began buying cassettes, CDs and magazines on Western pop music and became a big fan of US rock band Bon Jovi and its eponymous frontman.
Now That's What I Call Music is one of the most well-known pop music compilation series in the world, according to a report by BBC News on July 18.
More than 2,000 artists have been featured on the Now compilations and they have thrived through multiple changes in music consumption-from vinyl, cassette and CD to mini-disc and digital downloads, the report said.
Launched in 1983 in the UK by Virgin Records and EMI, the series entered the Asian market, including China, in 1995.
Recently, when Wang read about the release of Now That's What I Call Music's 100th edition on July 20, he ordered a copy online.
The latest edition features 44 songs from young artists, such as Ariana Grande, Justin Bieber and established bands such as UB40, which was featured in the first edition of the series in 1983.
"It (the series) mixes the latest sounds and nostalgia," he says.
"Now I listen to various styles of music online from all around the world, but the Now compilation still means something quite different to me."
Like Wang, Shanghai-based freelancer and music critic Cai Zhexuan acquired a copy of Now That's What I Call Music (Asia series) in 1995. He also got hold of copies of two other editions of Now That's What I Call Music (Asia series) released in 1996 and in 1997.
"At that time, we had no access to the internet, so it was hard for us to obtain music from the West.
"This compilation offered us some of the most popular songs," says Cai, adding that the song lists of the Now compilations show the changes and development of music styles.
According to the BBC News report, music genres on the Now compilations have moved from being dominated by soul in the 1980s and rock and electronic music in 1990s, to hip-hop and R&B in 2000s, and pop, dance music after 2015.
Irish rock band, U2, has had the longest run with the series, as their songs have featured regularly on Now compilations from 1984 to as recently as Now 99.
As for what the collections mean to fans, Cai refers to an online comment which says that "if you look through the volumes and find one where you know or remember 75 percent of the artists featured, that is the moment when you stopped being young".
Giving his take, Cai says: "I totally agree with this view. The Now compilations mark changes in music trends, and also remind fans about their age.
"They (the albums) are significant because they are more than just compilations. They are about music history and connect with listeners."
Thanks to the success achieved by the Now compilations, other record companies also release similar compilations, such as The Hits by the Sony BMG and Warner Music groups, says Danny Sim, the vice-president of international marketing at Universal Music China.
"They function like a radio, offering you a playlist, which caters to most fans. It also reaches people who don't normally buy records, and the amazing thing is, it resonates with people."