Highlighting the charm of Chinese folk music in Colombia
By Chen Nan | China Daily | Updated: 2018-08-18 11:33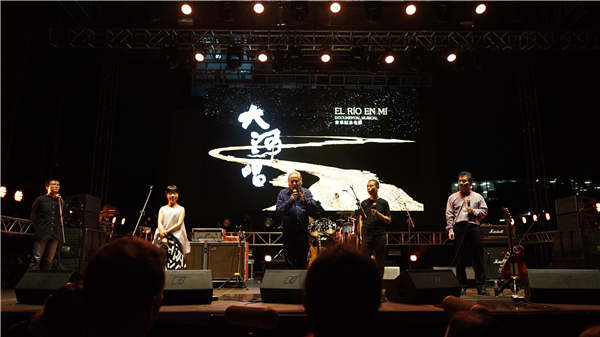 Renowned Beijing-based singer-songwriter Su Yang showcases his unique blend of rock and traditional tunes to audiences at a poetry festival in South America, Chen Nan finds.
After a 30-hour flight, Chinese singer-songwriter Su Yang finally arrived at Medellin, Colombia, where he made his debut performance at the annual International Poetry Festival of Medellin, one of the largest and most prestigious poetry festivals in the world.
On July 14, at Parque de Los Deseos, a public square where the opening ceremony of the festival was held, the 50-year-old Chinese musician plucked his guitar and performed 10 Chinese songs - they included Able and Virtuous, River Runs Southward and the world premiere of his new song Chest - in front of thousands of spectators and more than 100 poets from around the world.
During the week-long festival, Su, who is known for fusing traditional Chinese folk music with his original rock beats, also participated in two poetry reading events on July 15 and 16. Poets read the lyrics of Su's songs in Spanish.
"My songs depict the scenery from the mountains to the plains in remote Chinese areas and tell stories of young love, hard work and the weariness of farming life. I am surprised to find that people from different cultures understand and appreciate them," says Su in Beijing.
Unlike many Chinese rock stars, Su's music is deeply rooted in traditional folk music. Born in Wenling, a small coastal and mountainous city in East China's Zhejiang province, Su moved to Yinchuan, capital of Ningxia, with his parents when he was a 7-year-old.
"I can still recall that when I woke up in my new home in Yinchuan after hours of traveling by trains and buses, the first scene I saw was boundless plains and farmlands," he wrote in his book, Earth and Songs, which was published this May.