Chinese tourists flock to Morocco
China Daily | Updated: 2018-08-21 10:14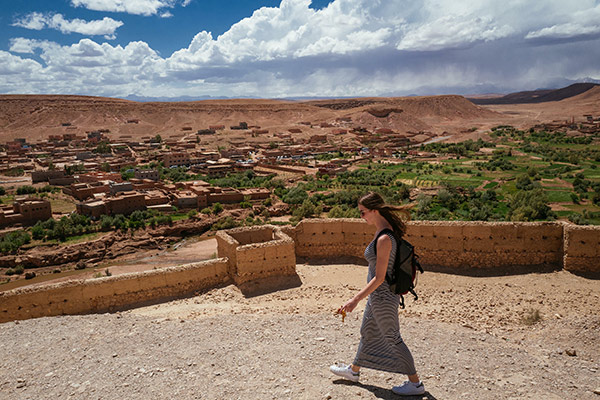 Although August is a low season for tourism in Morocco, the North African nation's hot weather hasn't slowed the pace of Chinese arrivals.
From Casablanca to Tangier in the north, Chinese tourists can be seen in many of the cities along the country's long Atlantic coast this month.
The number of Chinese visits has risen rapidly since Morocco announced the visa exemption for Chinese citizens in June 2016, and the boom looks set to continue.
Morocco has abundant tourism resources, with long Atlantic and Mediterranean coastlines, deserts, snowcapped mountains and ancient cities.
Nearly 120,000 Chinese traveled to Morocco in 2017, according to the Moroccan National Tourism Office's representative bureau in China.
The number of Chinese tourists reached 100,000 in the first five months this year.
Chinese restaurants in Morocco are among the first sectors to benefit.
Liu Mei, owner of a Chinese restaurant in the capital, Rabat, says that the number of Chinese tourists dining in her restaurant has increased significantly after the visa exemption.
Her restaurant's revenue doubled in 2017 compared to the previous year.
Huang Zhiyong, who owns a Chinese restaurant in Casablanca, says his restaurant is also doing good business. It receives an average of 6,000 customers per month, 70 percent of whom are Chinese tourists and businesspeople.
There were no more than five Chinese restaurants in the country before the visa exemption. There are now 20.
Morocco-based Chinese travel agency AMC Voyages is optimistic about the tourism market.
Director Lin Chaoxin expects the number of bookings by Chinese tourists to double this year compared with 2017. And Lin expects this growth to continue.
Morocco's tourism industry already employs hundreds of Chinese people.
Zhang Kai, who studied Arabic at Beijing Foreign Studies University, has been hosting customized tours in the country for two years. Zhang also predicts continued growth.
Tourism is a pillar industry of Morocco. The government hopes to make Morocco one of the top 20 global tourist destinations by 2020 and has taken steps to attract Chinese.
Morocco's tourism minister Mohammed Sajid announced the target of attracting 500,000 Chinese tourists every year by 2020 at the China-Morocco Tourism Forum in Casablanca in February.
Morocco will continue to improve such facilities and services as hotels and transportation, and will open direct flights between the two countries, Sajid says.
Chinese ambassador to Morocco, Li Li, says the number of Chinese tourists has grown significantly, ranking first in the growth of foreign tourists to the kingdom, since Morocco's visa exemption for Chinese nationals.
Xinhua