Hitting road now more fun in Xinjiang
By CUI JIA/MAO WEIHUA | China Daily | Updated: 2018-08-26 08:06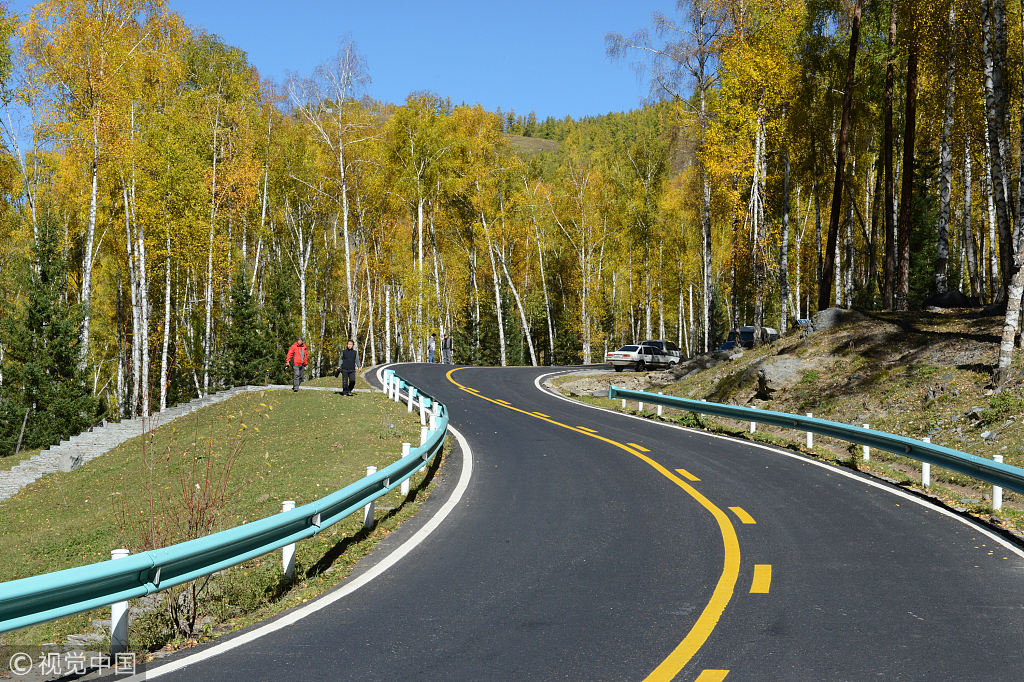 Long road trips between scenic spots in the vast Xinjiang Uygur autonomous region may have put many people off in the past, but the region has been attracting a record number of visitors who don't mind the drive now that roads have been significantly improved, local tourism officials said.
"We will build more service stops and camps to accommodate the needs of those who are on self-driving trips in Xinjiang," said Hou Hanmin, Party chief of the regional tourism development commission. "The current facilities are far from enough, as the number of people who take road trips in Xinjiang has continued to increase this year."
The commission has released 10 detailed routes in Xinjiang for people to follow while exploring the region at their own pace.
One of the most popular roads this year is G217, which was built for military purposes in the 1970s. The 562.7 kilometer seasonal road connects Dushanzi in the city of Karamay in northern Xinjiang and Kuqa county in Aksu prefecture in the south.
Many crown it as the most beautiful road in China because people can travel through the snowcapped Tianshan Mountains, verdant valley grasslands and the red-tinged Kuqa Grand Canyon.
"Although I've seen pictures of the road on social media, what I see here with my own eyes is so much more impressive," said Zhang Yajun, 46, who drove to Xinjiang from Beijing. "People can experience all four seasons on this road as altitude changes and you will never get tired of driving on it because the scenery is constantly changing."
About 7,000 to 10,000 vehicles a day have been using the G217 since it opened in June after being sealed off during the winter, a significant increase from last year. The majority of the vehicles are either tourists' own cars or are rented, Hou said.
Wang Li has been operating a camping site for drivers in Narat, in the Ily Kazak autonomous prefecture, since last year, serving many motorists who exit G217 at Narat to enjoy the famous grasslands surrounded by the mountains.
"We converted more than 60 houses, which once belonged to woodcutters, into environmentally friendly five-star accommodations," Wang said. "People needed to book at least a month in advance to secure a room in July and August this year because the demand for high-end services surged."
She said the number of tourists who drive to Narat soared this year as taking road trips has increasingly become a common lifestyle choice for Chinese people while the number of large tour groups declined significantly.
"The top-end tourist market in Xinjiang has so much potential," said Wang, who is developing four more camps around the region.
Wang Yong, 63, who drove a recreational vehicle with his wife to Xinjiang from Yulin, Shaanxi province, said he is happy to hear that the region plans to build more RV camps.
"Xinjiang is perfect for traveling in RVs because the scenery is too good to just stay in hotels in the cities," he said. They plan to spend 40 days in Xinjiang. "We've been enjoying waking up in the grasslands, by the lake and in the mountains."
The road network and conditions in the region have been significantly improved, he said, compared with conditions when he drove around Xinjiang 10 years ago. "The only concern people should have when coming to Xinjiang is that their holidays aren't long enough," he added.