VP: China, Japan should expand trust
By Hu Yongqi | China Daily | Updated: 2018-09-01 08:59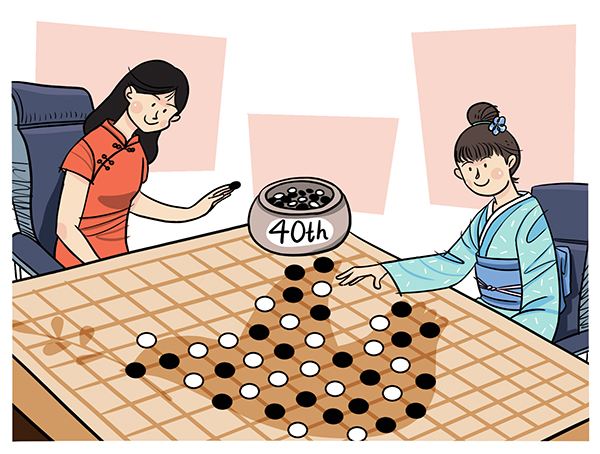 Both should not seek hegemony, should fight such attempts, says FM
China and Japan should further promote political trust and expand mutually beneficial cooperation to achieve new developments in bilateral relations after ties were brought back to the right track, Vice-President Wang Qishan said on Friday.
Wang made the comment when meeting with a Japanese delegation led by Toshihiro Nikai, secretary-general of the Liberal Democratic Party, one of the two parties of Japan's ruling coalition.
Developing friendship between the countries is in line with the fundamental interests of both people, the vice-president said. They should strengthen exchanges under the principles of the four political documents, signed between 1972 and 2008, he said.
Wang said exchanges between ruling parties play a vital role in developing political ties between the countries and China is willing to work with Japan to carry out consensuses reached at exchange conferences between ruling political parties from both sides.
Nikai said China-Japan friendship contributes to the development of Asia and the world. Japan is ready to consolidate the improving ties with China and proceed on the path of peaceful development.
This year marks the 40th anniversary of the signing of the China-Japan Treaty of Peace and Friendship. Premier Li Keqiang visited Japan and attended the seventh China-Japan-Republic of Korea leaders' meeting in May.
After years of twists and turns, China-Japan relations returned to the right track after Li's visit, said State Councilor and Foreign Minister Wang Yi when meeting with Nikai earlier on Friday.
The State Councilor called to safeguard the political foundation for the healthy development of ties and remember the mission of rebuilding friendship and developing an enduring and peaceful partnership.
Both countries should not seek regional hegemony and should fight against any such attempt by other countries, either in military, economic or discourse spheres, he said. Wang also called for further cooperation in fields such as energy conservation, environmental protection and innovation, and promote the East Asian economic community.
In response, Nikai said his country is willing to work with China to safeguard positive momentum and promote healthy and stable ties, he said.
On Wednesday when meeting with Japan's Vice-Foreign Affairs Minister Takeo Akiba, Wang Yi reiterated that China's development generates opportunities for Japan, rather than challenges. He called to properly manage differences and sensitive issues.
Premier Li's visit was a symbol that ties are improving, but the healthy and stable development of such ties can be achieved when Japan respects China's interests and concerns, said Su Xiaohui, deputy director of the Department for International and Strategic Studies at the China Institute of International Studies.
Japan has showed a strong inclination to promote high-level exchanges with China over the past few years, Su said. China attaches great importance to its relations with neighboring countries, including Japan, but a solid political foundation is needed, she said.
Japanese officials' visits to China can be regarded as paving the way for Japanese Prime Minister Shinzo Abe's possible official visit to the world's second largest economy, she said.