A near friend is better than a distant relative
China Daily | Updated: 2018-10-23 06:53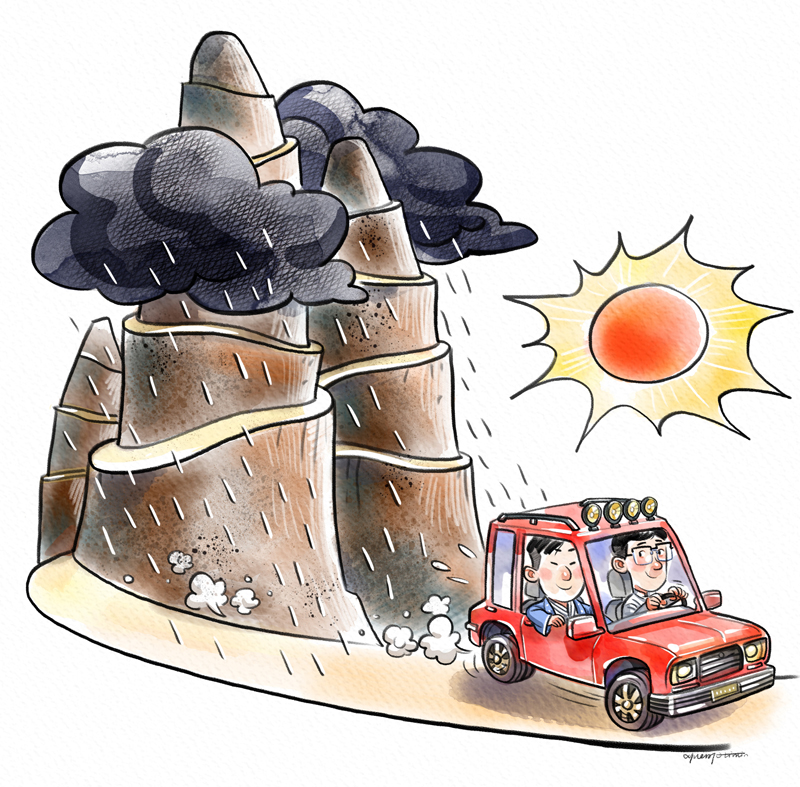 Editor's note: Japanese Prime Minister Shinzo Abe is scheduled to visit China and meet Chinese leaders on Oct 25-27. This is the first official visit paid by Japanese Prime Minister in seven years, and it coincides with the 40th anniversary of the enactment of the China-Japan Treaty of Peace and Friendship on Oct 23, 1978. What can we expect out of this visit? How can the two countries enhance ties? Five experts shared their views on the issue with China Daily's Liu Jianna. Excerpts follow:
Closer ties would be mutually beneficial
Due to external causes and historical disputes, relations between China and Japan have endured many twists and turns. So as to safeguard the two sides' interests and the overall development of Northeast Asia, it is essential for the two countries to establish a relationship that will not be easily swayed by a third party and sign a fifth political document based on consensus on the long-term development of bilateral relations.
At the moment the unilateralism and American First policy of the Donald Trump administration have to certain extent weakened the US-Japan alliance, which has made Japan attach more importance to economic and trade cooperation with China. Just as Prime Minister Shinzo Abe said in May, China and Japan have entered an era of coordination. Meanwhile worsening trade relations with the United States have also pushed China to establish closer ties with Japan.
On one hand, Japan's economy has encountered many difficulties after 20 years of sluggish economic growth due to various factors including its slow decision-making process and limited domestic market. On the other hand, Japan's industrial base, manufacturing technology and GDP base all boast a huge advantage, to which a Japanese Nobel Prize winner each year for 18 years well attests.
Either from a social perspective or an economic perspective, China and Japan could and should develop a partnership that is complementary and mutually beneficial in nature. Japan can offer much valuable experience and lessons for China in terms of population aging, healthcare, environmental protection, real estate and so on, as to a large degree Japan's present is likely China's future. Besides China offers a massive and attractive market for Japan to make full use of its technological and capital advantages.
In addition, beginning with more cooperation on infrastructure, energy, environment and transportation in other countries, the two neighbors could expand their cooperation in third-party markets and make the cake of shared interests larger by offering financial incentives and policy support.
Despite the potential benefits to Japan's economy, Japan remains hesitant to fully embrace the Belt and Road Initiative. To seize the opportunities of the times, it needs to gain a more comprehensive and objective understanding of the Initiative. The Belt and Road Initiative Japan Research Center was established to this end on Nov 30 last year. Just as Japan is the biggest contributor to sustaining Chinese character (hanzi) culture, it could also make a big contribution in the Initiative and possibly a joint Research Fund for Belt and Road Initiative could lead the way.
Zhou Weisheng, a professor at Japan Ritsumeikan University
Consensus on trade expected
One of the most anticipated and desired outcomes of Abe's visit to China would be the two countries agreeing to work together to safeguard the multilateral trade system and issue a statement to that effect. This would mark Japan loosening itself from the embrace of the United States and moving closer to China. Leaning toward China on the economic and trade front is not easy for Japan, but it would be quite significant and conducive to both countries in the long term. Despite its opposition to the US' unilateralism and American First policy, Japan dare not voice its discontent to its patron. While together with the US and the European Union, Japan accuses China of infringing on intellectual property and conducting unfair trade practices. In this sense it would mean a lot to the future of multilateral trade and globalization if the two could bridge their differences and reach a consensus.
Recently Trump's unilateralism and American First policy have hammered Japan so much that it has sought to enhance its cooperation with China to gain more leeway. Besides China forms an important part of the massive free trade zone that Japan wishes to build for its long-term growth prospects, widening the appeal of China's market at the moment.
Generally speaking the China-Japan-Republic of Korea free trade agreement and the Regional Comprehensive Economic Partnership would offer unparalleled opportunities for China, Japan and East Asia in general. Furthermore, this is the key to offset the US' trade bullying against China and Japan and expand the two's development space and room to maneuver. Thus the two neighbors should take a more proactive attitude toward the agreement and the RCEP.
Zhou Yongsheng, a professor at the Institute of Japanese Studies, China Foreign Affairs University
Immense opportunities for their collaboration
Apart from strengthening economic cooperation, China and Japan need to break the ice in their political relations and promote mutual political trust through Abe's visit. Hopefully the two sides can achieve a breakthrough in terms of the Belt and Road Initiative and reinforce communication and coordination on Taiwan, the South China Sea and Diaoyu Island issues.
With the ongoing China-US trade conflict, China needs to increase its bargaining chips and initiative through closer exchanges with Japan, as well as to promote the development of China's Northeast region. While the improvement of relations with China will help lift Japan's prestige in the international community and increase its discourse power on the Korean nuclear issue.
In third party markets, China and Japan should shift from competition to win-win cooperation to reduce unnecessary frictions. Moreover, people-to-people exchanges should be enhanced to consolidate the cornerstone of China-Japan ties.
In particular, China could expand its cooperation with Japan in icesnow tourism as the latter enjoys a mature winter sports industry. The two countries could jointly enlarge the pie of ice-snow tourism offered by the opportunities created by the 2020 Tokyo Olympics and 2022 Beijing Winter Olympics.
Hu Mingyuan, a research fellow at the Center for Northeast Asian Studies, Jilin Academy of Social Sciences
Cooperation in third parties should be boosted
It is expected that Abe's visit will consolidate the thawing of the China-Japan relationship and achieve tangible economic and trade outcomes.
Japan has become the biggest source of imports for China since the mid-1970s. Which has largely promoted Japan's economic development and the ruling party's political interests. Yet it has lost that advantage at the same time as its status has declined in global trade. Given the trade bullying of the US, it has become imperative for Japan to adjust its policy and strengthen its engagement with China.
China and Japan could increase their cooperation in industrial upgrading and energy, and cooperate in third party markets. For example, China has built the Mombasa-Nairobi Standard Gauge Railway while a Japanese company manages the port of Mombasa, giving much potential for cooperation in Kenya.
Mei Xinyu, a researcher at the International Trade and Economic Cooperation Institute of the Ministry of Commerce
Expectations should remain realistic
After years of frostiness in bilateral relations, a positive momentum emerged last year as both China and Japan realized they needed each other for economic growth. In the past few years, their worsening political ties have inhibited their economic and trade cooperation, which is expected to be corrected with more high-level exchanges. Yet expectations for Abe's visit should not be too high.
In the future, the two countries could expand cooperation in the new economy, environmental protection, energy conservation, healthcare, insurance and people-to-people exchanges. Speaking of the Belt and Road Initiative, it should be noted that the Japanese government can only guide and encourage enterprises to take part in specific programs. All in all, it's up to the Japanese companies to decide whether to participate based on their comprehensive assessments of costs, market expectations and anticipated profits.
Meanwhile, despite Japan's edging closer to China under the threats of US protectionism, it still considers its alliance with the US as the sine qua non of its foreign relations. Which is unlikely to change in the near future.
Liang Yunxiang, a professor of Japan studies at Peking University