Japan PM underlines economic teamwork
By CAI HONG/WANG XU | China Daily | Updated: 2018-10-24 06:57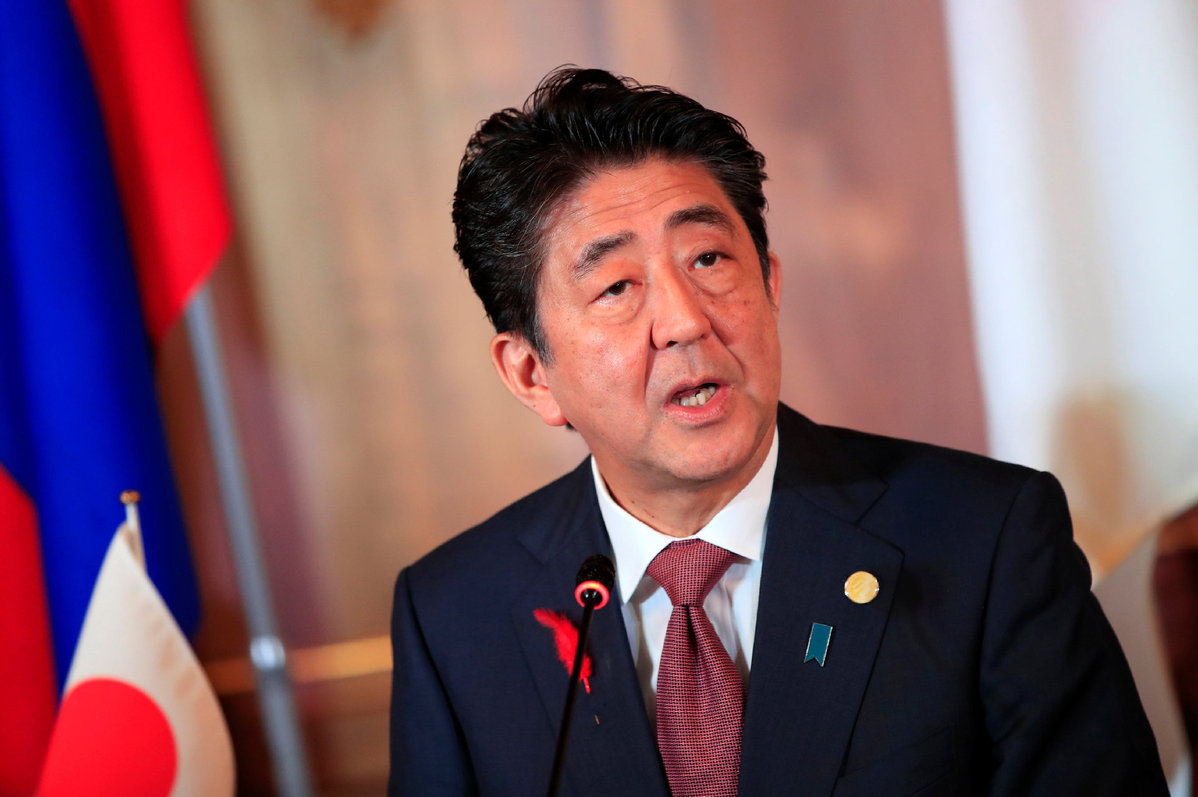 It is important to strengthen the global economic order based on the rules of freedom and justice, and trade protectionism does not benefit anyone, Japanese Prime Minister Shinzo Abe said in Tokyo.
In a written interview with Chinese media, Abe said on Tuesday that Japan values the World Trade Organization and always contends that any steps should be consistent with WTO rules.
The prime minister will arrive in China on Thursday for a three-day official visit to China, the first of its kind by a Japanese prime minister in seven years.
"Japan and China are the largest beneficiaries and should cooperate on strengthening multilateral free trade systems such as the WTO," he said.
Two-way China-Japan trade amounts to some $300 billion annually, with Japan's investment in China hitting $3.3 billion last year, according to official statistics.
Abe said the two economies are inseparable.
He noted that Japanese companies have set up more than 30,000 branches and factories in China, with Japan benefiting from the dynamism of the Chinese economy.
"Undoubtedly, the fact that Chinese economic growth means huge opportunities for Japan and the world is welcomed," Abe added.
"It is of great importance to meet the high demand for infrastructure in Asia, which is the center of global economic growth. Japan and China should develop cooperation in this field," Abe said.
Premier Li Keqiang visited Japan in May, during which time the two countries agreed to set up a commission to deliberate the specific projects for cooperation in third-party markets.
"During my stay in China, the two countries will hold a forum on exchanges between Japanese and Chinese private enterprises," Abe said.
The forum is expected to attract 1,000 people from Japanese and Chinese companies in Beijing.
Abe said he expects that private companies from the two countries will join hands to deal with Asia's rising demand for infrastructure facilities.
"Japan and China have an indispensable and significant responsibility for global peace and prosperity. The two countries need to pool efforts to assume this responsibility in response to the expectations of the international community," Abe said.
He noted President Xi Jinping's call for building a community with a shared future for mankind during a speech at the opening ceremony of the Communist Party of China in Dialogue with World Political Parties High-Level Meeting in Beijing in December.
Abe added that 40 years ago, China and Japan signed a treaty of peace and friendship, which serves as the foundation of bilateral ties.
"The treaty … is the origin of Japan-China relations. We should keep bearing in mind the important principles of developing 'lasting relations of peace and friendship', using 'peaceful means to settle all disputes' and not seeking hegemony within the Asian and Pacific regions or in any other region," the prime minister said.
Contact the writers at caihong@chinadaily.com.cn