Currency swap among 12 agreements
By Hu Yongqi | China Daily | Updated: 2018-10-27 07:08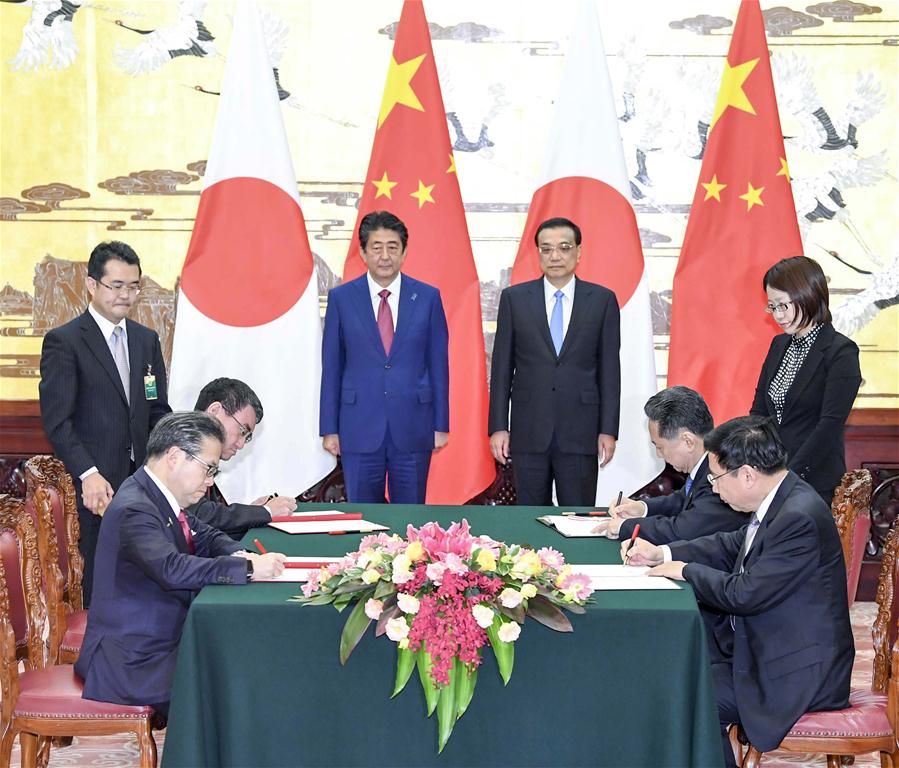 China and Japan signed 12 intergovernmental agreements, including one on a bilateral currency swap of 200 billion yuan, or 3.4 trillion yen ($30.4 billion), while both countries agreed to explore third-party markets, after Premier Li Keqiang met with his Japanese counterpart, Shinzo Abe, on Friday.
The swap agreement aims to safeguard the financial stability of both countries and support their economic and financial activities, the People's Bank of China, the central bank, said on Friday. It will be valid for three years and can be extended with both sides' approval. Another agreement was signed to set up a renminbi clearance bank in Japan.
The 10 other documents will boost bilateral cooperation in such fields as securities markets, innovation, sports, customs clearance and eldercare.
In addition, over 50 deals, valued at more than $18 billion, were inked by companies and financial institutions from both countries during the first China-Japan Third-Party Market Cooperation Forum, Li said in the keynote speech at the event.
In May, during Li's visit to Japan, he and Abe reached a consensus on carrying out third-party market cooperation.
The premier said at the forum there is great potential of the two countries to develop third-party markets, a new pillar for bilateral cooperation.
As a huge market, China will firmly open its door to the outside world, strengthen intellectual property rights protection and build a marketized business environment, Li said. Japanese companies are welcome to invest in China, he said.
Abe said Japan would like to carry out projects with China in third-party markets in line with local demand and international rules.
More than 1,500 participants from both countries were present at the forum.
Before the forum, Li and Abe held talks and exchanged views on major regional and international issues of common concern.
Li said China is willing to conduct dialogues with Japan in the political and economic spheres and deepen cooperation on technological innovation, energy conservation, medical care, finance, disaster relief and prevention, and agriculture.