CRRC to step up efforts in overseas markets
By Zhong Nan | China Daily | Updated: 2018-12-01 14:10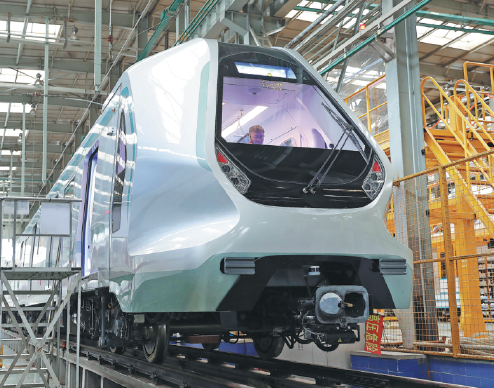 China Railway Rolling Stock Corp, the country's manufacturer of locomotives and rolling stock, will continue to bank on localized manufacturing, procurement, employment, services and management to drive growth in markets related to the Belt and Road Initiative, a senior executive said on Friday.
These five factors will help the group to better integrate with local economy and coordinate its global resources after the company built a number of manufacturing bases in the United States, Australia, South Africa, Malaysia, India, Turkey and other countries over the past five years, said Lou Qiliang, CRRC's vice-president.
He said CRRC has expanded its market presence in 104 countries and regions across six continents.
"Because global supply and value chains are well established, it is fairly critical for us to transform the operation mode from simply producing and shipping them to other countries, to deepen the degree of international cooperation," said Lou.
Boosted by its renewed localization strategies, CRRC saw significant changes in its overseas assets, the number of foreign employees and service categories.
The group's overseas assets jumped from 3 billion yuan ($432 million) in 2013 to 34 billion yuan in 2017. The company currently employs 57,000 people across its foreign operations, compared with 509 in 2013.
Lou said the firm's manufacturing facility in Malaysia has recruited 400 local employees, accounting for 80 percent of its total staff and the same is expected to reach 95 percent in the future.
CRRC had set up 83 overseas subsidiaries and 13 research and development centers in 26 countries and regions around the world by the end of 2017. Among its 83 overseas subsidiaries, 58 were established after the Belt and Road Initiative was launched in 2013, according to the Beijing-headquartered group.
Zhou Lisha, a researcher at the research institute of the State-owned Assets Supervision and Administration Commission, said in addition to boosting the local job market, conducting procurement and service activities in foreign countries can help Chinese companies win local support and provide timely maintenance services, as well as reach more markets in other parts of the world.
Lou from CRRC, said the first three subway train coaches produced by CRRC Dalian Co, one of its subsidiaries, for the Indian city of Nagpur came off the production line in late November.
CRRC Dalian received a train coach order from the Nagpur metro in 2017. The company is scheduled to produce 69 coaches and provide train maintenance services for 10 years to the city.
With a stainless steel body, the train coaches are designed to run at a maximum speed of 80 km per hour. The coaches will be used on two urban railway lines totaling 38 km in length in the Indian city.