Peru has benefited from China's opening-up
By Maria Osterloh | China Daily | Updated: 2018-12-04 08:23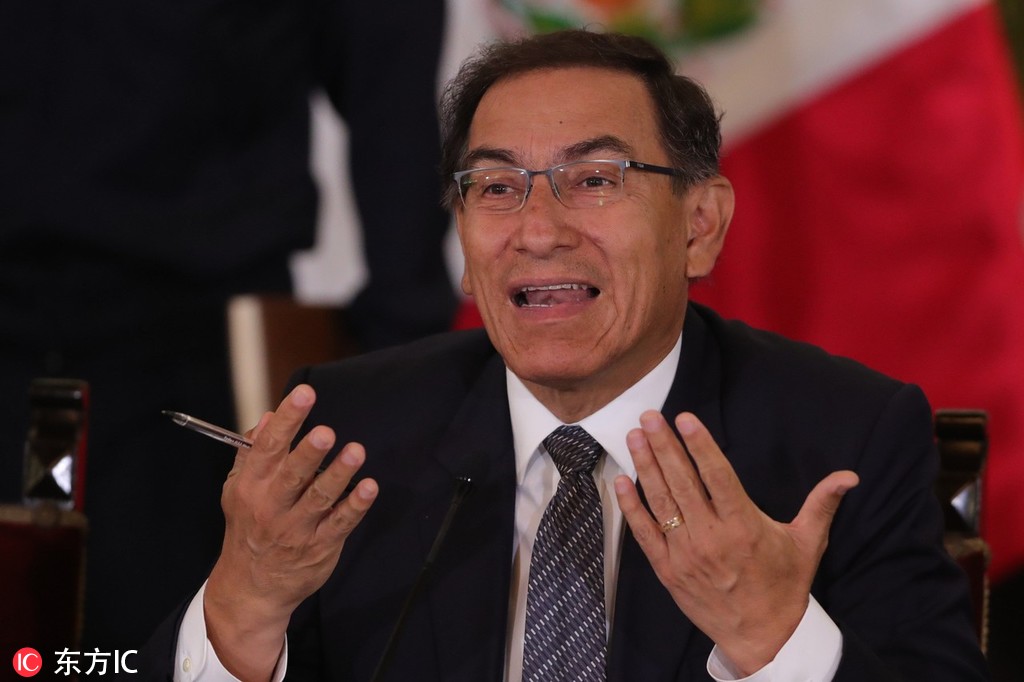 China has achieved an average of 9 percent growth a year thanks to reform and opening-up, and its economic integration with international trade.
Four decades ago, as part of the modernization project of late leader Deng Xiaoping, the Chinese economy needed to attract foreign investment, import raw materials and technologies, and seek markets for its products.
China's demand for raw materials benefited Peru in the 1980s. During this period China became the main buyer of fishmeal from Peru, and also purchased metals such as zinc and lead, although in lesser amounts.
Peruvian exports to China from 1980 to 1989 grew from $83 million to $181 million, while its imports increased from $11 million to $21 million. It was in 1988 when Chinese companies first showed interest in investing in Peru. But despite Chinese delegations visiting Peru to study the possibility of investment, they decided to not do so because of political and security instability in Peru.
In the beginning of the 1990s, Peru decided to implement economic policies such as lowering tariffs, privatizing public-sector companies and attracting foreign investment by guaranteeing legal security and ease of doing business, in order to open up its economy to the outside world. China's interest in investing in Latin America, combined with this move, prompted a Chinese enterprise (Shougang Corporation) to invest a huge amount in Peru, the first such investment outside Asia. Shougang Corp purchased Peruvian state company Hierro Peru for $120 million in 1992, becoming the fourth-largest foreign investor in Peru that year.
This was followed by China National Petroleum Company's investment in the oil sector in 1994. In June of the same year, China and Peru signed a bilateral investment agreement that came into force in 1995.
During the 1990s, China's rising demand for raw materials, especially minerals, helped increase Peruvian exports to China from $194 million in 1992 to $309 million in 1999. By the turn of the century, Chinese investment in Peru, as well as bilateral trade started growing almost exponentially. From 2000 to 2010, Peruvian exports to China increased almost 10 times from $560 million to $5.43 billion, while Chinese exports to Peru increased nearly 40 times from $144 million to $5.12 billion. Rising commodity prices during the decade, too, played a role in increasing the value of exports.
The second major wave of Chinese investment in Peru came in 2007-08 when Chinese companies purchased three new copper companies. The Aluminum Corporation of China purchased Toromocho for $790 million followed by the Zijin Consortium purchasing Rio Blanco for $182 million, and Minmetals Non-Ferrous Metals Company and Jiangxi Copper Company buying Galeno for $455 million.
The two countries signed a free trade agreement in 2009, which took effect the next year and facilitated the increase in Peru's exports of agricultural products. And the fact that Peru obtained phytosanitary permits to export agricultural products such as avocado, mango, berries, asparagus and grapes also helped increased Peru's agricultural exports and its participation in the Chinese market-Peru has already become the second-largest supplier of berries and the third-largest exporter of avocado.
In 2012, China and Peru raised their partnership level by establishing a Comprehensive Strategic Partnership, which has helped them to coordinate policy actions in areas such as education, energy and infrastructure.
In 2014, a consortium of Chinese companies led by Minmetals Group bought Las Bambas copper mine for nearly $6 billion, the largest investment ever made in Peru. Besides, the CNPC continued to invest in Peru, purchasing oil blocks of Brazilian company Petrobas for $2.5 billion in 2015.
Although Chinese companies are the main investors in Peru in the mining sector, they have also started investing in the infrastructure sector. They already have three projects in hand-to build ports, a hydroelectric power plant and a waterway.
The good bilateral relationship is also manifested in the visits of Chinese and Peruvian leaders to each other others' country. For example, in 2013, then Peruvian president Ollanta Humala visited China, followed by President Pedro Pablo Kuczynski's visit in 2016. And Chinese President Xi Jinping visited Peru for the APEC meeting in Lima in 2016-his visit was preceded by former president Hu Jintao's visit in 2008.
As for the China-proposed Belt and Road Initiative, in which 10 Latin American countries have already signed a memorandum of understanding with China, Peru has shown interest to participate in it, although it is yet to sign an MOU.
During the visit of Peruvian Foreign Affairs Minister Nestor Popolizo to China in August, the two sides discussed the possibility of updating the free trade agreement. And Peru has applied to become a member of the Asian Bank of Infrastructure and is expected to be a full member soon.
The 40 years of reform and opening-up have witnessed the shared development of China and Peru. And we hope China's continued development will continue to benefit Peru.
The author is a researcher at the Asian Studies Center of San Marcos National University, and did her MBA at Beijing Normal University.