Consulate: Chinese citizens arrested in Japan under investigation
By Xu He | chinadaily.com.cn | Updated: 2018-12-04 11:33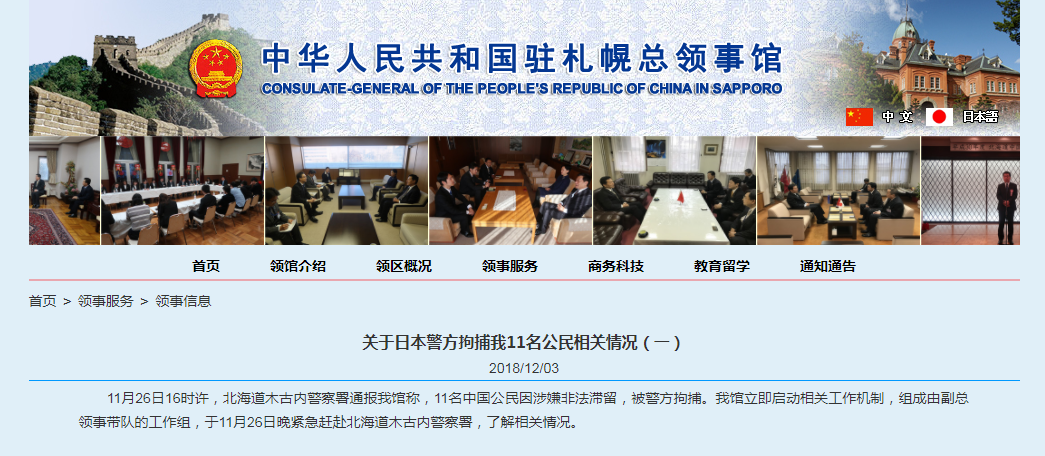 The police are investigating and collecting evidence about the 11 Chinese people who were detained in Japan, and that 40 other people who worked illegally in Japan and went missing are also under investigation, according to Chinese consulate in Sapporo.
The website of the consulate-general of the People's Republic of China in Sapporo Monday provided information about the latest developments.
The consulate said that after receiving the notification from the Japanese police on Nov 26, the consulate immediately launched relevant mechanisms and went to the Rikonai police station located in Hokkaido to ask about the situation.
Some detained Chinese citizens said they were deceived by some intermediary agent, and apart from them, others have remained missing.
According to the Japanese police, on Nov 25, four Chinese men brought a patient to Rikonai hospital to see a doctor. Due to being in critical condition, the patient died in the hospital in the early morning of Nov 26. The whereabouts of the four men were unknown.
The Japanese police immediately launched an investigation and detained 11 Chinese citizens near Rikonai station on Nov 26. They were suspected of working illegally with expired visas.
The consulate requested the Japanese police to provide humanitarian treatment to the Chinese detainees, and timely inform them of the investigation results.