Ferrero enjoys the sweet taste of success
By Shi Jing in Shanghai | China Daily | Updated: 2018-12-12 09:24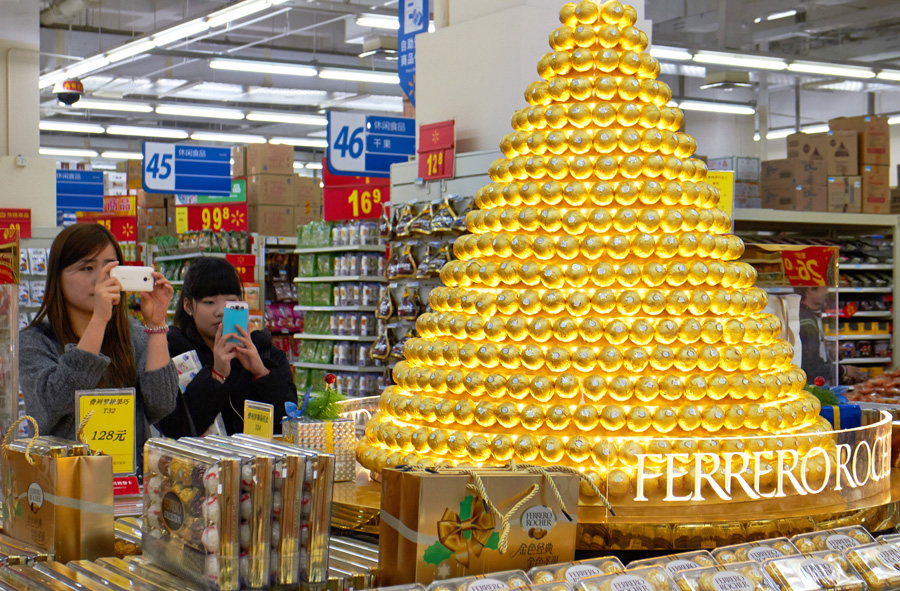 The growing maturity of Chinese consumers and especially the growth of the middle-income group have helped Italian confectionary multinational Ferrero Group register faster than average growth in 2018.
According to Mauro De Felip, general manager of Ferrero China, the Chinese confectionary market has been bouncing back this year, helping to boost Ferrero's sales revenue by 6 percent in the 2018 fiscal year which ended in October. During the same period, the confectionary industry's average growth rate was 4.1 percent, according to global market consultancy Nielsen.
In China, wedding ceremonies accounted for around 15 percent of the annual sales of its signature product Ferrero Rocher, which is one of the most rapidly developing sectors in the world, said De Felip.
As he explained, Chinese consumers' demand for quality products, the expansion of the middle-income group in the country, and the sophistication of its consumers were the major reasons for the growth momentum of the Chinese confectionary industry this year.
Statistics from market consultancy Askci showed that the total turnover of the Chinese chocolate industry will top 22 billion yuan ($3.2 billion) in 2018, up 10 percent from a year earlier. During the past Spring Festival, which is the peak season for giving gifts in China, Ferrero ranked as the top choice among chocolate brands, according to the consulting firm.
While Ferrero has prioritized the development of the Chinese market, the company will roll out a special package combining the traditional Chinese knot with Ferrero Rocher chocolates to embrace the upcoming Spring Festival. According to De Felip, this can be considered as a major localization breakthrough in the company's 20 years' presence in the Chinese mainland.
At the same time, the company's Kinder brand targeting children will adopt a new package in the form of a red envelope, which indicates good luck and surprise to children.
While Chinese consumers are the most digitally aware in the world based on Ferrero's observations, the company has seen e-commerce account for 15 percent of its annual sales in the country. But according to De Felip, the average contribution rate is 25 percent, which indicates more growth potential. In this sense, they will also strengthen their partnership with leading e-commerce platforms such as Alibaba and JD, he said.
More importantly, Ferrero will take some of the successful digital strategies first adopted in China to other parts of the world, he said.
According to global market research firm Kantar Worldpanel, e-commerce platforms contributed to about 10.6 percent of the total turnover of fast moving consumer goods in the third quarter in China.
But De Felip also pointed out that brick-and-mortar stores are still an important distribution channel in China, especially in lower-tier cities. Besides, smaller convenience stores registered strong double-digit growth this year, he added.