Machine tool firms hit pay dirt
Xinhua | Updated: 2018-12-17 11:24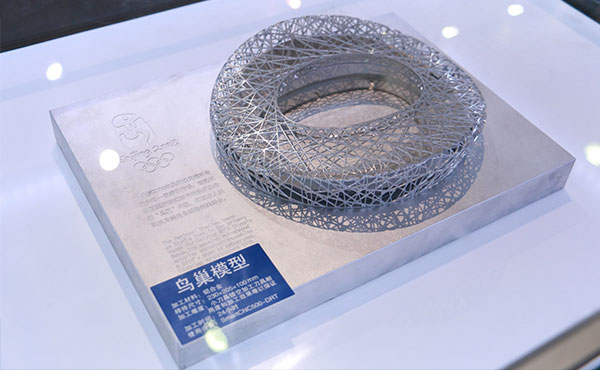 CHICAGO-When Beijing Jingdiao Group Co Ltd gave its high-speed and precision-marked 5-axes machinery pride of place at its exhibiting stand at the biennial International Manufacturing Technologies Show in Chicago in September, curious visitors milled around it and sought additional information.
For the Beijing-based high-tech and innovation firm, such attention wasn't new. It had participated in the 2016 show too, and evoked similar queries from visitors.
The 5-axes machinery represented its highest technical level. Founded in 1994, Beijing Jingdiao focuses on research and production of high-speed and precision machining centers.
Among its more than 5,000 employees, 800 are research and development staff. It produces more than 12,000 high-speed machining centers of various specifications every year, with annual output value exceeding 4 billion yuan ($581 million).
The Chinese manufacturer mainly exports to Southeast Asian markets. It kicked off exports in 2007. It opened a service center in the United States in July this year.
"We have lots of large customers in China, who have opened R&D centers here in the US," said David Fan, vice-president of Beijing Jingdiao.
By opening this service center in the US state of Illinois, Beijing Jingdiao can be close to them and assist them in the R&D of new products, he said.
"We have just started on the US market, and have only some sporadic customers," Fan said.
US manufacturing technical level is another factor Beijing Jingdiao has taken a fancy to. Though there are only a few machine tool manufacturers in the US, the country still represents the world's highest manufacturing level.
"The IMTS is always putting on display the world's leading and latest achievements of computer numerical control manufacturing industry," Fan said, adding "there are a lot of things we need to learn. Price-performance ratio is our competitive edge."
Pratic, a Foshan, Guangdong province-based Chinese firm specializing in R&D and manufacture of computer numerical control or CNC machines, displayed an extra-long machine at its stand.
Established in 2008, Pratic is ready for the world market after 10 years of development. "We have already established distributors in Germany, Japan, Australia, India. Now we're into North America," said Chan Mokseng, Pratic's international business director. "We are taking the opportunity with the IMTS to introduce our extra-long travel machine."
Chan is confident that Pratic's products can help customers, operators and manufacturers in the North American market be competitive, reduce costs, improve efficiency and increase output.
"At the same time, they can find that the operation is so easy; maintenance is easy; setting up is easy and the machines are very user-friendly with a low loading table," Chan said.
"We are very sure that with the experience of our existing customers and users, customers in North America will have the same experience."
What made Chan happier is that the company's first customer in North American has come to the company's stand, promising that if the machine on display is not sold during the exhibition, they will buy it as their second machine from Pratic.
The firm does not sell machines only. "We provide solutions very often. We have customers who send us drawings, and we would come up with solutions. We will match the machine type, the spinner power and all the other configurations to make sure that the customers actually come up with the products for their clients that are competitive," Chan said.
Gaoyou Yongfa Machinery Co Ltd from East China's Jiangsu province mainly produces small machine tools. The company was launched for export purpose solely and, like Beijing Jingdiao, participated in the IMTS a second time.
"We are here to consolidate existing customers and develop new customers," Zhu Enquan, general manager of Gaoyou Yongfa, said. The firm displayed its latest products at the event. Its annual sales reached 150 million yuan in 2017.