Robot sub maker lauds Tianjin tech pool
By Cheng Yu | China Daily | Updated: 2018-12-18 07:12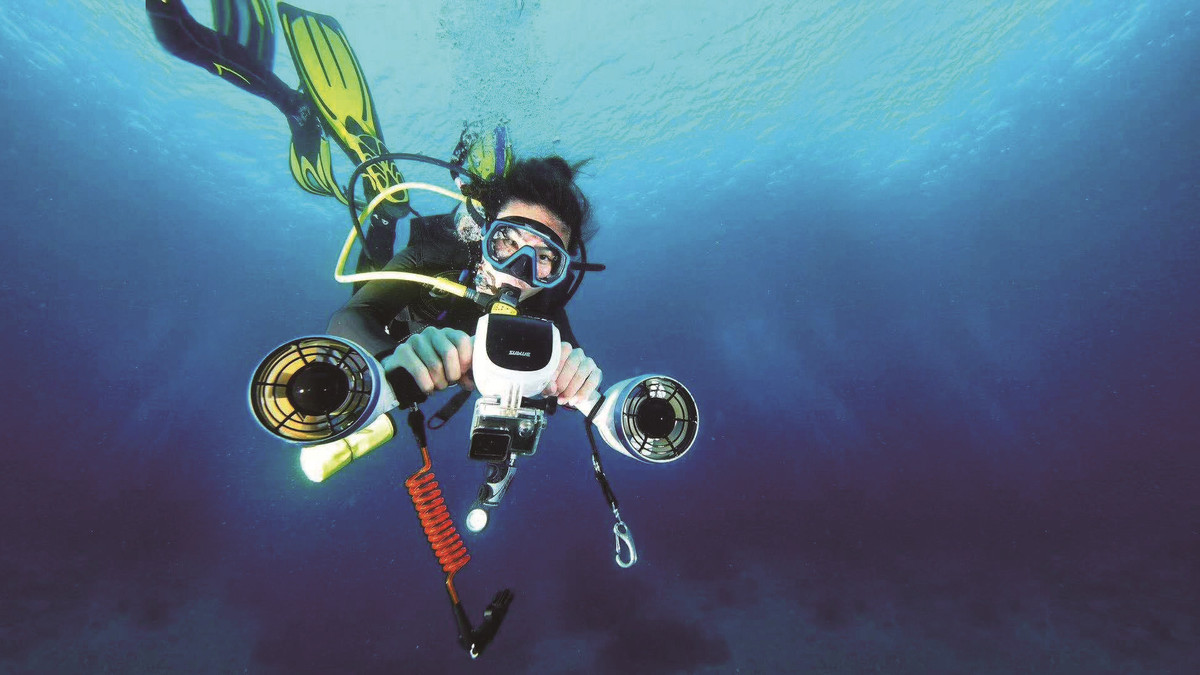 It was an unusual day for Liu Haibing, an engineer from Tianjin, as he and a "friend" searched for a sunken bus, which had plunged into the Yangtze River in Chongqing after a fatal accident in October this year.
"It was not an easy task, as the underwater environment was very complicated at that time, including poor visibility and violent turbulence," he recalled.
In the end, it was his friend, a submersible robot built by Tianjin Sublue Ocean Science and Technology Co Ltd, who found the bus 70 meters under the surface of the river.
As well as being a success for Sublue and the rescuers, the moment was also a success for the Binhai New Area, over 1,700 kilometers away in Tianjin, and just the latest occasion a product from the tech park had made a mark in the world.
Created by the Tianjin government, the area aims to attract hightech industries like artificial intelligence or smart manufacturing, and help supplement the city's traditional strengths of aviation and chemicals.
It also aims to bring coordinated development to the Beijing-Tianjin-Hebei region, a national-level initiative focused on sharing regional resources and spreading economic growth.
By the end of 2017, more than 464 municipal-level and above research centers, including 111 key laboratories and 241 technological centers of major companies, had been established in the technological cluster.
More might yet come, after the Tianjin government announced earlier this year that it is to invest 100 billion yuan ($14.6 billion) in backing companies involved in AI, robots, software, virtual reality and intelligent-connected cars.
Wei Jiancang, general manager of Sublue, said the preferential policies and services from local authorities had been a great enabler for technological innovation in the area.
"The New Area has a complete and well-rounded industrial ecosystem, offering high-tech companies a big help in both research and production," he noted.
Founded in 2013, Sublue produces a range of underwater robots, autonomous underwater vehicles and gliders.
Having made breakthroughs in the military and industrial sectors, it began to explore more consumer-orientated products last year, such as scooters and robots. That appears to have opened growth in new markets. Around 90 percent of its consumer products are sent overseas.
"With a growth in orders from the United States and Australia, the overseas market has been our new engine for growth," Wei said.
Ocean-related industries have been a hotbed in recent years. The added-value of ocean-related industries will exceed $3 trillion by 2030, said a report by the Organization for Economic Co-operation and Development.
"It will be a promising market as countries from around the world have paid great attention and spent a lot in building ocean-related technologies and infrastructure," said Wei.
"At the same time, the consumer market is growing rapidly driven by the growing entertainment demand from young groups," he added.
The company has predicted its sales will hit 262 million yuan this year, huge growth from the 90 million yuan it reported last year.