Trump open to second Kim meeting
By LIU XUAN | China Daily | Updated: 2019-01-04 07:39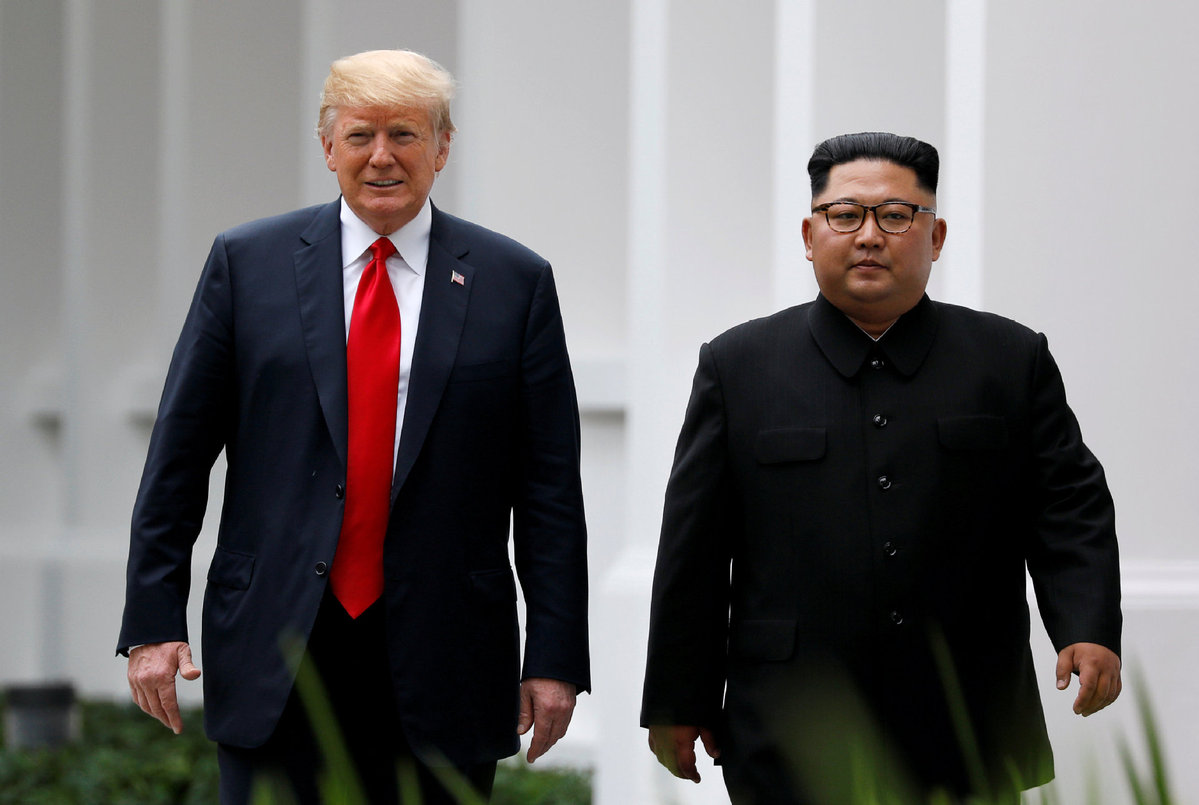 On receiving invite the US president said another DPRK summit is likely
US President Donald Trump said on Wednesday that he has received a letter from the Democratic People's Republic of Korea and he expects a second meeting with its top leader Kim Jong-un, but analyst said it will take some time before the meeting could happen
Trump said at the White House during a Cabinet meeting that he got "a great letter" from Kim.
"We'll probably now have another meeting … we'll be setting that up in the not-too-distant future," added Trump, who revealed in early December that his second meeting with Kim was likely to happen in January or February.
The president also wrote on social media that he looked forward to meeting with Kim "who realizes so well that North Korea possesses great economic potential".
Speaking to reporters at the White House, Trump defended the US negotiations with Kim, saying that if it had not been for his administration "you'd be having a nice big fat war in Asia". He reiterated that there was no hurry, according to Reuters.
"I'm not in any rush. I don't have to rush. All I know is there's no rockets, there's no testing," he said, referring to DPRK's nuclear and missile tests that have been halted since the second half of 2017.
Chinese Foreign Ministry spokesman Lu Kang said on Thursday that China believes Trump's response is a positive thing for the current situation on the Korean Peninsula.
Lu reiterated that China believes that if the United States and the DPRK can carry out proactive interaction and effective dialogues, it will certainly be conducive to the settlement of the issue as well as the peace and stability of the peninsula.
Shi Yongming, a senior expert on Korean Peninsula issues, said there is a possibility for a Trump-Kim summit, while obstacles lie on the US side.
"DPRK's intention is very clear-as long as the US gives it peace and space, it will abandon the nuclear and concentrate on economic development," he said, adding that the US may not want to fulfill Kim's expectations as Trump's global strategy is to use force to establish US leadership around the world.
Trump and Kim met for the first time at a summit held in Singapore last June, which Shi said was because of two factors.
"On one hand, the relationship between DPRK and the Republic of Korea has been improved, and DPRK has expressed its willingness to denuclearize," he said.
"On the other hand, Trump wanted to prove that the previous administration was wrong-the US and DPRK can talk."
But Trump does not have a clear strategy on how to solve the Korean Peninsula issue even if the two sides are going to meet again, Shi said.
Trump's words came one day after Pyongyang released a series of positive signals over the denuclearization of the Korean Peninsula.
Kim said on Tuesday in his New Year speech that he would push forward with denuclearization and was ready to meet with Trump at any time.
He also stressed his determination to work to build "new relations" with Washington, establishing lasting peace on the Korean Peninsula while seeking complete denuclearization, on the condition that the US takes corresponding measures.
"We could be left with no choice but to seek a new way if the US does not make good on its promises, misjudges our patience, while seeking to force things unilaterally and clinging to sanctions and pressure," Kim warned.