Chinese State Councilor meets Ethiopian FM
Xinhua | Updated: 2019-01-04 09:15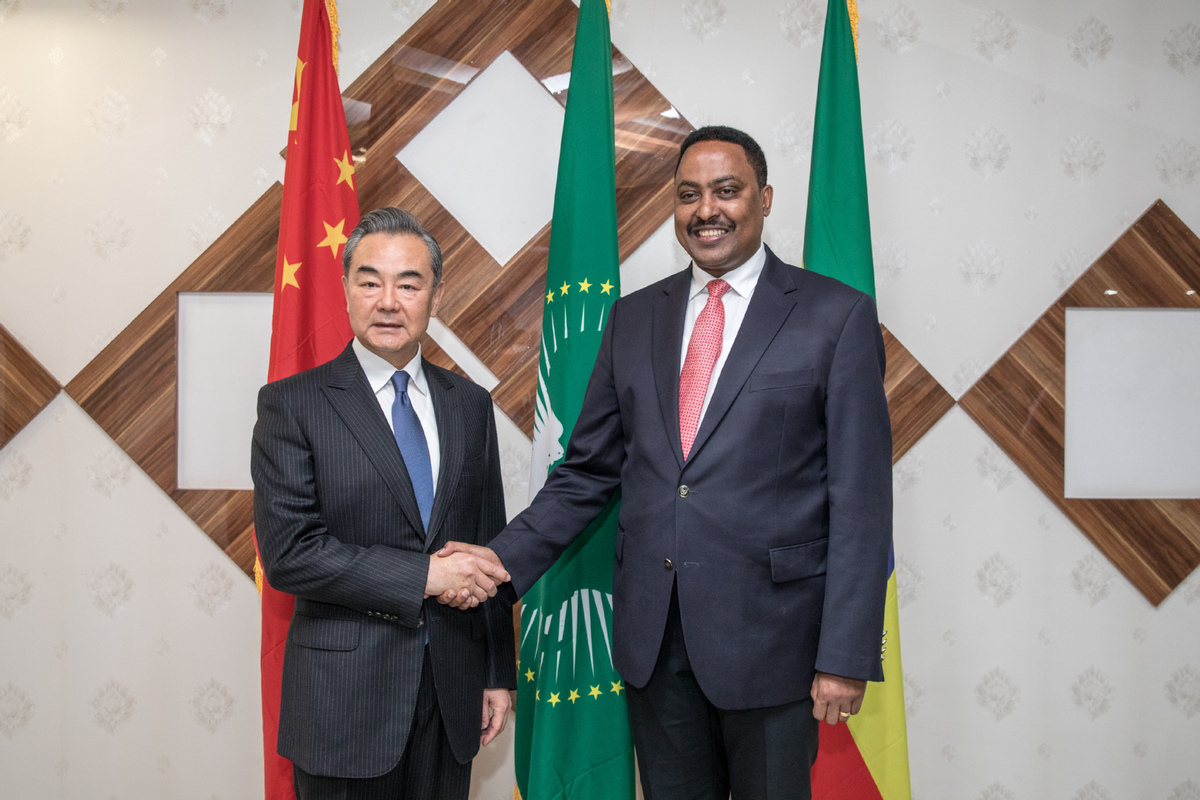 ADDIS ABABA -- Chinese State Councilor and Foreign Minister Wang Yi met with Ethiopian Foreign Minister Workneh Gebeyehu in Ethiopia's capital Addis Ababa on Thursday.
Wang said Ethiopia, a regional power in Africa and an emerging economy with huge potential for development, is an important strategic and cooperative partner of China on the continent.
The traditional friendship between the two countries has withstood the tests of fluctuating international situations and won profoundly support from the society and people, according to Wang.
China has always viewed the development of the bilateral relations from a strategic and long-term perspective, and will continue to pursue a friendly policy toward Ethiopia, Wang said.
China is willing to deepen political mutual trust, broaden mutually beneficial cooperation and advance China-Ethiopia comprehensive strategic partnership of cooperation with new developments under a new situation, by upholding principles of mutual respect and supporting each other, said Wang.
Wang stressed China is willing to assist and support Ethiopia in its national development and improvement of people's livelihood, properly solve problems in the cooperation through friendly consultations, and maximize the economic and social benefits of major development projects in Ethiopia, including the Addis Ababa-Djibouti railway and industrial parks.
China will be pleased to see the early implementation of the outcome of the 2018 Beijing Summit of the Forum on China-Africa Cooperation (FOCAC) in Ethiopia.
Ethiopia is among the first batch of African countries which signed cooperation documents concerning jointly building the Belt and Road, Wang said, stressing that the east African country is an important partner for China to build the Belt and Road on the continent.
Wang said he hoped the two sides will further advance mutually beneficial cooperation and common development as China is going to hold the second Belt and Road Forum for International Cooperation, adding that China is willing to strengthen coordination and cooperation with Ethiopia so as to safeguard the common interests of the two nations and the developing countries as a whole.
For his part, Gebeyehu said that Ethiopia highly values Ethiopia-China relations, regarding China as the most important comprehensive strategic partner of cooperation and putting bilateral relations at the top place of Ethiopia's foreign policy.
Like other African countries, Ethiopia appreciates China's commitment not to interfering in other countries' internal affairs and is benefiting a lot from China's stable and consistent foreign policy, Gebeyehu said.
Gebeyehu stressed that whether it is during the period of smooth national development or in times of difficulties, China has given Ethiopia firm support, for which Ethiopia is grateful.
Ethiopia believes that advancing the bilateral ties fully complies with the national interests of Ethiopia and its people, Gebeyehu said.
Gebeyehu stressed that Ethiopia remains as China's reliable strategic partner, and the country hopes it will continue to receive support from China during its development, the Ethiopian foreign minister said.
Ethiopia appreciates the initiatives of cooperation with Africa, put forward by Chinese President Xi Jinping at the Beijing Summit of the FOCAC, Gebeyehu added.
Gebeyehu said Ethiopia hoped that it will benefit more from the outcome of the FOCAC summit, and more Chinese enterprises will invest in the country.
Gebeyehu stressed that Ethiopia supports and will continue to actively participate in the Belt and Road cooperation, adding it is willing to coordinate and cooperate with China closely in international organizations such as the United Nations, so as to promote regional peace and development.