Korean peninsula makes tracks toward peace
By PAN MENGQI | China Daily | Updated: 2019-01-08 07:27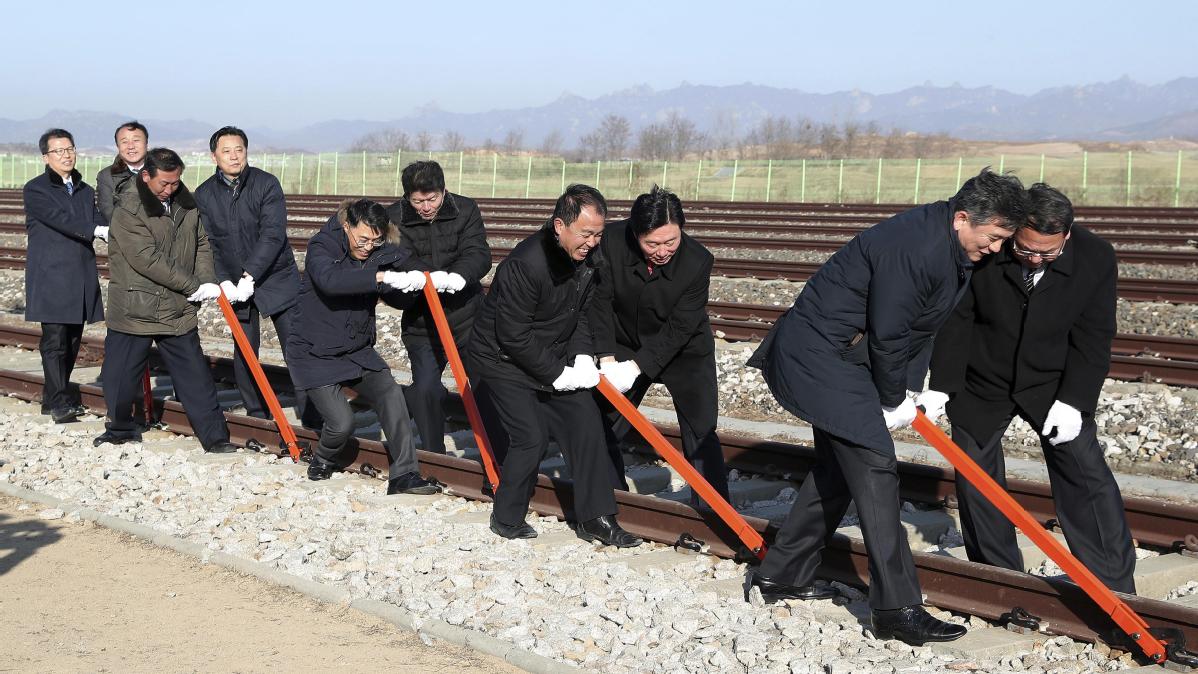 Series of overtures advanced harmonious relations in 2018
A nine-car train carrying 100 passengers departed from Seoul, capital of the Republic of Korea, at 6:45 am on Dec 26 for Panmun station in Kaesong, a border city in the Democratic People's Republic of Korea
It was the first time an ROK train had run on the Kumgang-Tumen line since the Korean War (1950-53). The line runs up from Mount Kumgang to the Tumen River.
The train arrived to cheers and music, and carried a slogan on its side that read, "Let's open an era of peace and prosperity together."
The 100 passengers included government officials, lawmakers and aging relatives separated by the war. They witnessed the unveiling of a project to reconnect the two countries by rail, heralded by ROK President Moon Jae-in as "the beginning of a wide range of exchanges and cooperation".
Moon and top DPRK leader Kim Jong-un held a landmark summit in April, at which they agreed to modernize and eventually link the northern and southern parts of the Gyeongui Line, which runs along the west coast of the Korean Peninsula, and the Donghae Line, on the east coast, as well as roads that span the border along the two coasts.
The difference between the rail networks in the DPRK and ROK is striking. When he met with Moon in April, Kim conceded his country's trains were in an "embarrassing" state. Some commentators said modernizing the DPRK's rail lines to bring them up to international standards could take years or decades and would require billions of dollars in investment.
Freight services began operating in 2007 between Munsan station in the ROK and Panmun station in the DPRK to support operations at a now-shuttered joint factory park in Kaesong. The ROK used the trains to move construction materials north, while clothing and shoes made at the factory park were sent south. The line stopped operating in 2008 due to nuclear tensions between the countries.
Moon has said many times that better inter-Korean relations would reduce tensions, and that joint projects to improve the DPRK's infrastructure are an investment in the future of the Korean Peninsula, which could be of great benefit to both sides in the long term.
Since taking office in late 2011, Kim has pushed for market-oriented economic development. At the Third Plenary Session of the Seventh Workers' Party of Korea Central Committee in April, he said the WPK would "concentrate all efforts of the whole party and country on socialist economic construction".
At his first meeting with Kim, Moon reportedly laid out his plans for the DPRK's development on a USB memory stick.
Ultimately, the ROK wants to see a high-speed rail line linking Seoul and Pyongyang, the DPRK capital, and extending north to Sinuiju, an important trade hub on the Chinese border.
At the Moon-Kim summit, both sides agreed that better roads and railways, and the ability to move goods and people quickly and reliably, would help boost economic activity. They also agreed to work together to improve roads and railways in the eastern transportation corridor from Pyongyang to Sinuiju.