AI speaker makers seek to outsmart rivals
By Jing Shuiyu | China Daily | Updated: 2019-01-09 09:40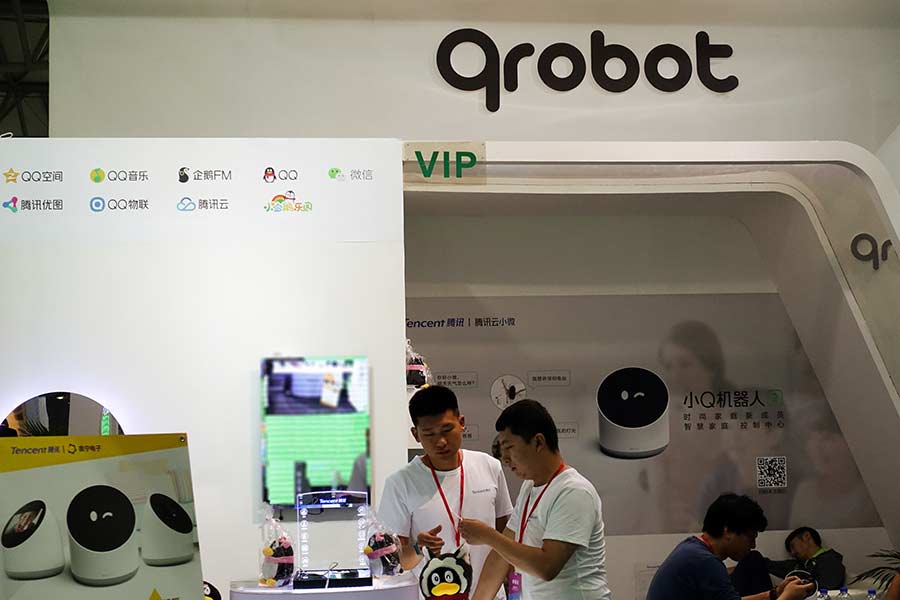 Traditional audio equipment manufacturers strive to leverage industry expertise to win Chinese consumers' hearts
Overseas audio equipment manufacturers are scrambling to introduce higher-quality smart speakers in China, in a bid to gain a bigger share in the fiercely competitive market, where internet firms have a head start.
These companies have been pinning high hopes on the world's second-largest consumer market, as industry data indicates huge market potential.
Smart speaker sales in China surged to 1.65 million units in 2017, compared with 10,000 units two years earlier, according to market researcher GfK SE. The company estimated sales would reach 9 million units in China for the whole of 2018.
Lured by the market opportunities, internet giants including Alibaba Group Holding Ltd and Baidu Inc have rolled out medium-range products. Apple Inc has also announced its wireless speakers will make their China debut in early 2019.
Facing stiff competition from an ever-expanding list of rivals, established audio equipment manufacturers are striving to leverage their deep industry expertise to win the hearts of Chinese consumers.
These companies' executives said their top priority is to ensure professional sound quality, and voice-controlled functionality is merely an added feature.
Koay Chee Meng, Harman China's vice-president and general manager of lifestyle audio, said more technological elements will be embedded in the company's products, without compromising customers' professional audio experience.
According to Koay, the United States-headquartered connected technology provider has combined its acoustic design experience with technologies from partners including Google LLC, Amazon Inc and Tencent Holdings Ltd. The company has experimented with intelligent audio solutions in the home, on the go and for all everyday activities, and has integrated them into its other smart home products.
In May 2018, the company launched a premium voice-activated device, Harman Kardon Allure, powered by Tencent's voice assistant. The product supports voice recognition and wireless Bluetooth streaming.
Industry experts said the move could eclipse other players' efforts. As Harman has over 70 years of expertise in acoustic design, tuning and signal processing, other firms cannot catch up in a short period of time, they said.
Feng Chao, a researcher at consultancy Analysys, said the sector would continue to thrive, like the markets for other applications powered by artificial intelligence, and is currently in a stage where industry players are battling for the market.
Although more companies are pouring in, only high-quality products will prevail and command the market, he said.
Internet giants' products are AI-enabled virtual assistants, which aim to help consumers to control connected home appliances and make online purchases, said Liu Song, China CEO of Denmark-based consumer electronics maker Libratone. They are not necessarily speakers, he added.
Liu said his company has first and foremost designed a speaker, which has voice-control and interactive functionality as simply an added feature beyond sound quality.
"We will continue to design medium and high-end speakers with intelligent functions. Music experience must be the one priority that audio manufacturers pay attention to," Liu said.
He stressed that smart speakers and virtual assistants would further differentiate themselves from each other in the future.
Libratone entered the Chinese market four years ago. So far, China has become the company's second-largest market following its home market Europe.
"Because China has bigger potential, it may surpass Europe and become our largest market," Liu said.
In September 2018, the company officially debuted a new type of smart speaker in China - the Libratone ZIPP 2. It is expected to outpace the prior product generation in terms of sales, Liu said.
Security concerns
But, the strong uptrend of the smart speaker sector has begun to arouse security concerns. A report from Trend Micro Inc, a global cloud security firm, said some smart speakers can leak data and information.
The company said consumers should be informed of devices' built-in security, because they could make the owners a target for cyberattacks.
Koay from Harman said smart speakers do not upload all of clients' conversations, but only those words that activate the device.
"But it does not mean that your device will never save or upload your information. Intelligent audio is nothing more than a computer with a microphone. If it is hacked or breaks down, it (third-party infiltration) can happen," he explained.
He said smart speakers, like other gadgets, need to ensure cloud security, in addition to combining software systems and chip encryption, as common practice. Solid cybersecurity infrastructure must be in place prior to mass consumer adoption, he stressed.
Liu from Libratone said smart speakers have no features designed to intrude on consumers' privacy rights, adding that "data is only collected when interaction occurs".
Compared with smartphones - which are more likely to raise privacy concerns as they are equipped with networks, microphones and cameras - smart speakers only have microphones, he added.