MPs determined to prevent UK leaving without deal
By Jonathan Powell | China Daily UK | Updated: 2019-01-09 23:00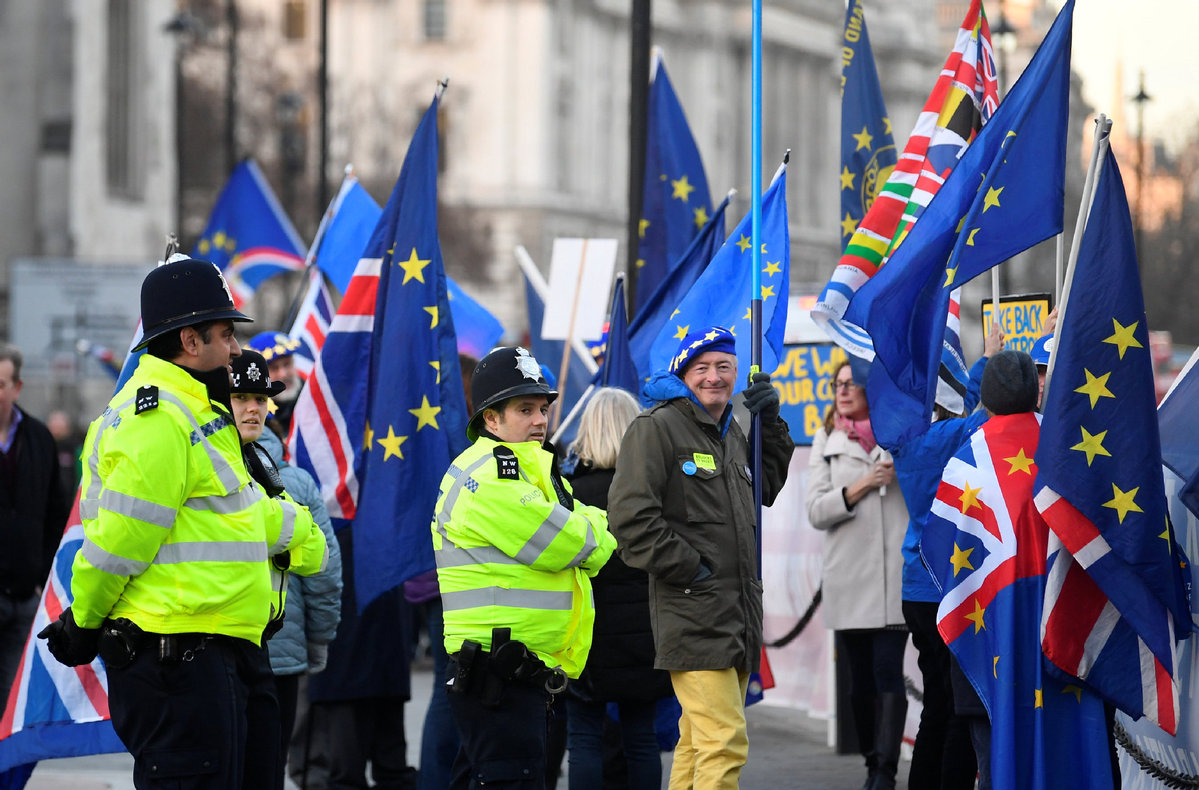 A cross-party alliance of MPs is determined to use every means available to prevent Britain leaving the EU without a deal in March.
British Prime Minister Theresa May faces a resolute fight from a group of senior Conservatives that have banded together with Labour leadership, in seeking to avoid a no-deal Brexit at all costs.
The group, including former staunch loyalist Sir Oliver Letwin and the home affairs select committee chair, Yvette Cooper, passed an anti no-deal amendment to the finance bill that defeated the government by 303 votes to 296 – a majority of seven – making May the first prime minister in 41 years to lose a vote on a government finance bill.
The first Cabinet meeting of the new year exposed deep divisions in the government, with several pro-remain ministers, including David Gauke, Amber Rudd and Greg Clark, stressing the importance of avoiding a no-deal Brexit.
The Guardian reported that Rudd told her colleagues that this would mean reaching out across the House of Commons. "More than ever we need to find the centre, reach across the house and find a majority for what will be agreed. Anything will need legislation," she said.
The rebellion by Tory loyalists underlined Parliament's determination to take control of the next steps in the Brexit process.
Letwin said Tuesday's vote was the first step in a concerted effort by Parliament to bind the government's hands in the run-up to Brexit day.
"The majority tonight that is expressed in this house will sustain itself," he said. "We will not allow a no-deal exit to occur at the end of March."
On Wednesday, MPs voted in favor of the Grieve amendment, with 308 voting for, and 297 against. It means the government will be required to return to Parliament within three sitting days if the deal is voted down next Tuesday.
On Tuesday, the British government acknowledged talks were taking place about extending the two-year Article 50 process for leaving the EU — but insisted they were not at the UK's initiation.
"There are people in the EU who are discussing this issue but it's not the position of the British government," said May's spokesman.
"We will not be extending Article 50." However, some Conservative MPs have suggested delaying the date of departure if the prime minister's Brexit deal is defeated in Parliament next week.
Britain is due to leave on March 29, at 11pm GMT. But May's struggle to win a parliamentary majority means a delay could become unavoidable.
Whether it was May's deal, a second referendum, or even a no-deal Brexit, the House of Commons could potentially accept an Article 50 extension if it were necessary.
The EU withdrawal act, passed by Parliament last year, gives ministers the power to amend the March 29 exit date by issuing regulations.
According to a report in the Financial Times, diplomats said EU leaders are unlikely to have any problem with a request for a short extension, of a few weeks or months, and most countries are "open" to Britain seeking more time for an election or referendum.
The biggest problem would come, it said, if Britain asked for more time because Westminster could not make up its mind, or wanted better terms.