Affectionate robots win hearts at CES
By LINDA DENG in Las Vegas | China Daily USA | Updated: 2019-01-09 23:49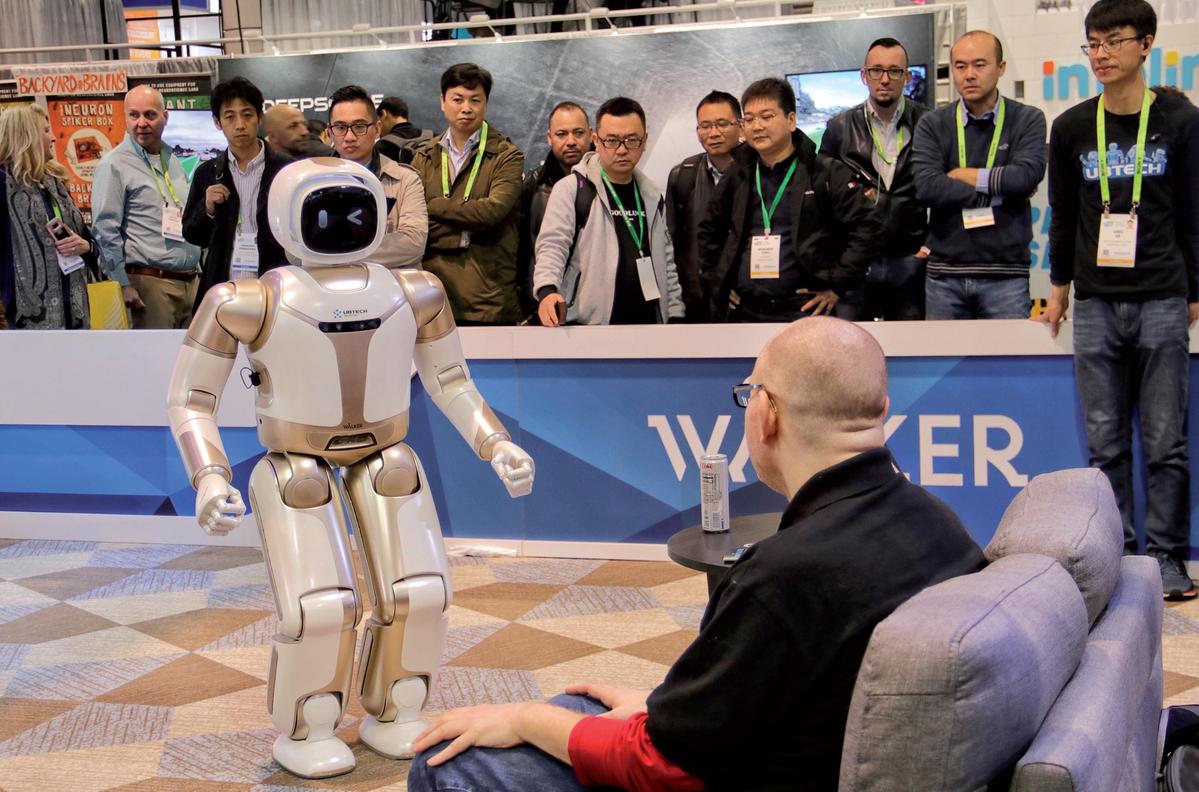 JD has deployed 20 similar units in China of the AMR X350, which carries heavier loads, ForwardX said.
The Beijing-based firm also launched two additional robot platforms at CES, starting with Ovis, a smart suitcase with built-in "eyes" that scan its surroundings, navigates obstacles and always keeps its owner in sight. A quickly activated manual mode makes tackling stairs or an escalator a breeze. A wearable band alerts the owner if the robot gets hung up and falls behind.
ForwardX Robotics also rolled out an autonomous lawnmower that uses computer-vision sensors as it cuts the grass.
Fred Fishkin, a consumer tech reporter for Techstination in Jackson, New Jersey, said he was impressed with the Chinese gadgets.
"The smart suitcase that follows you everywhere. There was certainly a lot of Chinese innovation going on here," Fishkin said. "There is a lot to be impressed about when it comes about technology coming from China."
Chinese firm UBTech last year unveiled a walking robot called Walker. At this year's show, UBTech is demonstrating a new version of Walker, one with a torso and arms.
At a demo area encircled by excited visitors, Walker opened the door to welcome its owner, picked up the umbrella from the owner's hand and put it aside, and smoothly moved back to grab a drink from the refrigerator and handed it to the owner, who was sitting on a couch.
"UBTech is on a multiyear mission to bring robots into every home and business by making them more intelligent, personal and humanlike in every way," said John Rhee, senior vice-president and general manager, North America.
UBTech Robotics has nearly $1 billion in funding on a $5 billion valuation.
"Chuangchuang", another personalized emotional robot with sense and vision from the Chuangze Intelligent Robot Co Ltd was a winner of a CES 2019 Innovation Award, the only commercial intelligent-service robot to win.
"Chuangchuang" is the first in China with a so-called "brain" and "cerebellum" that could quickly acquire professional knowledge of various industries and become an expert, the company said.
The market for service robots is more than just animatronic pets and futuristic home servants. It is a $39 billion industry that is expected to grow to about $500 billion by 2025.