Trump's case for wall meets Democrat resistance
By ZHAO HUANXIN, LIU XUAN | China Daily | Updated: 2019-01-10 02:58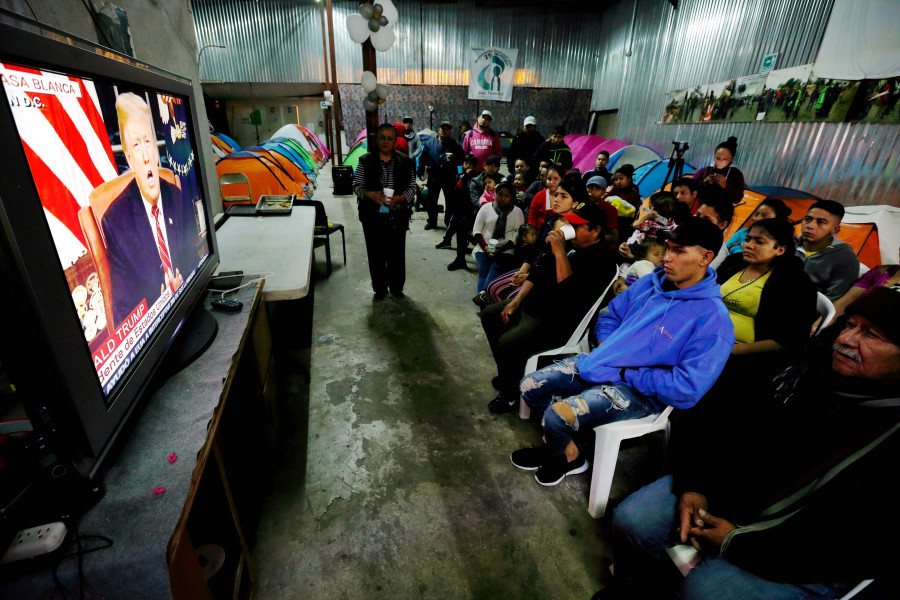 The divide between the administration of US President Donald Trump and Democratic congressional leaders on paying for a border wall was laid bare before a national audience during Trump's first televised Oval Office address and a rebuttal from two congressional leaders on Tuesday night.
The speech was made as the partial government shutdown headed into a third week over the budget standoff between the president and Congress.
Analysts said the impasse is likely to linger, though both sides have agreed to continue talking.
In his nine-minute national address, Trump laid out his case for the wall on the southern border with Mexico, which he said is burdened with "a growing humanitarian and security crisis".
"Our southern border is a pipeline for vast quantities of illegal drugs, including meth, heroin, cocaine and fentanyl," he said. "Every week, 300 of our citizens are killed by heroin alone, 90 percent of which floods across from our southern border."
The president said the barrier is "absolutely critical" to border security, adding that building a wall and securing the border is "a choice between right and wrong, between justice and injustice".
Trump stopped short of calling for a state of emergency, instead appealing to what he called the need to slash the cost to the government of the illegal drug trade, which he put at $500 billion a year, "vastly more than the $5.7 billion we have requested from Congress".
Minutes after Trump's speech, House of Representatives Speaker Nancy Pelosi said the president has "chosen fear" in making the case for the border wall, and Democrats "want to start with the facts".
"The fact is President Trump has chosen to hold hostage critical services for the health, safety and well-being of the American people and withhold the paychecks of 800,000 innocent workers across the nation — many of them veterans," she said. "He promised to keep government shut down for 'months or years' — no matter whom it hurts. That's just plain wrong."
Senate Democratic leader Chuck Schumer said Democrats and Republicans agree on the need to secure borders, but he said "the symbol of America should be the Statue of Liberty, not a 30-foot wall".
He urged the president to "reopen the government and we can work to resolve our differences over border security. But end this shutdown now".
Speaking after Trump's address, Senate Majority Leader Mitch McConnell, a Republican, said Trump's plan "simply builds on earlier legislation" that Schumer and other Democrats supported in the past.
McConnell urged Democrats to "come to the table and help deliver a solution" to reopen the government.
Cal Jillson, a political scientist and historian at Southern Methodist University, said he believed Trump's address on the nation's most prestigious podium was "not compelling".
"More effective was Senator Chuck Schumer, the Democratic leader of the Senate, who argued that the symbol of the nation should be the Statue of Liberty, not a 30-foot wall."
Jillson said he expected Wednesday's meeting between Trump and Republican lawmakers at the Capitol would be unlikely to produce much movement.
"President Trump is slowly bleeding support among moderate Republicans in Congress. At some point, he may still declare a national emergency, claim to his supporters that he had done everything he could and open the government," Jillson said. "The courts would likely question, even challenge, the president's claim to emergency powers."
Tao Wenzhao, a senior researcher in China on US studies, said Trump's speech was mostly to bolster his own interests. "On one hand, he wished to demonstrate and pressure the Democrats to pass his construction plan by saying they are the ones to blame for the shutdown," he said. "On the other hand, this is also a way to show that he is fulfilling his promise during the election campaign."
Tao said a feasible solution is for both sides to compromise, given that financing for the wall might be passed partially or be paid by installment.
"The Democratic Party has just gained control of the House, and it won't compromise with the president immediately. Yet, judging from his changing attitude on withdrawing from Syria, Trump can compromise," he said, adding that the uncertainty will be how and when to build the wall.
William C. Banks, a law professor at Syracuse University College of Law, also said Trump is likely to rely on authority provided by Congress in the National Emergencies Act (1976) to declare a national emergency at the southern border, then rely on military construction statutes that may enable him to spend money in the Pentagon's budget for wall construction without a new appropriation for that purpose.
"The president's legal arguments are contentious and may be wrong, based on the above authorities. Congress could stop him by passing a law saying no funding for a wall, or they could limit the funds available," he said in an email.
Contact the writers at huanxinzhao@chinadailyusa.com