Tesla factory points to appeal of China market
By HU YONGQI | China Daily | Updated: 2019-01-10 07:53
Nation will continue to be popular destination for foreign investment, Premier Li tells Musk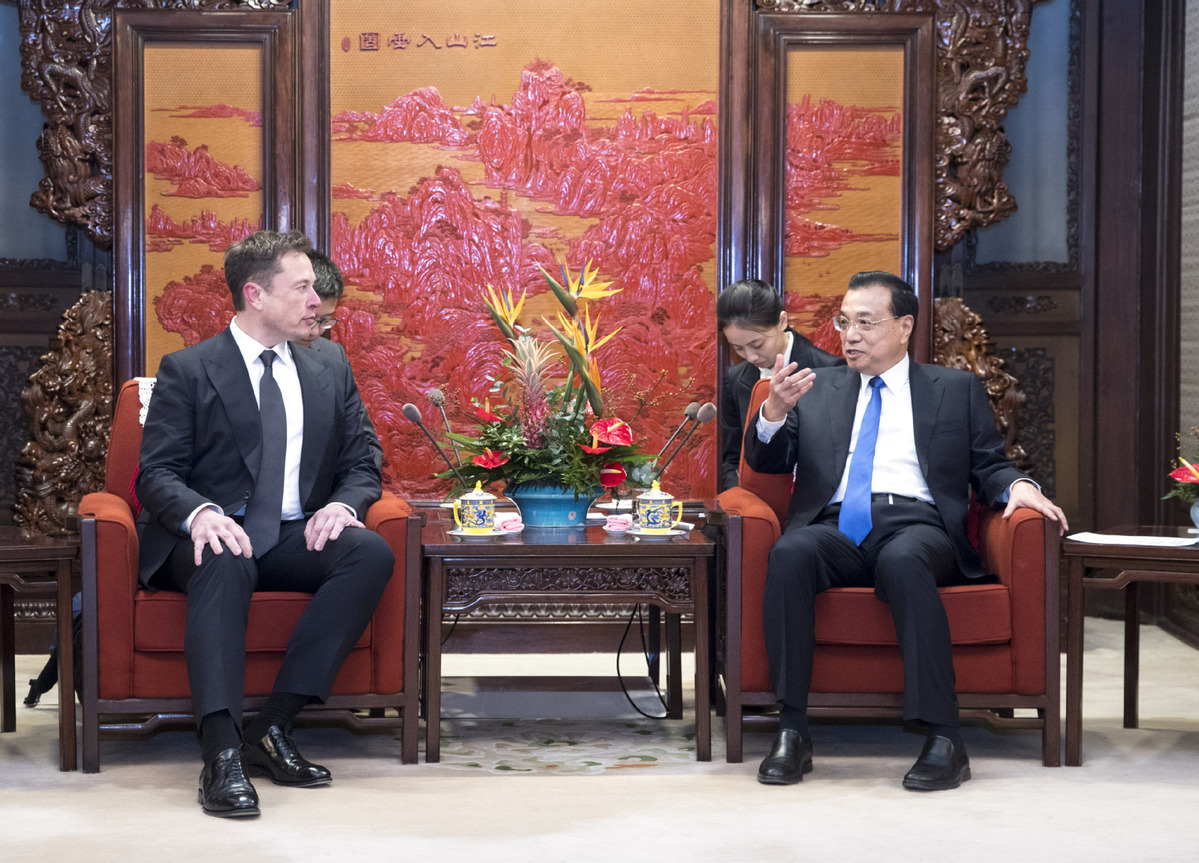 As the groundbreaking ceremony kicked off in Shanghai this week for Tesla Inc's first overseas gigafactory, the city's biggest-ever foreign investment in manufacturing at 50 billion yuan ($7.3 billion) turned into reality.
The factory will be the first solely owned by foreign capital in China's automaking industry after the country canceled the equity cap for foreign capital for new energy vehicles last year.
China has been and will continue to be a long-term, popular destination for foreign investment, and it welcomes enterprises from other countries to expand their cooperation and investment in the country, Premier Li Keqiang said on Wednesday in Beijing while meeting with Elon Musk, CEO of Tesla.
The premier congratulated Tesla on the start of building its new plant in Shanghai. Li also said the US company is expected to further participate in China's reform and opening-up and contribute to the stable development of China-US relations.
Musk said he was impressed with China's rapid development and the efficiency that enabled Tesla to complete all procedures for opening an automaking factory in Shanghai. He added that Tesla will make the new factory one of the most advanced in the world, with products customized for the Chinese market for win-win outcomes.
The Tesla plant is among a number of foreign-invested projects under construction. These projects demonstrate that China is attractive to foreign investors as the country endeavors to open its door wider by expanding market access and improving the business environment.
The Tesla case also shows that the Chinese market is attractive to multinational companies, which are optimistic about the prospect of the Chinese market and are attentive to the new demands of the surging middle class, which had more than 400 million people last year, said Chen Fengying, a senior researcher of the world economy at the China Institutes of Contemporary International Relations.
In addition, China's efforts to reduce institutional costs, part of its reform and opening-up, can also help foreign investors to take a share of the huge market, Chen said.
Tesla will spend 16 billion yuan to complete the first phase of the factory and make 250,000 electric vehicles per year, with the ultimate production capacity doubling that number. By the end of this year, the new plant will start producing electric cars for Chinese and overseas consumers.
China, one of the largest markets worldwide for new energy vehicles, was Tesla's second-largest market last year, contributing $2 billion in revenue.
In the first 11 months last year, 1.03 million electric vehicles were sold in China, up by 68 percent compared with the same period in 2017, according to the China Association of Automobile Manufacturers.
Meanwhile, in recent years Chinese leaders have reiterated that the business environment will be improved and equal treatment given to foreign and domestic investors alike to woo more foreign investors.
At the Boao Forum for Asia annual conference on April 10 last year, President Xi Jinping declared that China will remove equity share caps for foreign investors in automaking. Seven days later, the National Development and Reform Commission decided to cancel foreign-owned equity share caps on new energy vehicles in 2018, and all such caps will be eliminated for the automaking industry in five years.
German luxury car maker BMW has benefited from the new policy. It inked a new deal with local partner Brilliance Auto Co, which is based in Shenyang, Liaoning province, to raise its share in their joint venture to 75 percent from the previous 50 percent.
While global foreign direct investment decreased by 41 percent in the first half of 2018, China saw a 6 percent increase in FDI to become the world's largest recipient in that period, according to the UN-released Investment Trend Monitor report in October.
From January to October last year, 49,545 foreign-invested companies had been established, surging by 89.3 percent compared with the same period in 2017, said the Ministry of Commerce. During that period, actual foreign capital being used went up by 6.5 percent to $107.6 billion, excluding the banking, securities and insurance sectors.
In the petrochemical field, two other projects were inked. In July, during Li's visit to Berlin, the German chemical company BASF SE, a Fortune Global 500 company, signed a deal with China to build a solely owned petrochemical factory in Zhanjiang, Guangdong province, with investment of $10 billion.
In September, the US company Exxon-Mobil, another Fortune Global 500 company, signed a deal to build a solely owned petrochemical plant in Huizhou, Guangdong, with investment of $10 billion.
Seven projects were started in the fourth quarter last year, including for Tesla, BMW, BASF and Exxon-Mobil plants, said Ning Jizhe, deputy head of the NDRC. The second series of large projects, focusing on new energy, will be promoted in the first quarter of this year, he said. Each project will cost billions of dollars.