Divorce could knock Jeff Bezos out of world's richest spot
By KONG WENZHENG in New York | China Daily USA | Updated: 2019-01-10 22:58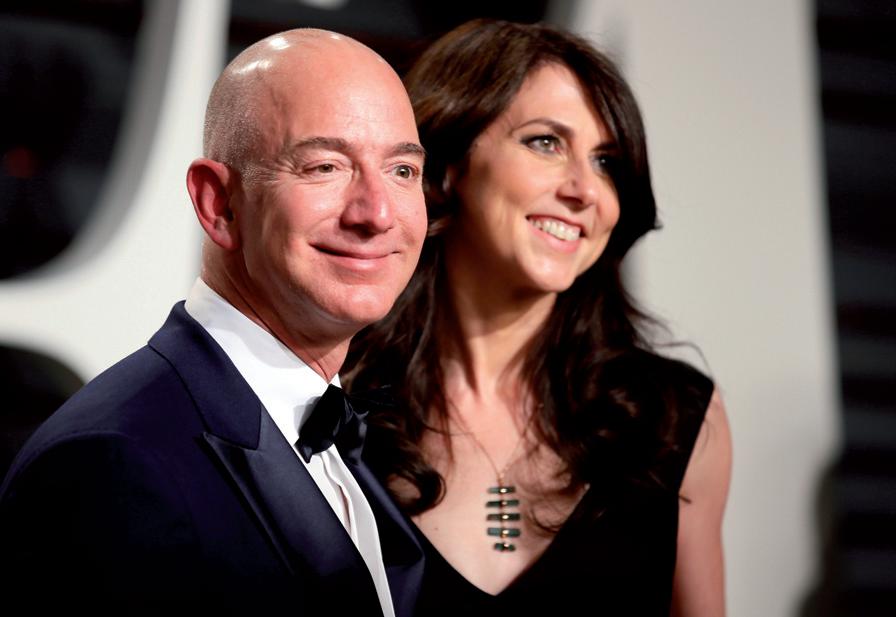 How much does the world's richest man have to pay his wife if he gets divorced?
Enough so that it could make her the richest woman in the world.
Jeff Bezos, founder of e-commerce giant Amazon.com Inc and currently the world's richest person, announced on Wednesday along with wife MacKenzie Bezos that they were divorcing after 25 years of marriage.
"After a long period of loving exploration and trial separation, we have decided to divorce and continue our shared lives as friends," the couple said in a Twitter statement.
The pair got married in 1993 when they were both working at a New York-based hedge fund, D.E. Shaw. In the next year, they moved to Seattle, where Jeff Bezos launched Amazon, which would become an internet retail colossus and the source of his riches.
"I was there when he wrote the business plan, and I worked with him and many others represented in the converted garage, the basement warehouse closet, the barbecue-scented offices, the Christmas-rush distribution centers, and the door-(to)-desk filled conference rooms in the early years of Amazon's history," wrote MacKenzie Bezos, an author, in a book review for a 2013 biography of her husband.
The New York Post reported on Wednesday that Jeff Bezos has been dating Lauren Sanchez, 49, a former TV anchorwoman who is separated from her husband Patrick Whitesell, a prominent Hollywood agent.
Twenty-four years after its founding, Amazon had a market value of more than $800 billion as of Wednesday, and Jeff Bezos, 54, owns 16 percent of that.
He also owns The Washington Post, which he purchased in 2013, and Blue Origin, an aerospace company.
In 2017, Bezos surpassed Bill Gates, co-founder of Microsoft Corp, to become the world's richest person, worth an estimated $137 billion according to Bloomberg Billionaire Index. By comparison, Alibaba Group Holding Ltd founder Jack Ma is 19th on the same list, with $37.9 billion.
Chances are the ranking might shift after the Bezoses divorce.
The state of Washington, where the couple resides, is a community property state, where assets acquired during a marriage are presumed to be jointly owned by the spouses.
In cases where the couples fail to reach an agreement in a divorce, the court would divide their assets in half.
MacKenzie Bezos, 49, under that scenario, could get almost $69 billion, which would make her the world's richest woman. That might also result in Bezos selling or pledging some of his shares of Amazon, affecting his control of the company.
The couple do not have to split their fortune if they have reached their own agreements, Michael Stutman, a divorce lawyer at Stutman Stutman & Lichtenstein LLP in New York, told China Daily. "Everybody is free to make whatever kind of a deal they want," he said.
"The coordinated message on Twitter suggested to me that the case is already settled, because in a situation like this, where it is a highly viable publicly traded company, they would like to keep everything confidential until both sides reached an agreement," said Zac Potter, a divorce lawyer in West Palm Beach, Florida, who has handled multiple billionaire divorce cases.
And what both sides agreed on was likely about preserving the status quo, he said, adding that from how the market reacted today, the decision was accepted by shareholders.
Amazon's stock, which trades on the Nasdaq Stock Market, was up $2.84, or 0.17 percent, to $1,659.42 in Wednesday trading on a day that all three major stock indices finished higher.
"The market has appropriately factored in (that) these two people will do nothing to harm the value of that stock," Stutman said.
"Reading between the lines, you can think that there's already been some sort of resolution, and they are going to go on about their business now," he said regarding the Twitter statement.
"We've had a great life together as a married couple, and we also see wonderful futures ahead, as parents, friends, partners in ventures and projects," the statement said.
"Regardless of how much money you have, it's still a pretty significant event in your life to have a 25-year relationship end up where it is," Stutman added.
The couple have four children: three sons and a daughter, who was adopted from China.
Contact the writer at nancykong@chinadailyusa.com