Trump skips Davos trip to declare emergency over border wall
Xinhua | Updated: 2019-01-11 02:44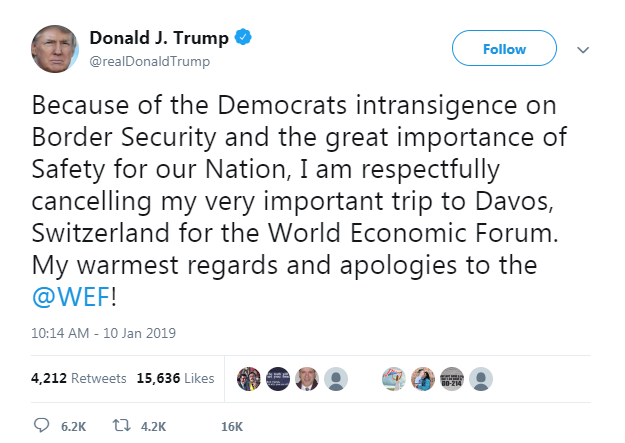 US President Donald Trump on Thursday announced that he would cancel his planned trip later this month to the Swiss ski resort of Davos for the annual World Economic Forum, due to the ongoing partial government shutdown.
"Because of the Democrats intransigence on Border Security and the great importance of Safety for our Nation, I am respectfully cancelling my very important trip to Davos, Switzerland for the World Economic Forum," the president tweeted.
Trump has locked himself in a stalemate with congressional Democrats in the dispute over his demand for more than 5 billion US dollars for funding a wall along the US-Mexico border.
Earlier on the day, Trump told reporters before setting out for a trip to the US southern border that he "won't go" to Davos if the shutdown continues.
"Well, I intended to go and speak in front of the world financial community in Davos. That's still on, but if the shutdown continues, which is in a while from now, if the shutdown continues, I won't go," he said.
Last month, White House Press Secretary Sarah Sanders announced the presidential trip to Davos, adding that the president will be accompanied by an entourage led by Treasury Secretary Steven Mnuchin.
According to Sanders, the US delegation comprises Secretary of State Mike Pompeo, Commerce Secretary Wilbur Ross, US Trade Representative Robert Lighthizer, and Secretary of Homeland Security Kirstjen Nielsen, among others.
Trump, whose presence at the 2018 WEF was the first by a US head of state since former President Bill Clinton, said Thursday that Washington has "a great story to tell" at the international gathering this year, which runs on Jan. 22-25.
The partisan fight has forced the partial government shutdown which stretched into the 20th day and, with no end in sight, is about to make it the longest in US history.