Drones will change how we live
By LINDA DENG | China Daily | Updated: 2019-01-11 09:00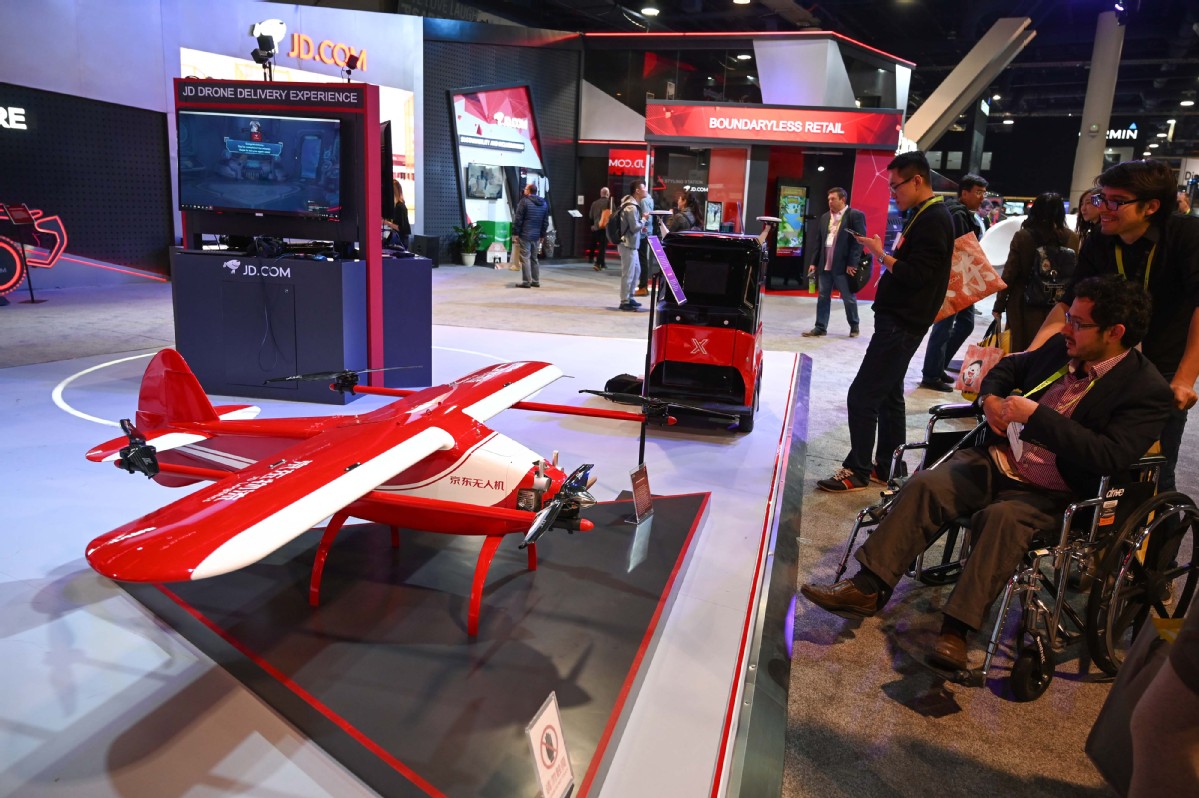 One of the most exciting things about the Consumer Electronics Show is that you can see first-hand how technology will impact the future.
If you go fishing, for example, you can pack an underwater drone that helps locate fish in the water. You can also get clear surface and underwater views and mapping to decide where you'd like to dive and explore.
In the sky, a drone is recording every moment of family time, and you can watch the high-resolution film from your smartphone or tablet.
At the same time, your home property can be watched over by drones.
A security system introduced by Sunflower Labs at CES 2019 uses garden lights to detect motion and vibration, and if suspicious activity is detected, a drone is sent to investigate.
Almost 200 companies with products related to drones are exhibiting at CES 2019.
On the commercial side, the CES Innovation Award winner-Industrial Technology Research Institute's hybrid powered octacopter-can hover up to 45 minutes with a 30-kilogram payload, which is more than three times the capability of a drone powered by a lithium battery.
The drone can carry granular fertilizer for plant protection. The Taiwan company that makes the drone also said it can act as a robust delivery service and be used for long-range infrastructure inspections.
Brendan Schulman, vice-president of policy and legal affairs for leading drone maker DJI, said at CES that drones not only can deliver packages, but can save lives, help in disaster recovery and even collect whale mucus samples for research.
"Over 200 people have been saved with the help of drones," Schulman said.
In 2018, DJI, which also produces consumer drones, had a 74 percent global market share, according to SkyLogic Research. In 2013, when DJI released the Phantom, its first ready-to-fly consumer drone, it did not have self-stabilization, and the camera on it was not "smart" enough.
At CES 2019, when DJI's Mavic 2 encounters a subject, it not only stops but calculates a better route.
Integrating cameras are placed in the front, bottom, back, sides and top. The Mavic 2 Pro sensor was co-developed with Hasselblad, whose camera was used to take a famous shot on the moon.
Guangzhou Walkera Technology Co Ltd from China showed Zhun, a drone designed especially for high-altitude fire suppression. Under the fuselage of the dual fire-fighting drone is a fire extinguisher powered by a rocket launcher.
The drone can be operated quickly and work in wind, rain, dust and high temperatures. The company has already gotten orders from fire departments in China, according to Lucy Chan, company sales manager.
"The drone companies exhibiting here at CES are building a kind of ecosystem, and the communications and exchanges with the industrial leaders and CES visitors will help the industry grow better," said Adam Lisberg, DJI North American corporate communication director.