Trump takes wall fight to Texas
By MAY ZHOU in Houston | China Daily USA | Updated: 2019-01-11 23:41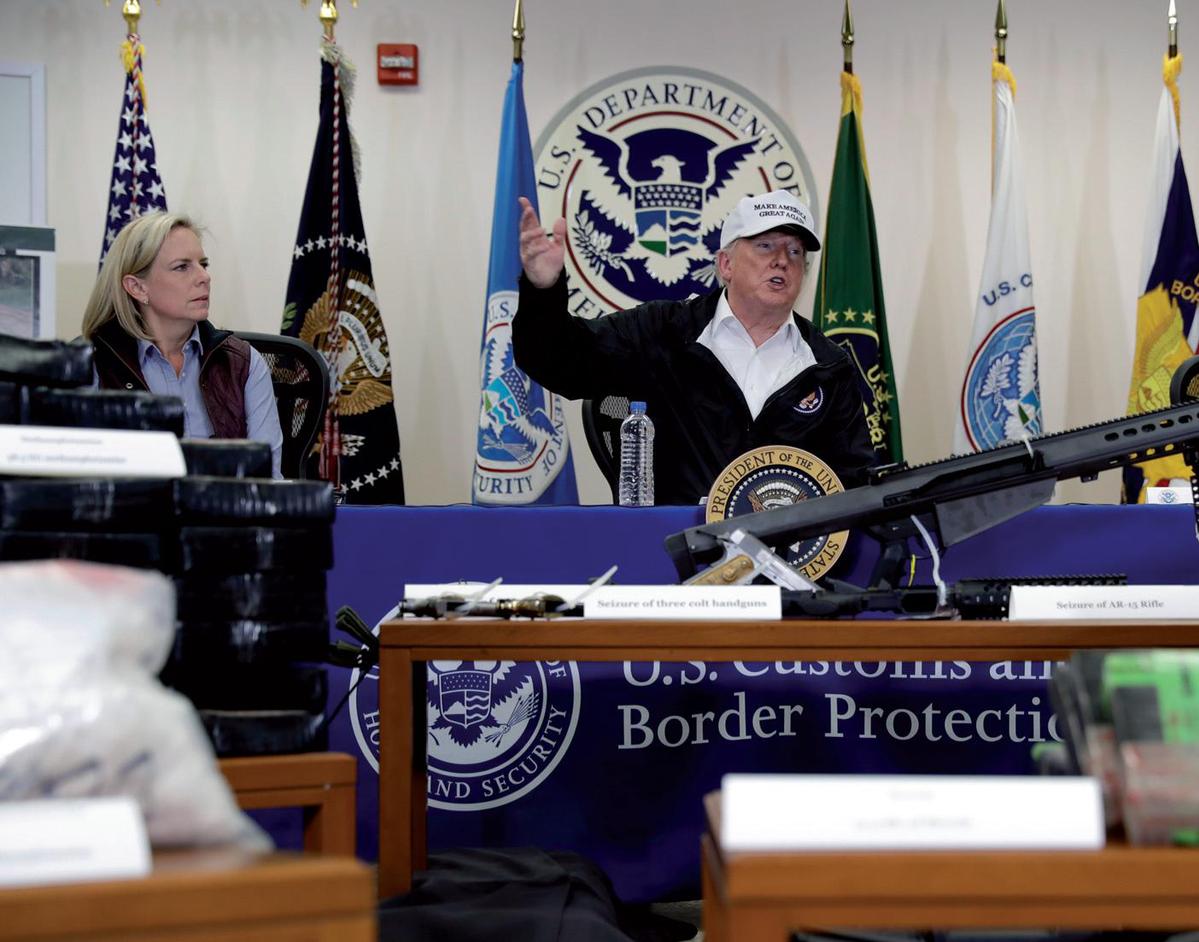 To secure more support for a wall on the US-Mexican border, US President Donald Trump flew to Texas on Thursday and held a border security roundtable at US Border Patrol McAllen Station.
In front of stacks of drugs, weapons and cash, Trump pledged that the US will build a powerful steel barrier. He also repeated that Mexico will pay for the wall: "When I say Mexico is going to pay for the wall, that's what I said; I didn't say they are going to write me a check. I didn't mean please write me a check, I mean very simply, they are paying for it in the trade deal," Trump said.
To someone like Jose, who spent three months in 1996 traveling from El Salvador to Houston when he was 12 years old, such a structure would leave those desperate for a better life stranded.
Jose, who did not want his last name published, said his parents were in Houston at that time but had not yet obtained legal status. They could not go back to get their children to the US.
"My brother, who was 14 then, and I just left our village without telling our grandparents. Life was hard there. There was so much violence. We had to hide in a cave every time we heard of a plane, in fear of bombing," he recalled.
The boys made a bold move to find their parents in the US. They embarked on an arduous journey of almost 2,000 miles north.
Jose choked up recalling the hardship on the road and the help they received from strangers. He got sick once and thought he could not make it. They relied on the goodness of people who provided food and shelter along the way; sometimes they went hungry and slept under the stars.
Three months later, Jose and his brother arrived in Houston and reunited with their parents, and soon enrolled in school.
Now 22 years later, Jose is running a small landscaping team to take care of yards for about 70 families in Houston. He is married with two young children in elementary school. He is living his version of the American dream and wouldn't think of returning to his home country.
"I love this country, and to me this is my country now," Jose said.
Trump's fight with the House of Representatives for $5.7 billion in funding to build a wall, along with the Democrats' refusal to fund it, has created a partial government shutdown, which started on Dec 22.
On Tuesday night, Trump addressed the nation in a speech from the White House and declared that border security is in crisis.
Trump blamed the shutdown on the Democrats: "The federal government remains shut down for one reason, and one reason only, because Democrats will not fund border security," Trump declared.
A poll conducted by Politico before the speech found that 47 percent voters blamed Trump and only 33 percent blamed the Democrats for the shutdown. Another poll by Reuters indicated that 51 percent Americans blame Trump for the shutdown.
But two polls showed 44 percent and 41 percent voter support, respectively, for building the wall, while only 25 percent voters supported Trump's move to shut down the government to secure wall funding.
While Trump supporters spoke at the roundtable in support of a wall, protesters gathered outside. "No crisis here!! Leave us alone!!" one sign read.
According to Texas Standard, McAllen, Texas Mayor Jim Darling said that he sees several hundred asylum seekers per day come to centers in the area.
"We're getting almost a caravan every three or four days here on the border, of people that were released that were seeking asylum, but apparently that's not newsworthy" compared to the Central American migrant caravan, Darling said.
Texas Standard reported that Darling does believe that the US needs border security, but a wall doesn't make sense because the Rio Grande River serves as a natural border, and private property makes building a wall complicated.
"We know where our border is and we have one," Darling was quoted saying. "A wall is really not the effective way to protect our border."
Jose said he hopes that with our without a wall, people who seek asylum can get the opportunity for a better life, like he has.
Tony Payan, director of Mexico Studies at the Baker Institute for Public Policy of Rice University, said Trump's characterization of the border as a dangerous place doesn't resonate with people living there.
"That may be convincing to people in West Virginia and western Pennsylvania, but it's very difficult to make that case the closer you are to the border," he said. "We know that in El Paso you can walk around at 3 in the morning, even in the darkest alleys, and you're fairly safe."
Contact the writer at mayzhou@chinadailyusa.com