Gansu students' visit with NBA's Spurs is an amazing show of friendship and sportsmanship
By LIU YINMENG and ZHANG YUAN in San Antonio, Texas | China Daily USA | Updated: 2019-01-12 00:58
Accompanied by music from Disney's Mulan, students from China clad in colorful "armors" lit up the stadium during a halftime dance performance of a San Antonio Spurs vs. Boston Celtics game on New Year's Eve, sending greetings enriched with Chinese elements to a pleasantly surprised audience.
"We had a very entertaining half-time performance from a group from China, and I haven't seen that since I was in China the last time. It was very entertaining, very exciting, very colorful, and a lot better than we've seen here recently," said Jeffrey Anderson, an audience member at the game.
The 72-year-old from Texas has visited Xian, Guangzhou and Beijing and had very memorable experience from the Asian country.
"I've never seen anything like that. We knew all the words to the song, it was very interesting to watch, especially when we are celebrating New Year's Eve here in San Antonio, Texas," said 19-year-old Laura Barrett.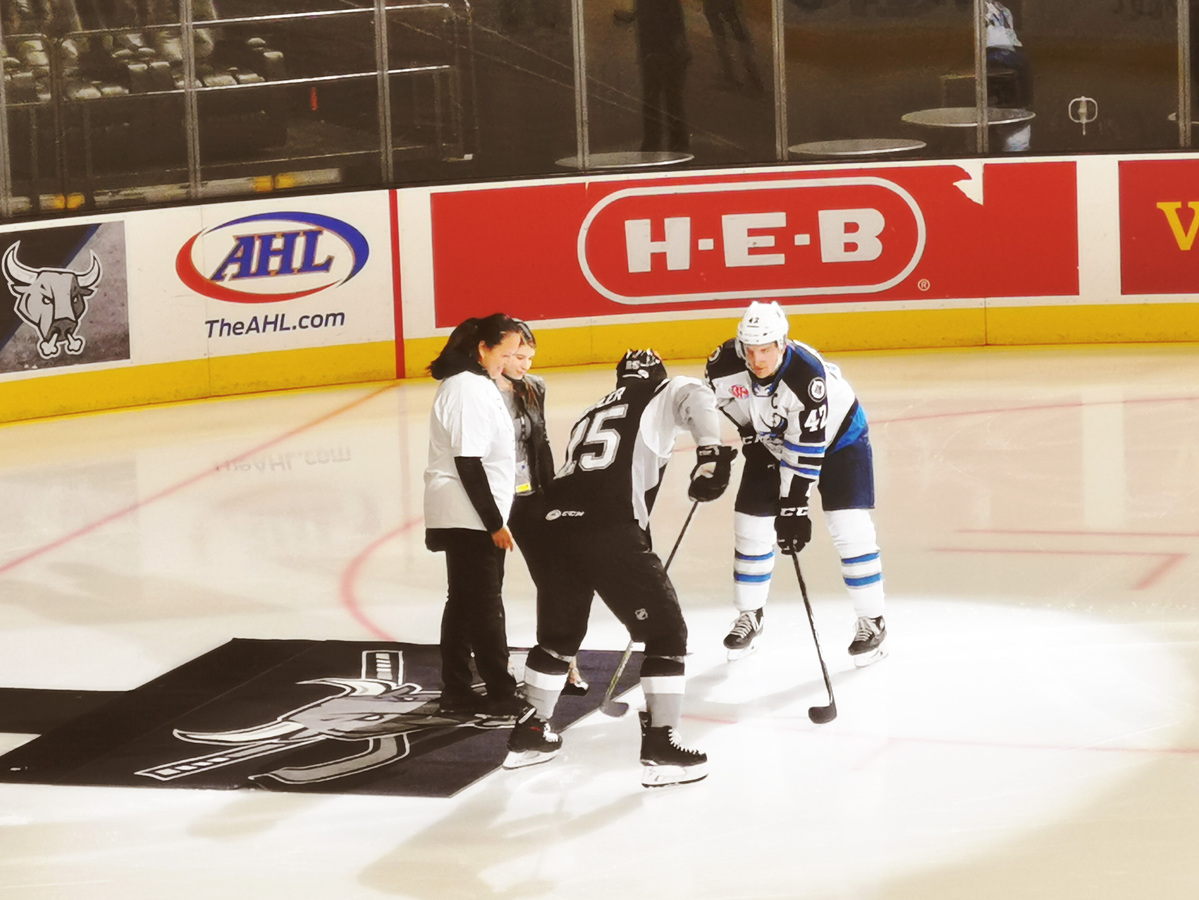 "We love our Chinese friends and we love to be immersed into different cultures, " she continued.
The Mulan dance was a highlight of almost two-week long trip by 48 elementary and middle students from remote and impoverished regions of the Gansu province in Northwest China.
The Gansu Aesthetic Education Promotion Association and Future SiFang Group, an auction house based in Lanzhou, Gansu, put together the fieldtrip through the generous contributions of donors, its organizer said.
"It's hard for children in rural parts of China to obtain formal training in music and physical education," said Xie Jianhua, president of the nonprofit Gansu Aesthetic Education Promotion Association.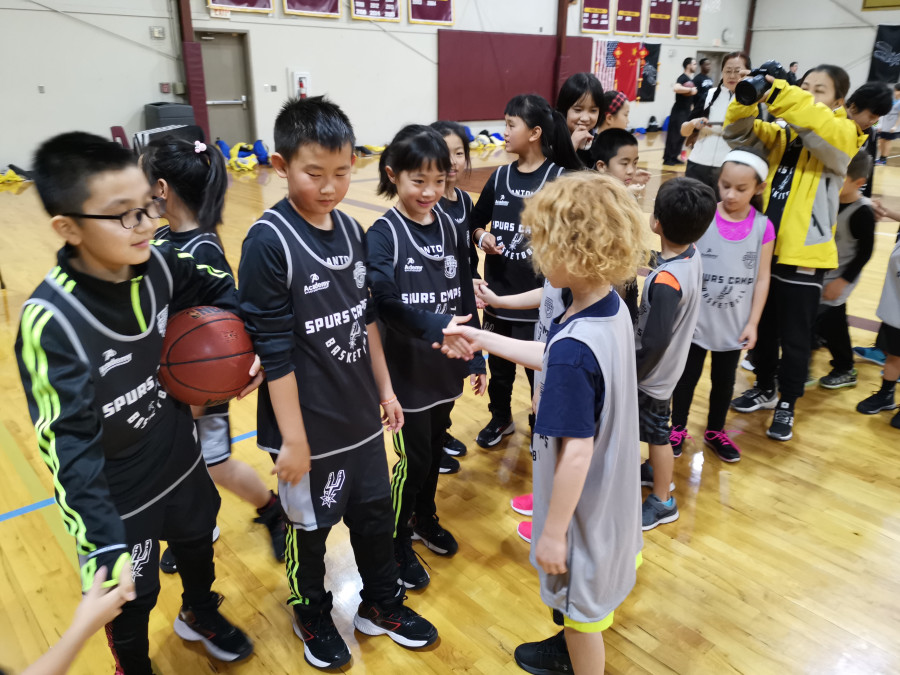 Xie has dedicated years of his life to training teachers and students from China's impoverished areas and broadening their perspective by taking them abroad to get first-hand experience at the US' NBA and at England's Premier League.
The Gansu delegation had stopped by the Space Center at Houston on December 27 , 2018, and was joining staff at the Spurs Sports and Entertainment, home of the five-time NBA championship team, for a basketball training camp.
The group's arrival in the US coincided with the 40th anniversary of the establishment of China-US diplomatic relations, a milestone in the history of the two countries' relationship.
"The 40th anniversary of the diplomatic relationship between the US and China is a coincidence with this trip, but we are thrilled that we are able to use basketball – and sports in general – to make an impact on kids' lives around the globe," said Joe Clark, vice-president of youth sports and business development at Spurs Sports and Entertainment.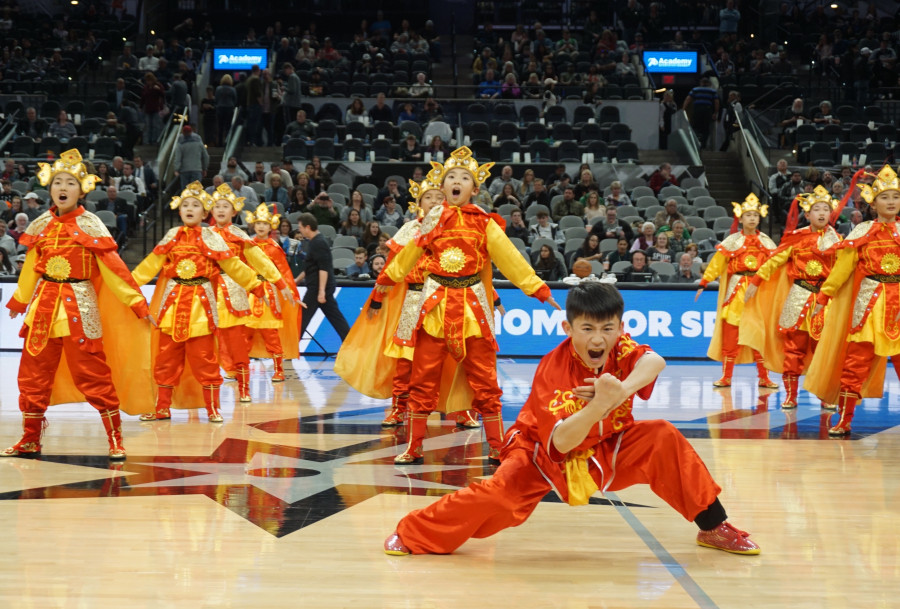 Xie said he hoped the trip fosters cultural exchange and everlasting friendship between US and China.
Students lined up at entrance to the basketball court to cheer on the Spurs players as they dashed out to play against the Celtics on December 31, 2018.
The group even received a pre-game visit by Spurs' head coach Gregg Popovich, whose wealth of experience and no nonsense style garnered him a solid fan base in China.
"I would challenge you to take advantage of that by trying to work as hard as you can with what you have passion for," Popovich told the children before joining them in a group photo. "It could be basketball, or violin or mathematics. It could be anything."
Popovich will visit Beijing when he lead the US basketball to participate in the 2019 Basketball World Cup this summer, something he said he is very excited about.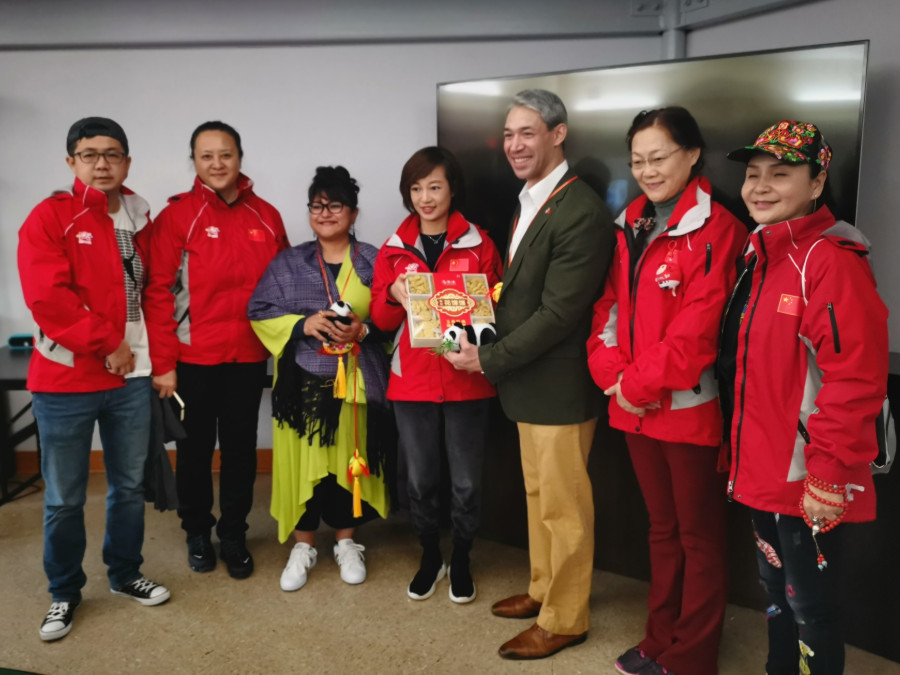 "I am very happy to be here, but I am even happier that later this summer, I will be able to go to your country to coach the American team in the FIBA world championships in your country," he said to resounding applauses and cheers from the students.
Nevil Shed, who has been the camp director at the Spurs Sports Academy for 33 years, said the Gansu delegation is the largest group of students from a foreign country training at the camp.
"Basketball in China has come a long way, I am so impressed as to how China really focus on perfection, and that is one of the things that help all athletes become better athletes," said Shed, whose name has been inducted into the Basketball Hall of Fame after playing on the Texas Western Miners, the first team to start an all African-American lineup in the championship game.

While students were training with their coaches at the San Antonio Christian School, Brandon Parrott, the athletic director at the school, told reporter that he couldn't help but smile whenever he saw the kids.
"When they came in this morning to start the day, it's day two, I was a little tired, but their enthusiasm and their smiles, it just energizes the whole gym," Parrott said.
The delegation was given an extensive opening ceremony on December 29, 2018 by the staff at the Spurs Sports Academy.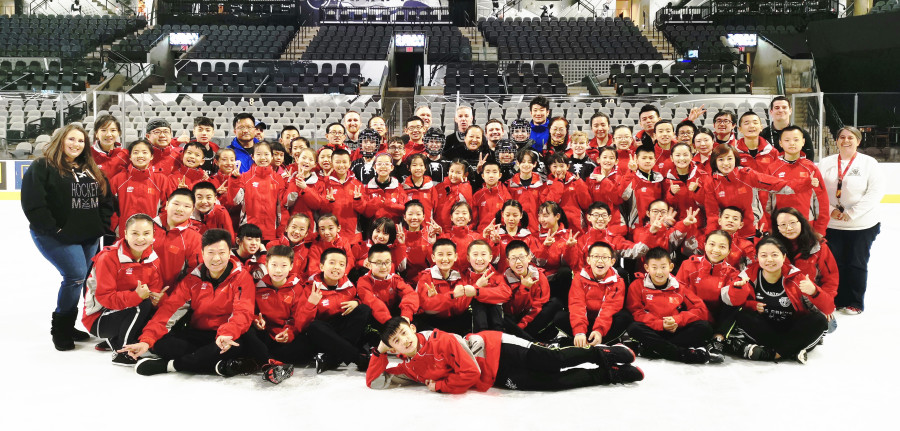 Students donning red and blue jackets emblazoned with the Chinese flag were greeted with banners that read "Welcome to the Spurs Family" in English and Chinese, which adorned various entrances of the AT&T Center, home of the Spurs.
After high-fiving coaches and camp instructors, students were treated to a tour of the center. They also collected autographs from some of the instructors and exchanged gifts with the staff.
The ceremony, wrapped in the spirit of sportsmanship and friendship, offered many pleasant surprises to Wang Libo, an elementary school student from Linxia City.
"Americans are really friendly," Wang said. "We don't speak English, but they were able to communicate with us in Chinese, and we got along very well."
The 9-year-old told China Daily that Harvard University is her dream school and she plans to visit the institution someday.
Twelve-year-old Nian Kai, who named Kobe Bryant as his favorite basketball player, said the NBA tour was his dream-come-true.
Clark said he is excited for the opportunity to see first-hand the talents that the Gansu children will bring and to help them chase their NBA dream.
"For these kids to have the opportunity to be part of the Spurs Family from afar, and now in an up-close, tangible way – in part because of a foundation that was laid before they were born … is pretty special," he added.
According to Frank Miceli, service vice-president of sales and franchise business operations at Spurs Sports and Entertainment, China is quickly becoming one of the NBA's biggest fan markets.
"For you to experience the Spurs family, from afar, whether you watch some of the games on television, or you follow us digitally, on the internet, now to be here and experience this up close and personally is a very, very special event," he told the students.
In addition to training at the camp and dancing at the Spurs basketball game, students also joined the San Antonio Rampage for a game and learned how to skate on ice.
"We are so excited for China to have picked us to be one of the choices, and we are going out of our way to make sure this will not be the last time that they will be here visiting," Shed said.
Contact the writer at teresaliu@chinadailyusa.com