No end in sight for US shutdown
By AI HEPING in New York | China Daily | Updated: 2019-01-14 23:01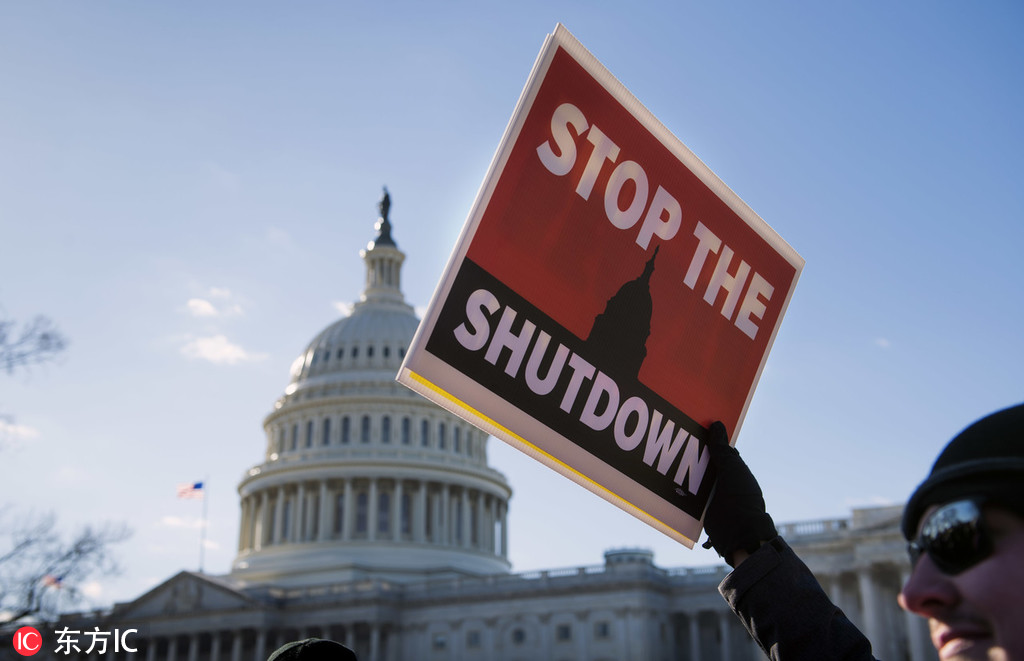 As most Americans went back to work on Monday, 800,000 federal employees entered the fourth week of the government shutdown, and there was no sign that the stalemate between US President Donald Trump and Congress over his demand for funding a wall between the US and Mexico would end.
The shutdown that became the longest in US history on Saturday — beating the previous 21-day stretch set in 1995 — is destabilizing the lives of federal workers. With the exception of possibly causing delays in security screenings at the nation's airports, it's a non-issue in most states — at least for now.
The federal government has ordered 420,000 employees to work without pay and furloughed 380,000 others. On Friday, thousands of federal employees received their first paycheck – it read $0.
If the government shutdown lasts another two weeks, the total cost to the US economy would exceed the price of building the proposed border wall.
According to an estimate by S&P Global Ratings, it will take only two more weeks to cost the economy more than $6 billion, exceeding the $5.7 billion that Trump has demanded to fund the wall. The US economy lost $3.6 billion by Jan 10, according to S&P.
The Department of Labor said on Jan 9 that 4,760 federal workers applied for unemployment in the final week of December. That's a more than 500 percent increase from the previous week, when there were only 929 claims. The number is expected to climb in January.
Newspapers and TV news carried extensive stories about the impact of the shutdown on those not getting paid and on closed federal agencies.
Workers seek loans
Workers sought loans from banks, credit unions and friends; food banks reported a growing demand; supermarkets and others donated food, clothing, diapers and pacifiers for babies.
Farmers can't get loans through the closed Department of Agriculture's Farm Services Agency. Irrigation projects are on hold because employees at the Natural Resources Conservation Service aren't working.
The National Transportation Safety Board, which investigates accidents around the country soon after they happen, has indefinitely delayed a number of those investigations.
The FBI Agents Association warned that the shutdown could indirectly jeopardize security clearances. Government payments to contractors have stopped. Payments for housing subsidies have been delayed. Routine public-health inspections of the food industry and environmental hazards have slowed or stopped.
One of the biggest concerns is security screenings at the nation's airports, where 51,000 airport security agents are among the federal employees who have been ordered to work through the partial shutdown that began on Dec 22 and missed their first paycheck on Jan 10.
Hundreds of Transportation Security Administration (TSA) screeners at some major airports have called in sick from their shifts since the shutdown began, according to media reports.
On Jan 9, the agency saw a 55 percent increase in employees calling in sick, from 3.3 percent a year ago to 5.1 percent, spokesman Michael Bilello said in an email, according to Bloomberg.
The TSA plans to begin closing a handful of security checkpoints at airports around the US in response to staff shortages. Miami International Airport expects to shut one of its concourses for several days and will move flights to other gates, according to a statement by the airport.
Air travel concerns
While impact to travelers has so far been minimal, airport officials fear it could rapidly worsen, said Christopher Bidwell, a senior vice-president at the Airports Council International-North America in Washington.
In a move to ease the financial plight of the airport workers, TSA Administrator David Pekoske announced on Jan 10 that all TSA employees who worked Dec 22, the last day in that pay period, would receive pay for the day no later than Tuesday. They didn't get paid originally because the day started after the shutdown began.
The agency also is awarding $500 bonuses for uniformed screening officers who worked during the busy holiday travel season.
WalletHub, a personal-finance website, ranked New Mexico as the state most affected by the shutdown, citing its share of federal jobs – more than 33,000 and 1,600 active government contracts that aren't being funded.
Many Native American health care clinics in the state have closed, forcing many to drive far distances for basic health care.
Virginia is among the most affected states because it borders the nation's capital and is home to many federal workers and government contractors.
In Virginia on Jan 10, a woman who said her husband is a furloughed federal worker picked up a $100,000 check from the Virginia Lottery.
Carrie Walls, from Ashburn, had her name picked from 554,000 entries on Dec 4, 18 days before the federal government shutdown. Walls, an Air Force veteran who served for 13 years, also won an SUV.