Telecoms to further efforts in opening-up
By Ma Si | China Daily | Updated: 2019-01-15 08:48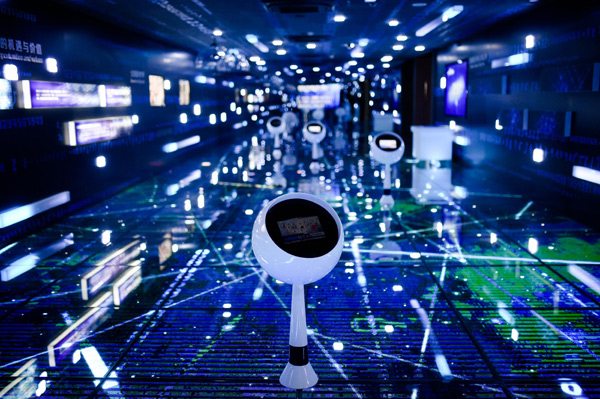 Wider access for overseas capital key to investment boost in the sector, say experts
China will step up its efforts this year to expand overseas companies' access to the country's telecom and internet market, with more businesses open to overseas capital, amid the ongoing push to further drive forward opening-up, analysts said.
The comments came after official data showed that 121 overseas companies have been approved to engage in businesses including running data centers, telecoms and information processing services in China by the end of 2018, marking year-on-year growth of 39 percent.
Xiang Ligang, CEO of industry website Cctime, said since the start of China's reform and opening-up policy, big strides have been made to open the telecom and information sector to overseas investors, giving overseas companies equal treatment.
"With China pledging to further its push to lure overseas investment, greater access to the country's giant pool of netizens and telecom service users can be expected," Xiang said.
As of 2018, the Ministry of Industry and Information Technology, the country's top industry regulator, has greenlit 86 overseas companies to engage in telecom-related services, and 35 companies have been approved by the Shanghai Communications Administration.
Overseas investments are most interested in offering services including online data processing and transaction processing, information services, and domestic call center businesses, said the China Academy of Information and Communications Technology, a government think tank, in a report.
The above three businesses, listed in order of popularity, accounted for 81 percent of all business licenses the two regulators have given.
Among the overseas companies the MIIT have approved, Shanghai, Beijing and Guangdong province are the top three destinations for overseas telecom investment, with the number of registered overseas companies hitting 54, 25, and 17 in each respectively, the report added.
Fu Liang, an independent telecom analyst who has been following the sector for 10 years, said more overseas investors are likely to head to second-tier, even third-tier cities, to explore business opportunities, given the telecom network now covers almost every village in China.
"Also, the scope of businesses open to overseas companies will grow wider, which can help overseas companies better understand the Chinese market, fully access it, and compete with local rivals on an equal playing field," Fu added.
One example of this is when overseas companies were allowed to become virtual network operators in China last year, as part of the government's attempts to provide competition in the multibillion-dollar telecom industry.
According to the rule, overseas investors can apply to resell telecom services as own-brand mobile phone services. The hope for consumers is that the privately run companies could offer discounts and challenge a market currently dominated by three big State-owned enterprises.
When it comes to sources of funding, the report by CAITC said over half of the 121 approved companies in the Chinese telecom industry are backed by Hong Kong investors, followed by investors from the United States and Japan. Together, the three account for 75 percent of all the market's capital.
More importantly, 37 companies, or about 30 percent of all approved companies' are solely funded by overseas capital, with seven more at least half funded by overseas investors.
"China is removing the cap on overseas ownership of joint ventures in the country. The progress has already been seen in the automobile sector. The telecoms industry is highly likely to be the next one to benefit from the change," Fu added.
In 2018, China removed overseas ownership caps on new energy vehicle ventures, and it is set to scrap ownership caps on commercial car producers in 2020, and on passenger car producers starting in 2022.
Frank Meng, chairman of Qualcomm China, the local branch of the United States-based chip giant, said in an earlier interview that he is quite amazed by what China has done in the last 40 years of reform and opening-up.
"Qualcomm has been in China for over two decades, and China has long become one of the most important regions for us," Meng said.
"We are proud that our unique 'Invent - Share - Collaborate' business model has brought together the ecosystems of China and the US to create a tremendous success between the two countries. Over the years, our partnerships in China have been expanded across the entire ecosystem," he added.