Death penalty for Canadian based on sufficient evidence, experts say
China Daily | Updated: 2019-01-16 08:47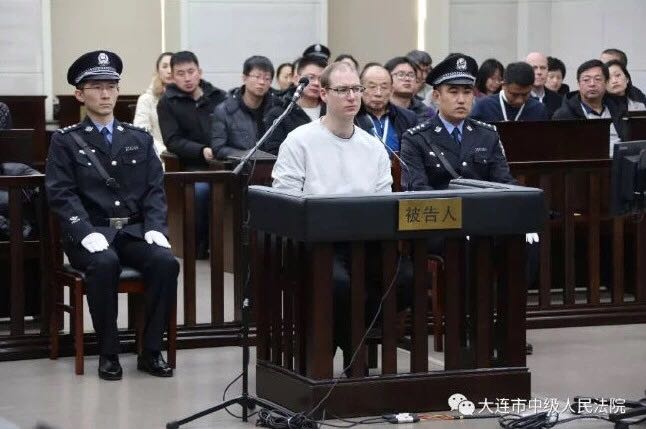 The death sentence given to Canadian citizen Robert Lloyd Schellenberg, who was convicted of drug smuggling in China, was based on sufficient evidence and strict criminal law procedures, the court and judicial experts said on Tuesday.
Schellenberg received the death sentence on Monday for trafficking more than 222 kilograms of methamphetamine in 2014 in a retrial at the Dalian Intermediate People's Court, in Liaoning province.
In his initial trial, by the same court on Nov 20, Schellenberg was convicted and sentenced to 15 years' imprisonment. He appealed and the case went to the Liaoning High People's Court, which sent it back to the Dalian court for retrial.
Schellenberg's lawyer, Zhang Dongshuo, questioned the death penalty and said the court should not have increased his sentence. "Chinese law stipulates that during an appeal, only if new evidence is discovered and retried can there be an increase in the severity of a sentence," he was quoted by Reuters as saying.
However, the Dalian court and legal professionals who attended Monday's trial said the new sentence is in keeping with Chinese criminal law, as prosecutors had presented new facts in the case.
In a news release on Tuesday, the Dalian Intermediate People's Court said that the revised sentencing was based on new facts and evidence provided by prosecutors.
On Jan 2, the court received a supplemental indictment from prosecutors in which Schellenberg was charged with participating in organized transnational drug smuggling and serving as the ringleader in trafficking 222 kg of methamphetamine, according to the news release.
The evidence prosecutors presented in Monday's trial was strong enough to support the charges, said Pei Zhaobin, president of Dalian Ocean University's law school, who attended Monday's hearing.
He explained that under China's Criminal Procedure law, the sentence handed down in a retrial should not be heavier than the original sentence, unless it is warranted by new facts proved in court or a supplemental indictment filed by prosecutors.
Lin Wei, a law professor at the Chinese Academy of Social Sciences, said the new sentence is reasonable, as China's Criminal Law stipulates that people who smuggle, sell, transport or produce illegal drugs in China can be sentenced to death if they participate in organized international drug smuggling or, as in this case, the amount of methamphetamine is over 50 grams.
Schellenberg's lawyer, Zhang Dongshuo, said on Tuesday that his client has decided to appeal, so the case may go through lengthy legal procedures.
Under the Criminal Procedure Law, the provincial high people's court will hear the appeal. If it upholds the death penalty, the sentence must be submitted to the Supreme People's Court, the top court, for a final review before it can be carried out, Pei said.
Monday's conviction shows China's consistent stance in fighting drugs, he said.
According to the Supreme People's Court, in 2017 across China 21,733 people were given a "heavy sentence", one exceeding five years in prison, for drug-related crimes. The exact number of death sentences in drug-related convictions was not available.
Schellenberg was not the first foreigner sentenced to death in China for drug-related offenses. In 2014, the Nantong Intermediate People's Court, in Jiangsu province, sentenced a Japanese national to death for selling and transporting drugs. Before that, Akmal Shaikh, a British national, was executed in December 2009 for smuggling more than 4 kilograms of heroin into China.