US, Canada 'abusing' pact on extradition
By ZHOU JIN | China Daily | Updated: 2019-01-23 01:21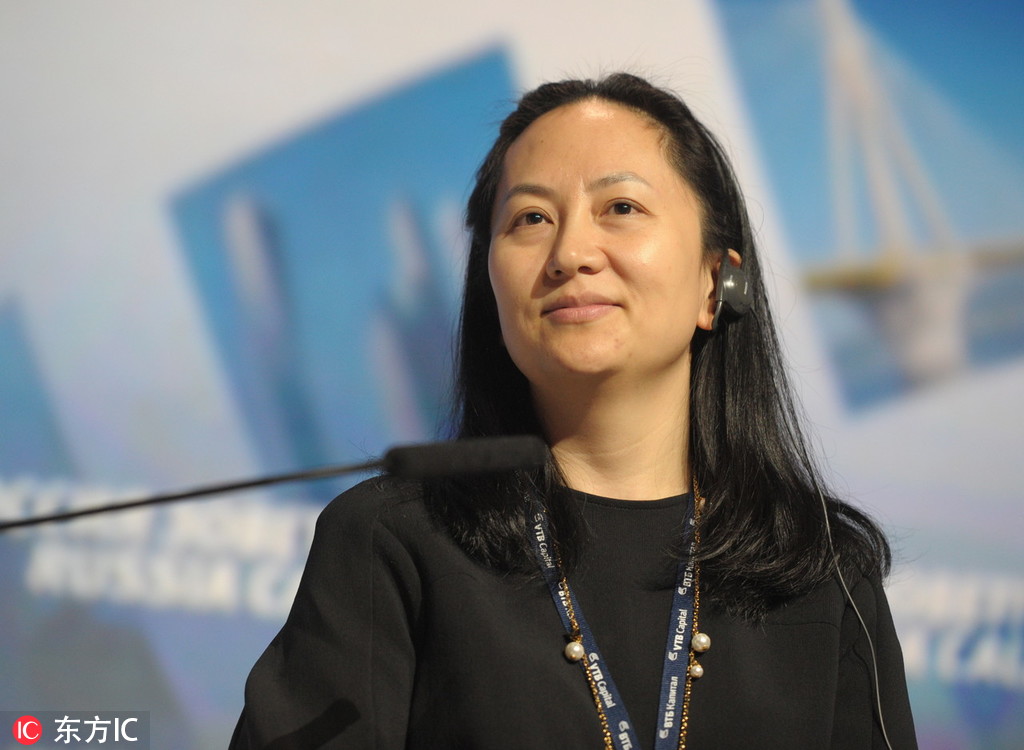 Beijing pledges response if Washington asks Ottawa to turn over Huawei CFO
China said on Tuesday that Canada and the United States have abused their bilateral extradition treaty with regard to the arrest of Huawei's Chief Financial Officer Meng Wanzhou, urging the US not to issue a formal extradition request to Canada.
Foreign Ministry spokeswoman Hua Chunying said that China will take further responses if Washington proceeds with the formal request to extradite Meng.
David MacNaughton, Canada's ambassador to the US, said in an interview with Canada's Globe and Mail newspaper that Washington has informed Ottawa it will request Meng's extradition, but he did not say when the request will be made. The deadline for filing is Jan 30.
Meng was arrested in Vancouver at the request of the US on Dec 1 over alleged violations of US sanctions on Iran. A week later, Vice-Foreign Minister Le Yucheng summoned the Canadian and US ambassadors in Beijing, expressing strong protests over Meng's arrest.
At the daily news conference on Tuesday, Hua said that Canada and the US "arbitrarily abused" their bilateral extradition agreement in the case of Meng, and seriously infringed on the safety and legal rights of Chinese citizens.
China urged Canada to immediately release Meng and protect her legitimate rights, she said, adding that China also demands the US to correct its mistake, cancel its arrest warrant for Meng and not to make the formal extradition request.
In response to the media report, telecommunication giant Huawei said in a statement that it hopes the Canadian and US governments will release Meng soon, and the company believes the legal systems of the two countries will ultimately reach a just conclusion.
Huawei complies with all applicable laws and regulations where it operates, including applicable export controls and sanction laws and regulations of the United Nations, the US and the European Union, it said.
Li Haidong, a professor of US studies at China Foreign Affairs University, said Meng's case is a political stunt operating under the guise of the law.
The US and Canada are treating an innocent person in a politicized way, which violates the spirit of the rule of law and will harm relations with China, he said.
Also, Hua, the spokeswoman, responded to a group of former foreign diplomats and academics who signed an open letter calling for the release of two Canadians.
Hua said those who signed the letter were "extremely disrespectful" to people engaged in normal and friendly exchanges and cooperation between China and foreign countries, and also interfered with China's sovereignty and judicial affairs.
The two, Michael Spavor and Michael Kovrig, were detained in China in December for allegedly endangering national security.
Hua stressed that China welcomes foreign nationals, whether they are former diplomats, scholars or ordinary people, to come to China and engage in normal and friendly exchanges. There is nothing to worry about as long as they abide by Chinese laws and regulations, she added.
Ma Si contributed to this story.