Luring back consumers with smart tech
By Zhou Mo in Shenzhen, Guangdong | China Daily | Updated: 2019-01-30 10:02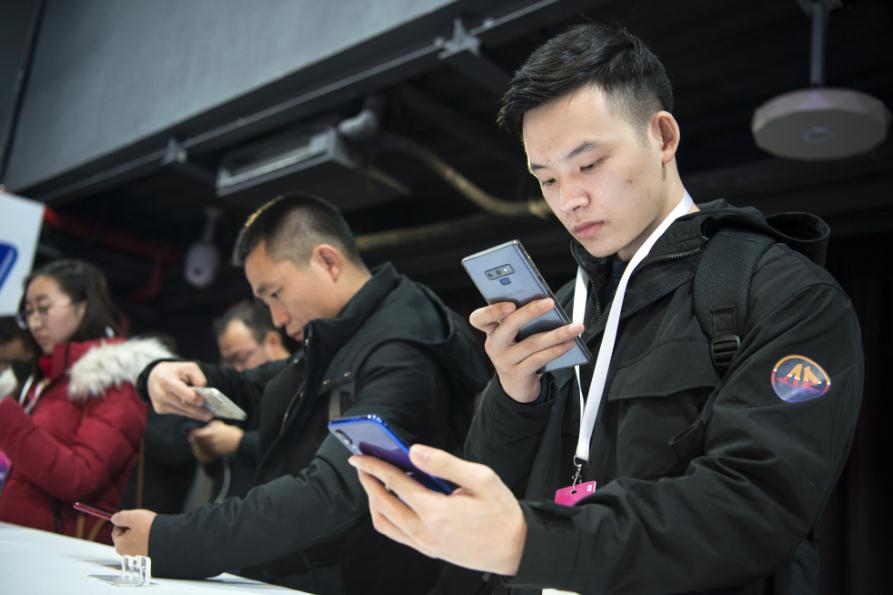 Hurt by slump, smartphone firms turn to advanced features like 5G, foldable screens
In China's saturated smartphone market, industry players are desperately rethinking survival strategies.
Alarm bells started ringing louder last month as soon as Apple Inc announced its sales have slowed. This came amid slower economic growth, and against a backdrop of a trade dispute with the United States and intensified competition among big brands.
According to the China Academy of Information and Communications Technology, Chinese smartphone shipments declined by 15.6 percent year-on-year to 414 million units in 2018.
Once again, domestic brands overwhelmingly sold the majority of handsets, accounting for nearly 90 percent of all shipments, but even their number was still down 14.9 percent compared with a year earlier.
Market research firm Canalys forecast the Chinese smartphone market will shrink by another 3 percent this year and for shipments to fall below 400 million units for the first time since 2014.
Experts and market analysts said a major reason behind the decline is product homogenization.
"There are few significant breakthroughs in functions among the various brands of smartphones. The current products on the market are able to meet consumers' general demands, but there is a lack of stimulation for them to change their mobile devices," said Jin Yuhao, an analyst with internet consultancy Analysys in Beijing.
"Under this circumstance, domestic brands have a bigger advantage, because their relatively lower prices can serve different types of consumers," he said.
Shenzhen's Huaqiang North is the country's largest electronics marketplace and is believed to be a good barometer of the Chinese smartphone market.
Lu Lin, an iPhone wholesaler who has been working in the area for many years, told China Daily that wholesale prices of the latest iPhones, which include the iPhone XR, iPhone XS and iPhone XS Max, in Huaqiang North have all been declining this month, with the iPhone XR dropping the most.
Lu presented a document showing that the wholesale price of an iPhone XR 64G was 5,040 yuan ($748) last Thursday, or almost 700 yuan cheaper than it was two weeks ago.
"Sales of iPhones have been weakening since the launch of iPhone 8. There were other price declines before, but it is the first time that I have seen such a big price drop," Lu said.
The huge reductions are not just appearing among Apple's channel partners, but also on e-commerce platforms, such as JD and Suning, and even the company's official website.
It is Apple's biggest move ever to reinvigorate sales in the Chinese market.
Earlier this month, the technology giant lowered its quarterly revenue forecast for the first time in almost two decades, citing "lower than anticipated iPhone revenue, primarily in China" as a major factor.
In a letter to investors, CEO Tim Cook said the company slashed its revenue guidance to $84 billion for the quarter ended Dec 29, down from earlier estimates of $89 billion to $93 billion.
A few days after, South Korean smartphone maker Samsung Electronics Co Ltd disappointed the market by predicting that its operating profit for the three months ended December was approximately 10.8 trillion won ($9.7 billion), down 29 percent from the same period a year earlier, with mounting competition from Chinese smartphone makers a key reason.
"Competition between domestic makers and their foreign rivals is going to become more intense in the coming future. Without comparative edges, foreign smartphone vendors are going to lose even more market share," said Roger Sheng, research director at consultancy Gartner Inc.
According to market research firm Counterpoint, despite being the world's biggest smartphone maker, Samsung accounted for only 1 percent of the Chinese smartphone market in the third quarter of 2018.
Huawei Technologies Co Ltd continued to lead the country's smartphone market by taking 23 percent of market share, followed by Vivo Communication Technology Co Ltd and Oppo Electronics Corp, which accounted for 21 percent, respectively. Xiaomi Corp ranked fourth with a 13 percent market share, while Apple came fifth, accounting for only 9 percent.
To win over the market amid the sluggish environment, analysts said technological advancement will be a key.
"People today are becoming more rational when buying smartphones. Therefore, smartphone makers should make more efforts in research and development to improve products' functions so that they can meet their critical need," Jin said.
"Moreover, as the proportion of young consumers increases, it is also vital to add more high-tech elements to smartphones and strengthen brand-building."
Artificial intelligence is one development focus. Smartphone makers are also pinning their hopes on foldable screens to revive the market, with Xiaomi, Samsung, Huawei and Oppo scrambling to roll out their foldable phones.
"Smartphone vendors have already been working on an artificial intelligence function in smartphones and commercialization of 5G is also in process. There is still space for development in the Chinese smartphone market," Jin said.