Express delivery men remain on duty during Spring Festival holiday
Xinhua | Updated: 2019-02-06 10:31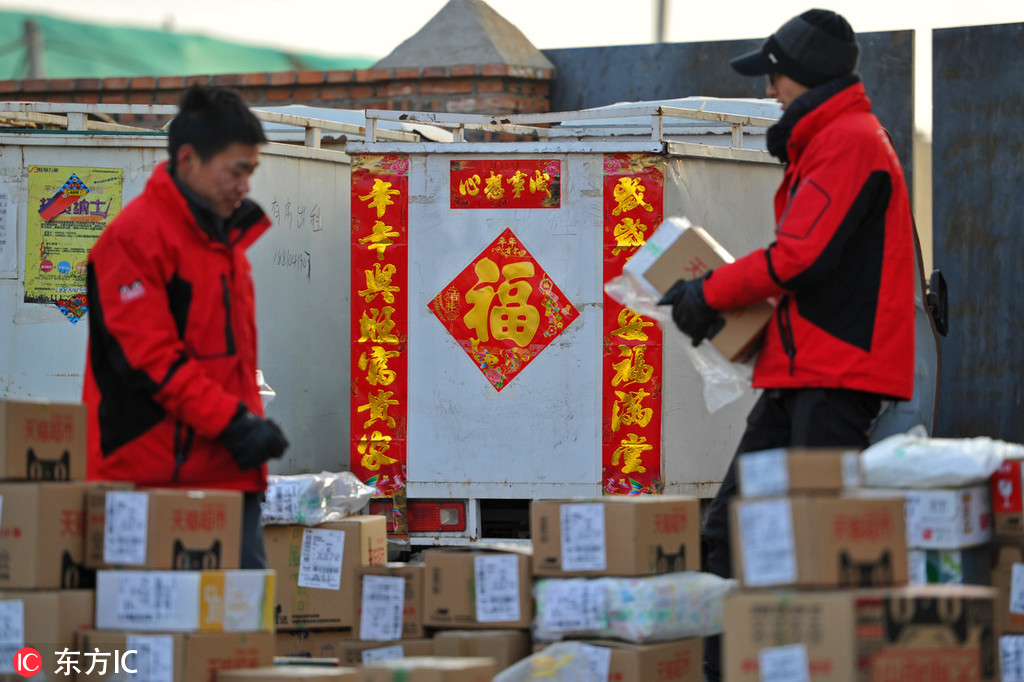 BEIJING — This is the fourth year express delivery employee Zhao Yunhong has spent the Spring Festival holiday working in Beijing.
Though Zhao's home is only three hours drive from Beijing, in Chengde City of neighboring Hebei Province, he feels that he is more needed at his job at the logistic arm of JD.com, a Chinese e-commerce giant.
His wife and two children are joining him to celebrate the Spring Festival, or Chinese Lunar New Year, in his rented apartment in the capital.
Express delivery services are essential for the generation of young Chinese who grew up embracing online shopping. They click, order and have their purchases delivered to their doorstep.
Having worked here for several years, he has a personal bond with his customers in the Senlindadi neighborhood in northern Beijing.
"Some of my clients, I got to know them when I brought wedding supplies to their apartments. Now I bring diapers to their new born babies," he said. "I miss my hometown, the feeling of the Lunar New Year there, but working hard and the feeling of being needed is also important for me."
As Chinese people embrace online shopping, the industry has boomed. Chinese express delivery firms handled a record number of 50.71 billion parcels in 2018, up 26.6 percent from the same period of the previous year. Business revenue expanded by 21.8 percent to reach 603.84 billion yuan (about 88.7 billion U.S. dollars).
China has roughly over 3 million express delivery staff. Though most deliveries are suspended during the seven-day public holiday for the Lunar New Year, some employees remain on duty.
JD.com logistics say about half of the employees at a number of key stations in Beijing are on duty during the holiday. The company pays them extra bonuses.
Courier boys are paid by the amount of deliveries they make. Some can earn as much as 300 yuan (44 dollars) a day, and the company pays them double the daily salary for working during the holiday.
Zhou Xiaolei, a 28-year-old from Yunnan Province in southwest China, works for SF Express, another private express operator. This is his fourth year working in the job. He also made a decision to stay in Beijing for the holiday time. He is saving up for an apartment in his hometown and the handsome bonuses are hard to refuse.
"I will work for another few years, and I want to settle down at my hometown and build a home with my wife," he said.
About 20 people work at a delivery station near Tsinghua University in Beijing. They serve about 80,000 people, most of whom are students. During the holiday season, their clients are residents who shop for groceries and gifts.
The delivery staff bring convenience and a gift of time to the clients, particularly busy families and the elderly. They are considered an asset of a city.
Liu Chang, a retiree who lives alone in southern Beijing, is glad to find out that she can order groceries even on the first day of the Lunar New Year, when some supermarkets are closed.
She suffers from chronic pain in her leg, so grocery shopping is a challenge.
"Honestly, I cannot imagine my life without the delivery service," she said.